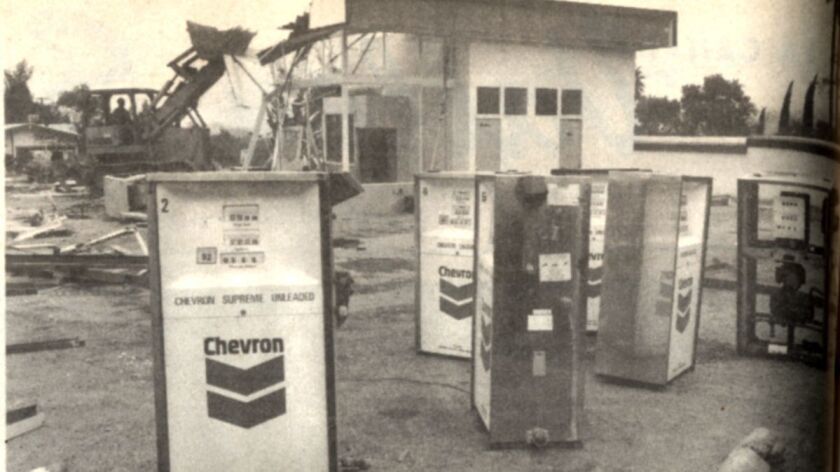 Ten Years Ago
La Cañada High School students returning from winter break in January 2009 saw some changes to their school cafeteria's menu. Former a la carte items such as churros and funnel cakes, along with Snapple drinks and Coca-Cola Vitaminwater, were removed from the menu because they did not meet more stringent nutritional standards imposed by the state in then-newly enacted laws.
Twenty Years Ago
It was reported that more than 40 cars left parked on La Cañada streets had up to all four of their tires slashed by unknown suspects in a monthlong spree that started in December 1998.
Thirty Years Ago
A landmark La Cañada service station, Wes Graham's Chevron on the southwest corner of Foothill Boulevard at Chevy Chase Drive was torn down, and the property was placed on the market for more than $1 million. Having been purchased in 1987 by a group of investors, the business had sustained damages in a serious fire in May 1988. Today, the Dilbeck building stands at the site.
Forty Years Ago
For the third time in nine weeks, the Crocker National Bank in the 2200 block of Foothill Boulevard (in the same commercial center where Pier 1 Imports operates a store today), was held up by a masked gunman. Loss to the bank in the three hold-ups totaled $12,500. It was thought the same blond suspect was involved in all of the robberies.
Fifty Years Ago
Characterized in the press as a "30-year storm," a wet system moved into the Foothills in late January 1969, dropping 12.5 inches of rain in a three-day period and causing mudslides in several areas of town. The downpour followed almost immediately on the heels of an 11.63-inch rainstorm, bringing the total rainfall in La Cañada to 23.73 inches in a single week, more than the average annual rainfall for the area.
Sixty Years Ago
The new La Cañada branch of Citizens Commercial Trust and Savings Bank of Pasadena opened for business on Jan. 31, 1959, on the southeast corner of Foothill Boulevard at Beulah Drive. Guy R. Johnson was the bank's president.
Compiled from the Valley Sun archives by Carol Cormaci.
---