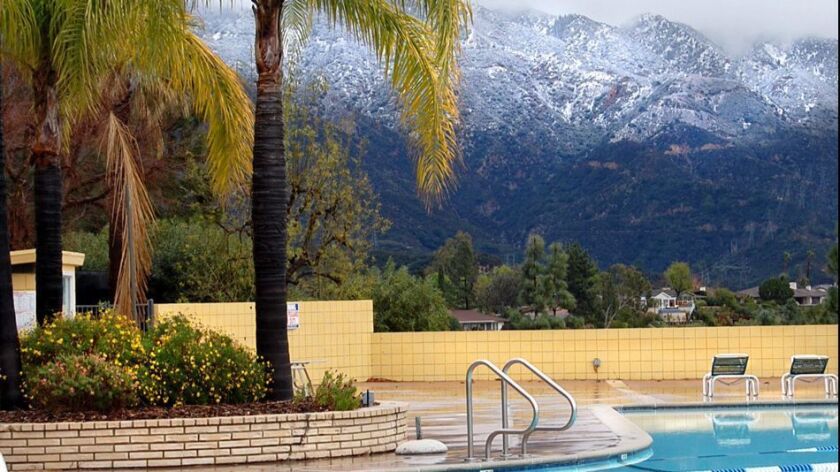 Ten Years Ago
La Cañada and neighboring communities experienced periods of snow, hail, rain and high winds interspersed with sunshine during the first half of February 2009, despite forecasters' expectations of a warm, dry winter due to La Niña conditions developing in the Pacific Ocean. January of that year had ended as the eighth driest recorded in the state.
Twenty Years Ago
By a 3-2 vote the La Cañada Flintridge City Council approved the Sport Chalet Village Shopping Center proposed by developer Art Pearlman for La Cañada Properties. Immediately after the approval, the leader of the grassroots group Friends of 91011 that objected to the project announced a referendum petition would be launched.
Thirty Years Ago
Her Majesty Queen Margrethe II of Denmark conferred the Royal Order of the Knight of the Dannenbrog on La Cañada Flintridge resident Roy J. Bork in recognition of his services to her country. Bork was a consultant to Denmark firms hoping to do business in California and to American companies wishing to do business in Denmark.
Forty Years Ago
A three-day sale was underway at Plaza de La Cañada, which today is anchored by Gelson's and T.J. Maxx stores. Participating merchants in the 1979 sale included Conrad's restaurant, Baskin-Robbins, Vons, Volley-Hi Tennis Shop, Raven Book Shop, Cassidy Fashion Jeanery, Paco's Barber Shop, the Hairdressers, Red Carpet Liquor, Abadine's Fabrics, Robert Michael's Store for Men, Sun Dial Plaza Travel and Ivers Department Store.
Fifty Years Ago
During a February 1969 meeting, American Legion Auxiliary Unit 13 from Pasadena gifted Paradise Canyon Elementary School Brownie Troop #193 with an American flag.
Sixty Years Ago
As Friday, Feb. 13, 1959 approached, the Valley Sun spoke to Dorothy Bowder of Gould Avenue, who was quite familiar with the supposedly "unlucky" number 13: She was born on Friday the 13th in June 1913; she was the 13th grandchild on her mother's side; when her parents bought her baby clothes, they used check No. 13 for a purchase that totaled $13, and when she graduated from Pasadena High School she was assigned to Row 13 during the commencement exercise held at the Rose Bowl. She told a reporter she was too busy to give any thought as to whether or not 13 was unlucky.
Compiled from the Valley Sun archives by Carol Cormaci.
---