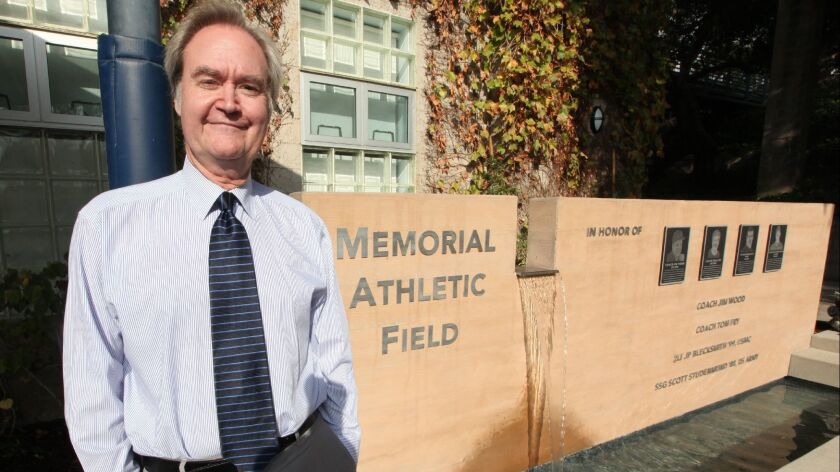 When Peter Bachmann first stepped foot on the grounds of Flintridge Preparatory School to interview for a teaching position in December 1979 his fate was sealed.
Then 27, he was charmed by the La Cañada campus — the beauty of its trees, its intimate spaces and the warm welcome he received from the people there.
"It was one of those moments where your intuition tells you what to do," he recalled. "Once I visited the campus, talked to a few people and met the kids, I thought 'this place feels like home.'"
And so, though he'd gotten another more lucrative offer at another school, Bachmann went with Prep. In the next four decades, he went from history teacher to dean of students to assistant headmaster and, in 1991, to headmaster.
On Thursday, Bachmann announced he will retire at the end of the 2019-20 school year. The move is part of a strategic plan that's been in the works since 2014, when trustees convened a transition committee to begin the long search for a headmaster for the 500-student campus.
"This has been years and years in the making," Bachmann said Friday. "We always knew [the transition] was going to be around this time."
In a Jan. 22 release issued by the school, Flintridge Prep board chair David Codiga said the board has assembled a search committee, led by vice chair Kris Leslie, and hired Boston-based faculty recruitment firm Carney Sandoe & Associates to conduct a search for a new headmaster. Feedback from the school's constituents will also play a role in selecting a new leader.
Codiga praised Bachmann for being strategic and mission focused, while always remaining humble and kind.
"Peter's commitment to Prep is both absolute and everlasting," Codiga said. "[He] has helped make all of us better listeners, better students, better educators and a better Prep community."
Bachmann will continue his job duties for the current and next school year, including teaching the school's Great Books class for seniors and overseeing the campus as it implements a multiphase master plan. Upon his retirement the La Cañada resident will be named Head Emeritus and, in that capacity, will serve and support the school and its board.
In a Jan. 17 letter to Flintridge Prep's Board of Trustees officially announcing his retirement, Bachmann drew upon a school slogan to confirm his continued commitment to the school during his remaining tenure and beyond.
"As a charter member of 'Prep for Life,' I will, of course, remain tied to the community, particularly with alumni and their parents," he wrote. "But I'm getting ahead of myself — we still have a lot of work to do together in the next 18 months, and I plan on savoring every moment."
Twitter: @SaraCardine
---