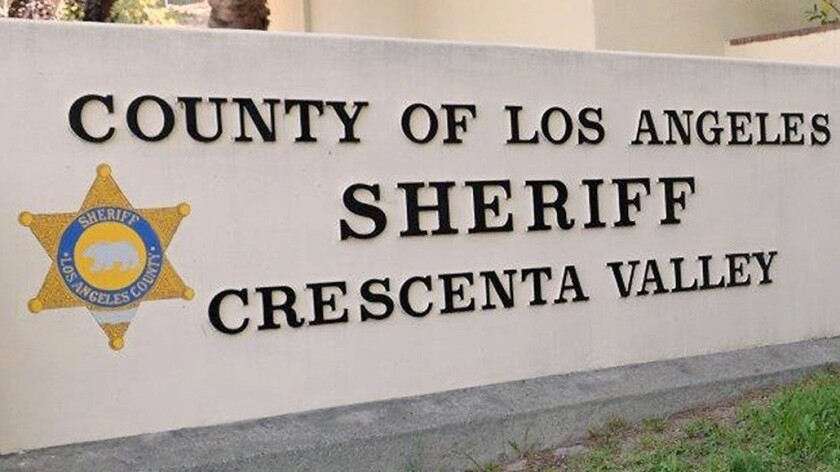 Nov. 21
Grand theft: 400 block of Foothill Boulevard. A man told deputies he was sitting inside a local business working on his laptop at around 7:30 p.m. when two people ran past him and grabbed his iPhone XS. The victim yelled at the suspects before they exited the store and ran out of view. The suspects were described as a black male and black female about 19 or 20 years old wearing gray hooded sweatshirts. The male suspect wore orange shoes.
Nov. 24
Petty theft: 800 block of Foothill Boulevard. During a walk-through of a store at around 4:30 p.m., an employee noticed an iPhone 8 Plus was missing from its display mount. Surveillance footage showed three males enter the store at around 4 p.m. and walk toward the display case. Two men talked and held the phone, while the third stood nearby seeming to conceal their actions. At 4:02 p.m. one suspect is seen putting the phone in his back pocket before the three suspects exited the store.
Nov. 25
Burglary, residence: 1100 block of Green Lane. A man reported securing his residence at around 5:15 p.m. When he returned at around 8:25 that evening, he noticed several drawers in his master bedroom had been opened and a sliding glass door shattered. Two bottles of Hennessy VSOP and one bottle of Martell XO cognac were missing from a liquor display.
Nov. 26
Burglary, residence; grand theft, motorcycles: 4600 block of Lasheart Drive. A woman reported sometime between Nov. 6 and Nov. 20 at 11 a.m., someone stole seven motorcycles from the garage of her father's house, which had been condemned as uninhabitable sometime after he moved to an assisted living facility. When the woman tried to enter the home, the front door was locked with a security chain. Thinking someone was inside, she went around the back and noticed the garage door and windows were ajar. Seven motorcycles, including a 1969 Triumph Bonneville, 1966 Yamaha 250, a 1975 Norton 850 Commando and three Kawasakis, were missing. A subcontractor who maintains the property said none of his workers put the security chain on the front door, and the woman said there had been recent issues with squatters living inside the residence. Deputies observed damage to the garage door frame, but no other damage was visible.
Forgery: 400 block of Foothill Boulevard. A man told deputies on Nov. 18 he dropped off two envelopes containing single checks at a mailbox. On Nov. 20, he got a cellphone text from Bank of America asking him to confirm the name to which the check was made. When he specified it was a different name, the account was closed. He checked a separate business account and learned that account had also been compromised, and had additional fraudulent checks on it. That account was also closed. He said he believes the check name had been washed and made out to a different person.
Petty theft: 4000 block of Robin Hill Road. A man said he purchased a Blu-Ray DVD online from Target on Nov. 18 and received an email on his phone on Nov. 21 asking if he was satisfied with the delivery, although he never received it. When he saw the mail carrier two days later, she said she'd delivered a small Target box to his mailbox. He told deputies he believes it was taken from the box.
Nov. 27
Grand theft, embezzlement: 1900 block of Verdugo Boulevard. A man was reviewing the bookkeeping records for his business and noticed several high-value transactions indicating "cash refunds" had been made to customers from Nov. 17, 2017 to March 17, 2018. After doing an audit, the victim determined the money was missing. He used the point of sale system to identify who conducted the transactions but could only learn who was logged into the system at that time. The employees who'd been logged on said they didn't know how to complete a cash refund transaction, adding the only person with that knowledge was a former manager. That manager was hired in June 2017 and quit on Aug. 29 of this year. The victim believes he may be behind the transactions, as that manager had been seen on surveillance footage in the past acting suspicious while conducting transactions and blocking the camera with his body during certain occasions.
Petty theft, unlocked vehicle: 3600 block of Karen Sue Lane. A man reported leaving his unlocked 2017 Toyota Tacoma truck in the driveway of his vehicle at 7 p.m. the day before after leaving his tri-fold wallet in the center console. When he returned at around 7 a.m. the next morning, he noticed the wallet was missing. Video surveillance showed an unknown suspect approach the vehicle at around 3:05 a.m., open the driver's side door and lean into the car. The man was wearing a hooded sweater and shorts and carried a flashlight. The wallet contained the victim's driver's license, debit card and miscellaneous cash. A bottle of Yves St. Laurent cologne was also missing.
Dec. 2
Grand theft: 900 block of Town Center Drive. A night clerk at 7-Eleven flagged down a deputy to report that sometime between 2 and 10 p.m. on Nov. 30, someone entered the rear hatch of his 2014 Toyota RAV4 while it was parked on the second story of the Town Center parking structure. An AT&T bag containing two new iPhone XS Max cellphones was missing. Seeing no signs of forced entry, deputies believed the vehicle was unlocked at the time of the incident. The victim told deputies the parking structure at Town Center Plaza has surveillance cameras but they are inoperable.
Compiled by Sara Cardine
Twitter: @SaraCardine
---