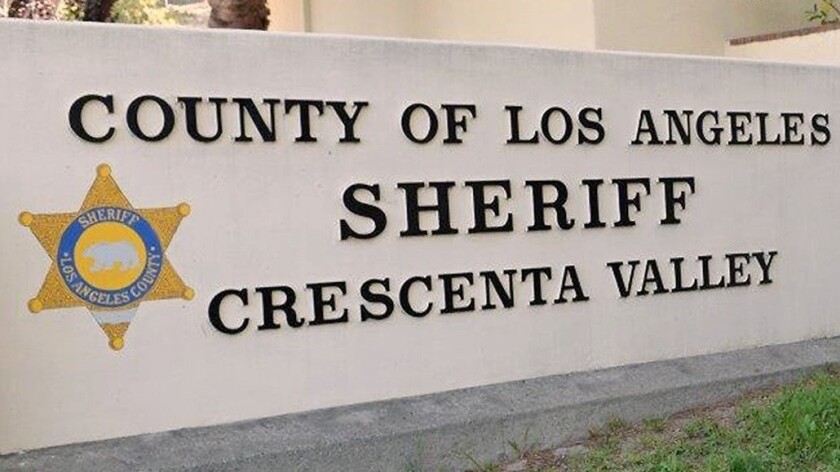 Dec. 1
Burglary, business: 800 block of Foothill Boulevard. A store employee was working at around 6:40 p.m. when she saw two black males enter the store. One said he needed to transfer over some phone lines, while the other browsed displays on the east side of the store. Shortly after that, the two men began to cut security cords on both sides of the store. They grabbed the devices — six iPhones, three iPads and three Samsung Galaxy phones — and ran out, heading eastbound on Foothill. One suspect wore a red hat, white sweatshirt, jeans and tan work boots. The other wore a black hat and camouflage sweatshirt and black Vans shoes.
Burglary, residence: 800 block of Greenridge Drive. A man arrived home at around 7:30 p.m. and found an upstairs balcony door had been smashed open and his bedroom, closet and bathroom ransacked. Items missing included three watches and an unspecified amount of cash. Although the victim's alarm system was nonoperational, a surveillance camera captured footage of two males appearing to wear masks and gloves entering the property at around 4 p.m. and crawling on the floor in an attempt to avoid a hallway motion detector.
Burglary, residence: 4200 block of Oakwood Avenue. A man left his residence at around 4 p.m. and returned home at around 8 p.m. to find an upstairs balcony door smashed and upstairs rooms ransacked. He said he did not know what might have been taken, and told deputies he did not have alarm sensors on the second floor and the motion detector was turned off because of his pets. Deputies observed a stone that might have been used to break the door and jewelry strewn across the floor. Possible handprints were seen on the wall just below the balcony.
Dec. 2
Vandalism: 1200 block of Fernside Drive. A man reported parking his 2013 Chevy Silverado truck in front of his residence at around 5:30 p.m. the day before. When he returned to the vehicle at around 9 a.m. that day, he discovered a locked aluminum toolbox in the truck bed near the cab windows had been pried open. Nothing appeared to be missing.
Grand theft: 600 block of Foothill Boulevard. A woman shopping at a store placed her purse in her shopping cart at around 5 p.m. while she tried on a sweater. An unknown man behind her said something to her and was leaning toward her cart. Thinking he was trying to get by, the woman moved out of the way. She soon noticed, however, her purse was no longer in the cart. She described the man as white, possibly Armenian, approximately 30 years old and 5 feet 7, weighing around 160 pounds, with black hair and brown eyes.
Dec. 3
Burglary, residence: 1900 block of Lombardy Drive. A man left for vacation on Nov. 29 but gave permission for a real estate agent to show the property to a potential buyer on Dec. 1. The home was intact during the showing. When the resident returned that day at around 7:30 p.m., however, he found a kitchen window shattered and a trail of glass leading to his office. There, he discovered several desk drawers had been opened, with an unspecified amount of cash missing from inside. Upstairs cabinets and drawers had also been opened and an attic ladder had been pulled down in the master bedroom. He told deputies nothing of much value was in the home, as that day was their last day of ownership. A gold band ring was also reported missing.
Burglary, residence: 800 block of Chehalem Road. A woman reported leaving her house at around 6:45 p.m. Fifteen minutes later, she received notification from her alarm company that interior motion detectors had been triggered. She returned home at around 7:03 p.m. and didn't see anyone at the location. Nothing appeared to have been taken. A Ring video doorbell camera was spotted at a nearby home and those residents were contacted.
Vandalism: 1500 block of Descanso Drive. A man said sometime between 2:30 a.m. and 2 p.m. that day, someone threw a block of cement through the driver's side window of his 2006 Toyota Solara. The man's wife was on the phone in the backyard talking with her son at around 2:30 a.m. when she heard loud bangs and the sound of screeching tires. Looking from the south side of the home, nothing seemed amiss. But when the man left for the market at 2 p.m. that day, he saw the window had been shattered. Nothing appeared missing. The victim said his daughter uses the car when she's home from college.
Petty theft: 2200 block of Foothill Boulevard. An employee was working at a drive-thru window at around 5:20 p.m. when an unknown suspect ran by and grabbed a tip jar outside the window containing an unspecified amount of cash. She said the person moved too quickly for her to see identifying features.
Dec. 7
Burglary, residence: 4200 block of Woodleigh Lane. A man and his wife and son left home at around 9 a.m. When they returned at around 7 p.m. everything appeared normal. It wasn't until around 11:15 p.m. that his wife went upstairs and noticed a gray backpack laying on a restroom floor. She then saw the master bedroom, home office and two other bedrooms had been ransacked. A portable briefcase safe from the home office was in the master bedroom and appeared to have been pried open and a screwdriver left inside. A Hermes ladies watch, Cartier ladies watch and diamond and platinum Art Deco-style bracelet and emerald and diamond earrings were stolen from a drawer inside the walk-in closet. The son reported a box of first-aid gloves had been left by his bed. No physical damage to the home's doors or windows could be observed.
Dec. 9
Burglary, residence: 5700 block of Briartree Drive. A family left their home at around 5:30 p.m. When they returned at around 9:50 p.m., they noticed the drawers of a TV stand had been rummaged through and closet doors in the living room were ajar. A window in a bathroom off the master bedroom had been opened and its screen broken. A French window in the rear of the house was ajar, its door jamb pried open and its lock broken. Deputies observed numerous drawers in the home's bedrooms had been rummaged through and a west gate outside was left open. The homeowners did not know whether anything had been taken.
Compiled by Sara Cardine
Twitter: @SaraCardine
---