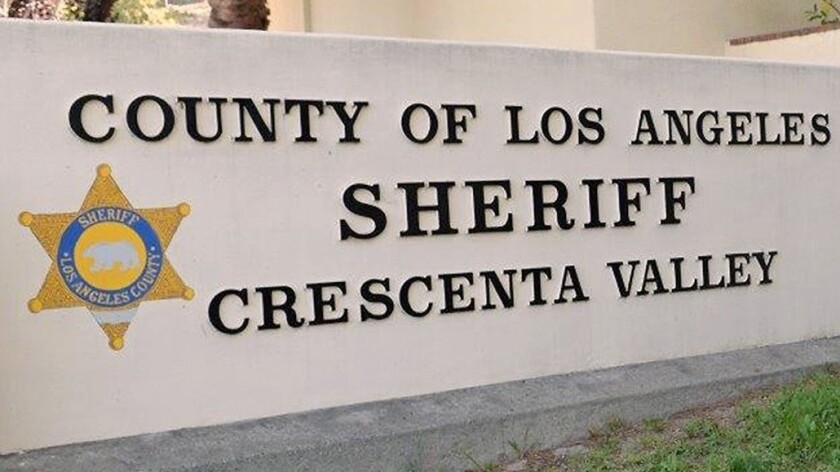 May 15
Burglary: 2700 block of Rock Pine Lane, La Crescenta. A man inside his home heard the sound of pebbles being tossed against a window, followed by the shattering of glass in the sliding glass door that leads from his bedroom to the backyard. He reported that when he investigated the noise he saw a white male, about 6 feet tall and 180 pounds halfway through the shattered slider. On seeing his victim, the would-be intruder took off.
Burglary: 1000 block of Fairview Drive, La Cañada. Sometime between 9 a.m. and 1:10 p.m. someone shattered a sliding glass door at a home and ransacked all the rooms. It was unknown at the time the crime report was taken what might have been stolen.
Burglary: 2900 block of Hawkridge Drive, La Crescenta. Sometime between 9:30 a.m. and 3:05 p.m. someone entered a home via a second-story window, which was found broken. Two bedrooms and a home office were ransacked. It was not immediately clear what might have been stolen.
May 16
Fraud, elder abuse: 5300 block of Crown Avenue, La Cañada. A woman reported that an insurance broker she's known for five years accepted a check from her on April 5 (the amount was redacted in the crime report) to purchase insurance for an apartment building. She said the man took the check to a local Chase Bank and cashed it. On April 14, not having heard from the insurance company regarding her new policy, she tried to contact the broker but he did not answer his cell or office phones. She said her sons and daughter all visited the broker's Westlake Village office on her behalf but could not make contact with the man. So, the woman called the insurance company the new policy was purported to be offered through and was told no payment had been received from her broker. She recalled the during one conversation with the man he had also mentioned a different insurance company, so she called that firm too, but a representative there said they "refuse" to do business with that broker.
May 17
Theft by false pretense: 4800 block of Grand Avenue, La Cañada. A woman reported she was scammed after selling a pair of Nike shoes over the internet. She said the buyer said she'd mail the victim a check for the shoes. That check was received on May 13, but it was made out for a sum larger than the sales price for the shoe. She contacted the buyer, who asked her to send the buyer's husband the difference via the mobile payment service Venmo. On May 14 she deposited the buyer's check into her bank account and refunded the overpayment via Venmo. On May 16 she sent the shoes to the buyer. On May 17, she learned from her bank the check she'd deposited from the buyer was fraudulent and she was out the money she'd refunded, plus the shoes.
May 18
Burglary: 3900 block of Alta Vista Drive, La Cañada. Sometime between 3 and 3:55 p.m. someone scaled a rear balcony and smashed a glass door leading into the master bedroom. Deputies went to the home on a burglar alarm call and found the front door wide open and the alarm still sounding. Inside they found the shattered glass door and saw that the master bedroom master bath, master closet and a guest bedroom had been ransacked. There was a shoe print on the balcony. A woman living at the home said she'd been out doing errands when she received a call at about 3:50 p.m. from her husband, who had been alerted that their burglar alarm had been tripped. When she arrived home she checked their video surveillance system, but all the cameras had been blacked out. She could see that some diamond jewelry pieces were gone, along with a jewelry tray, but could not immediately say what else might have been stolen.
May 19
Burglary: 3100 block of Foothill Boulevard, La Crescenta. A woman working at a business reported two incidents. The first took place May 5 when someone took her key ring with her car and business keys out of her lunch bag, which had been left in a break area. The second took place May 19, when her purse was stolen, also from a break area. Video surveillance footage captured by a neighboring business shows two black men in their 20s entering the business at 2:33 p.m. May 19 through an unlocked back door then walking out, one of them carrying the victim's purse. One suspect is described as bald and wearing an orange hooded sweatshirt, black pants with a white stripe down each leg and green shoes. The second suspect was wearing a black hooded sweatshirt that had flags representing different countries on its sleeve, dark blue jeans and black shoes.
Compiled from reports filed at the Crescenta Valley Sheriff's Station.
---