Teens can spend countless hours theorizing what they might want to do with their future, trying to identify a passion they can follow to a satisfying career path. In order to help facilitate that process among the undecided, presenters from dozens of top industries convened last weekend at La Cañada High to give students and young alumni a look at a wide variety of possibilities.
The "Challenge Success: Building Your Path" event drew more than 500 attendees to the Oak Grove Drive campus on Saturday, according to Soo-Kim Choi of the LCHS Alumni Assn., which sponsored the gathering in conjunction with the school.
The day featured 30 successful presenters who gave career insight and wisdom in breakout sessions set up in classrooms all over campus. Presenters represented entities such as the Los Angeles Dodgers, the Los Angeles Philharmonic, NASA's Jet Propulsion Laboratory, Warner Bros., the Walt Disney Co. and Northwestern Mutual Bank, among others.
Join the conversation on Facebook »
Choi and members of the Challenge Success Committee determined a wealth of industry leaders reside in town, have their own kids in the school system or had raised them in La Cañada. The committee saw an opportunity to make the current high school experience more meaningful for students as young as seventh grade, with an overarching idea to challenge the traditionally narrow definitions of success.
"We figured the kids can speak to anybody they're interested in to find that initial spark," Choi said.
Chris Buck, Academy Awarding-winning motion picture director who is best known for his work on the Walt Disney film "Frozen," along with Dr. Mark Urata, division head and chief of plastic and reconstructive surgery at Children's Hospital Los Angeles, gave keynote addresses to attendees to start the day, and then a variety of speaker sessions took place in classrooms for the remainder of the morning. After lunch, presenters held small group-mentoring sessions with students and alumni.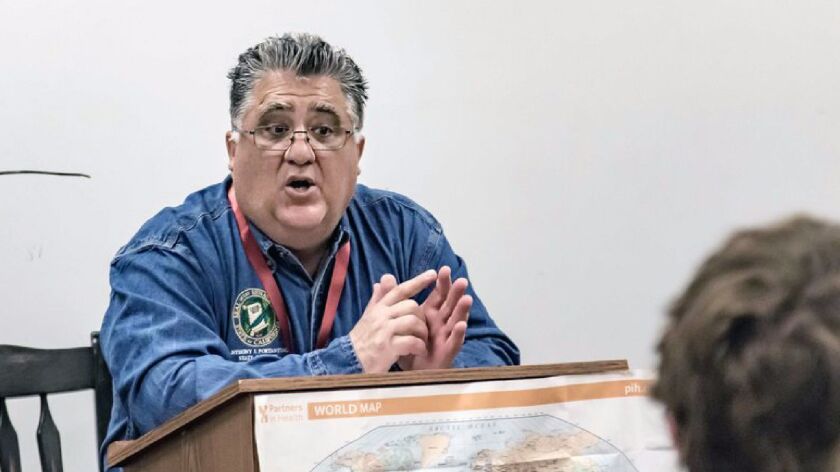 Buck told several stories from his career path, including how the catch phrase and simple life philosophy "hakuna matata" from Disney's "The Lion King" originated from a random event during one of his many research trips. Having studied character animation at California Institute of the Arts and toiled many years to become a director, Buck said "it's the little things" that unexpectedly happened when seeking inspiration that helped him have more empathy as a director.
Buck told his audience that you can still pursue a career in animation even if you cannot animate.
"It's the next person who rises above the rest and has something to say [who succeeds]," he said.
Aside from the obvious industries in La Cañada's backyard, such as the entertainment, medical and science fields, parents who work in technology, finance, politics, education and nonprofits were on hand for the event.
Before tech entrepreneur and co-founder of UCode Michael Yang moved to La Cañada with his family, he spent 35 years in Silicon Valley. In 1999 he became an entrepreneur when he saw the rise of the Internet. He invested in the comparison-shopping website MySimon.com, which eventually sold to CNET for $7 million.
"It was a life-changing experience," he said.
During Challenge Success, Yang said he had been asking students if they knew about venture capital or could define an initial public offering, and realized the contrast between students' career exposure in the Bay Area and Silicon Valley to Southern California.
"There are budding entrepreneurs here," Yang said of the growing tech scene in Los Angeles. "They need help with seed capital, and you can get set up and (eventually) move to Silicon Valley to that huge innovation ecosystem."
Yang said one does not have to be a coder or programmer to get into the industry. He recommended focusing on the intersection of finance and technology as an alternative, because being able to identify good start-up companies, as well as where to invest, is important for the industry. Yang also addressed automation in various work industries displacing a lot of jobs.
"We're living in an increasingly competitive world, and you need an education that will help you into the future," he said.
LCHS junior Patrick Witteman attended Yang's talk and said he is interested in studying economics.
"I had not (before) met professionals and been able to ask what it's like to work at venture capital firms and startups, or investment banks, meeting people who have real world experience in their careers," he said.
Sanderson is a contributor to Times Community News.
---