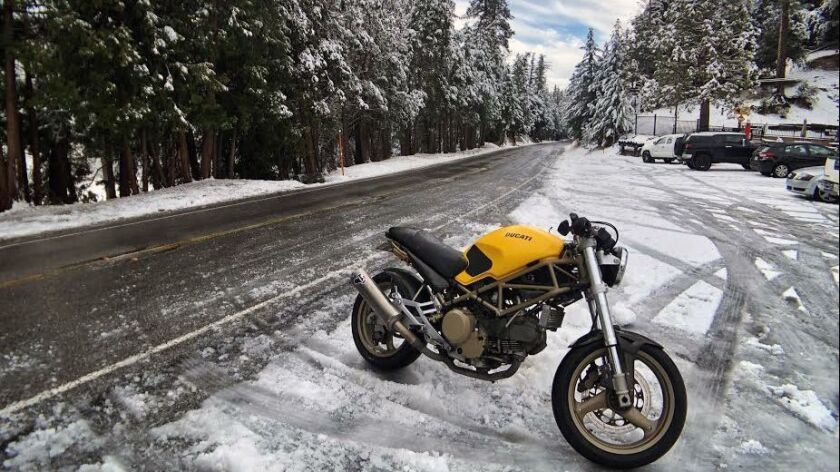 California's Highway 2 is an 87-mile roadway that takes travelers on a brief tour of Los Angeles suburbs and cities including Glendale, Eagle Rock and La Cañada Flintridge before turning northward into Angeles National Forest elevations of nearly 8,000 feet.
Beloved by local hikers for its access to chaparral covered trails, by environmentalists for the stunning glance of California wildlife it provides and by motorcycle and car enthusiasts for its tight, meandering turns, the beauty of Angeles Crest Highway, a long stretch of Highway 2, seems to be in the eye of the beholder.
"Highway 2: The Journey and the Destination" — a free art show on display through March 30 at the La Cañada Flintridge Library — aims to capture a manifold vision of the thoroughfare and the land it intersects as a sanctuary, habitat, mistress, and a scene for both solitude and adventure.
Corina Roberts, who's organized the show for the past five years through her nonprofit Redbird and curated this year's 46-piece multimedia show, said the works are just as diverse as the 28 area artists who created them. Some focus on the highway's rugged landscape while others showcase the breadth of native flora and fauna that call the forest home.
"For a lot of people, [Highway 2] is the journey. For others, it's a means to get someplace in the forest that they love," Roberts said of the show's title. "We tried to put those together to capture the entirety of that experience."
To artist/musician and avid motorcyclist Randy Emata, riding his Ducati Monster 750 and his BMW F800GS up Angeles Crest Highway to Newcomb's Ranch and back to his home in North Hollywood is the quintessential day trip.
Four of his photos, some taken on a ride through a snowstorm in January, are featured in the show.
"I view that mountain as my sanctuary," he said. "It's so nice and welcoming. It just feels like a solid road to me — sometimes I just want to take a bite out of it."
Juxtaposed against Emata's sleek lined photographs are softer, subtler interpretations on the theme, like a stunningly lifelike graphite sketch of a nesting bird titled "Hidden Away," drawn by artist Kathryn Hansen, or a series of multimedia works by Babs Fine that feature nature photographs at their center but span outward into paintings.
Roberts says she hopes "Highway 2: The Journey and the Destination" will inspire viewers to think about the thoroughfare as a resource to be enjoyed and respected by all, similar to the Angeles National Forest.
"I would like for people to come away with the understanding we're all sharing that forest, and there really are diverse viewpoints," she said. "And sharing the highway is a critical part of doing that."
The La Cañada Flintridge Library is located at 4545 Oakwood Ave. For more, call the library at (818) 790-3330 or visit redbirdsvision.org.
Twitter: @SaraCardine
---