High schoolers convened Saturday in Jet Propulsion Laboratory's von Kármán Auditorium to reflect on their successes and setbacks during a 10-week program that positioned them as engineers, business managers and pitch people, celebrating their graduation from the JPL Space Academy.
Created by former La Cañada High School Principal Ian McFeat and JPL project manager Art Chmielewski, this year's program began in September as 40 members learned they would build "rocket" launchers to catapult a projectile into virtual space.
One goal was to not break a lightbulb placed inside the projectile. Maximum height was another.
Over the next two months, student teams built companies in which other teams could choose to invest. Weekly pitches and progress reports segued into launching sessions, the last of which took place Dec. 7.
On the rough-hewn grounds of JPL's Planetary Landing Testbed (aka the Mars Yard), 10 student teams gave their creations one final test to see which launchers soared and which ones sunk. A tiny microprocessor inside, programmed by students, aimed to capture projectiles' heights, but colleagues stood by with measuring sticks at eye level to record angles for rough estimates.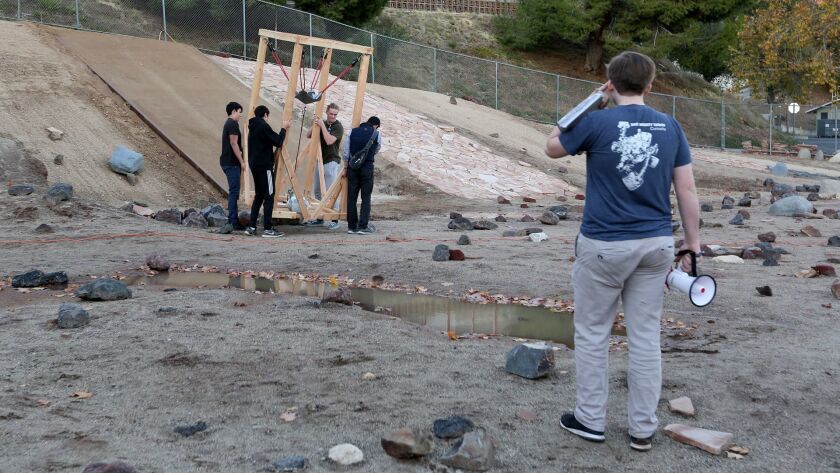 "It's about the physics behind what they're doing," McFeat explained at the launch site. "Also, I wanted them to have to get up and present their ideas in front of one another. That can be a skill not a lot of scientists have."
Saturday's graduation took the format of a press conference, as Academy members from 10 teams shared with an audience how well their launchers, and their companies, performed and what they'd learned from the experience.
"Our launch was pretty successful, but it's very hard to build something that can withstand the impact of an actual launch," said Caleb Whyley, whose team SP4CE had the highest stock portfolio value and third highest stock value.
Team Appollo IV didn't have much launch success but won a nod for best video, while team Twinkle Star earned recognition for highest launch, eclipsing 40 feet.
La Cañada High senior Kevin Oghalai admitted he wasn't too excited at the start of the program but soon changed his tune after meeting Twinkle Star teammates Austin Yu, Nathaniel Barba and Ryan Kim.
"I probably met three of the most amazing people of my life," he said, recounting his enthusiasm over working on circuits during lunch or waking up at night with a new idea. "There are not a whole lot of things that will get me excited like this project did. I'm super glad I took this program, and I'm super glad I met all the people here."
LCHS senior Rajvi Kumar, whose team Odyssey (formerly Ren Enterprises) had the highest stock value of $184 per share and won third highest launch, said she hopes to pursue engineering classes in high school. For Iris Seo — member of team Aurora, which encountered many setbacks — the real lesson learned was somewhat less tangible.
"What I learned about being in the JPL Space Academy was perseverance," she said. "When you encounter failure it's kind of hard to bounce back from that. We did have some struggles. But we had perseverance and we pushed through them."
Twitter: @SaraCardine
---