Demonstrators gather in La Cañada in protest of immigrant detention centers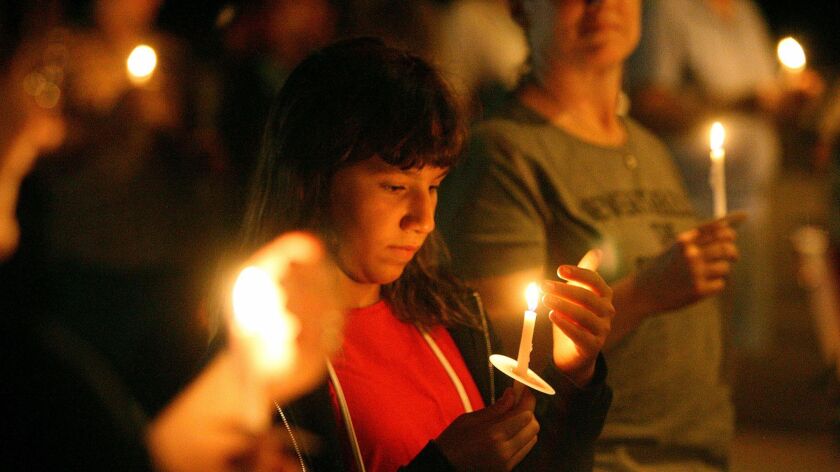 Demonstrators burned 81 candles at the corner of Foothill and Verdugo boulevards Friday night to call attention to conditions at immigrant detention centers and the federal government's practice of separating adult detainees from their children.
From a distance, the pencil-thin white candlesticks were outshined by traffic lights and lampposts, but those holding them said they knew the symbolic power of the wax, the wick and the flame.
"This isn't a political thing, this is an emotional thing," state Sen. Anthony Portantino (D-La Cañada Flintridge) told about 90 demonstrators gathered outside La Cañada Congregational Church for the Lights for Liberty event.
The La Cañada demonstration was one of about 700 worldwide held in anticipation of President Trump's promised immigration raids, which took place over the weekend but not at the expected scale.
Speakers from many religions, including the Rev. Kyle Sears of La Cañada Congregational Church, Levent Akbarut of the Islamic Congregation of La Cañada Flintridge and Rabbi Malka Mittelman from B'nei Mishkan, explained how faith plays a role in their pursuit of justice.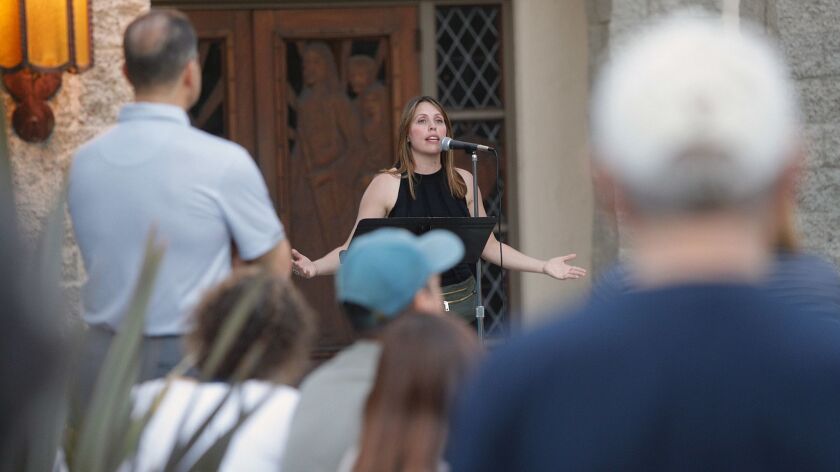 "Memory is a powerful force for empathy," Sears said. "Many seem to have forgotten Deuteronomy's essential foundation to remember the stranger among us, the foreigners in our midst. If we are to be a city on a hill, we should anticipate that those in need would come to our shores and borders, yearning to live free."
Psychologist Brooke Love McLean, who's treated traumatized children of undocumented immigrants, spoke of the harm that "will take a lifetime to undo."
Carin Hoffman, a member of Crescenta Valley Town Council and daughter of immigrants from Germany and Cuba, urged the group to walk in the shoes of parents separated from their children.
"The worst thing we can do is nothing," she said. "I will not stand by and do nothing while our country puts children in detention camps."
Before the speakers and candlelight vigil, community members gathered in the center courtyard to discuss issues, create art and write letters to Trump, Rep. Adam Schiff (D-Burbank) and U.S. Sen. Kamala Harris.
"I think that the solution should come from the top," Linda Torn of Highland Park said. "They control the money, they control the tax dollars, they make the policy. Now because they have failed tremendously, it's up to us locally to protest, to get the word out and to advocate for change as strongly as we can."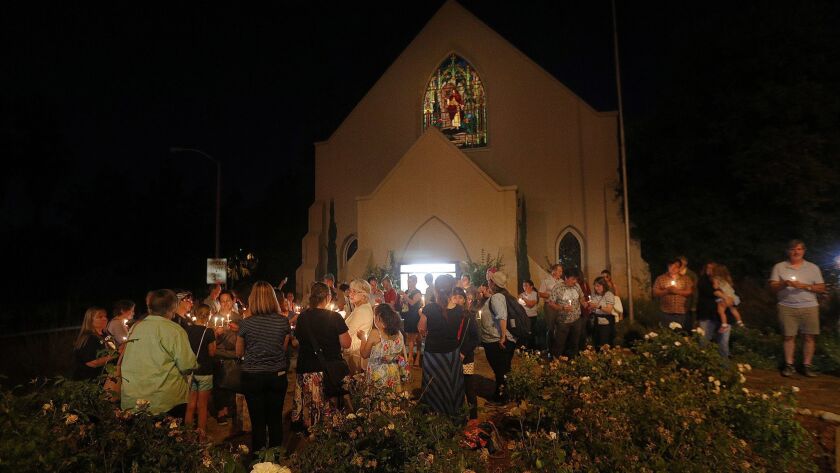 Representatives from the Immigration Resource Center of San Gabriel Valley, which has assisted over 700 families since 2014, shared information about the work they do, including advocacy, financial support and legal services, and urged attendees to get involved and provide support.
After the speakers shared their messages, silence fell. Demonstrators walked from the courtyard and congregated in front of the church, grabbing a candle and borrowing a flame from a neighbor.
While the group huddled in silence, several cars flew past, heading east toward Pasadena.
---