Eight individuals, including a high school senior, a husband and wife duo and a business owner and local band known for their philanthropic pairing of "tacos and tunes" will be honored April 15 as Les Tupper Community Service Award recipients.
The ceremony takes place April 15 at 7 p.m. in von Karman Auditorium at the Jet Propulsion Laboratory and is presented by the La Cañada Flintridge Coordinating Council. Annmarie Eldering, Deputy Project Scientist for the Orbiting Carbon Observatory-2 (OCO-2), will be the evening's keynote speaker.
Named for a former president of both the Coordinating Council and the La Cañada school board, the late Leslie C. Tupper, the awards recognize La Cañada residents who demonstrate an ongoing and broad volunteer service to the local community outside of their regular job duties.
This year's recipients include: Barbie Eland, Coordinating Council member and Realtor for Dilbeck Real Estate; longtime community volunteer Lynne Thompson; LCF Trails Council board member Jennifer Seastrom and her husband, Public Safety Commission Chairman Wes Seastrom; Valley Sun columnist Joe Puglia; Tom Reynolds, founder of the band Misplaced Priorities with Los Gringos Locos owner Bent Hansen; and Flintridge Sacred Heart Academy senior Kelly Carney.
Eland moved to La Cañada with husband Dennis 32 years ago for the schools and now sells the town's many attributes to interested clients.
"I feel blessed to be here — wonderful people, great organizations — it's just a great place to be," said the mother of three. "I love to get my buyers who come to town involved, too."
A member of the La Cañada La Crescenta Kiwanis Club A.M. for 10 years, Eland delivers groceries to the Salvation Army every Sunday and weeds vegetation along the Foothill (210) Freeway ramps at Angeles Crest Highway once a month.
She is publicity chairman for the Coordinating Council and the La Cañada Flintridge Tournament of Roses Assn. and serves as membership, publicity and fundraising chair for the Assistance League of Flintridge's Cañada Auxiliary of Professionals.
A former teacher for L.A. Unified School District, Lynne Thompson has volunteered in La Cañada since moving to town with husband, Joe, in 1975. She's been involved with the Flintridge Orthopaedic Guild, La Cañada Valley Beautiful and plays Mrs. Claus at the LCF Chamber of Commerce's annual Festival in Lights.
Outside her years of teaching, Thompson has been a deacon, Sunday school teacher and Voyager board member at La Cañada Presbyterian Church and is actively involved in the Daughters of the American Revolution Don José Chapter and the Assistance League of Flintridge, where she's worn many hats (including president) since 1994.
"This community lends itself to wonderful opportunities for service and friendships through organizations," she said of her volunteerism. "I meet fantastic people, and we have fun."
Jennifer and Wes Seastrom both grew up in La Cañada and returned in 1977 to raise their two sons. Since then, they've volunteered with the Spartan Boosters Club and the LCF Chamber of Commerce, where Wes founded the group's Business Support and Development Committee and Jennifer served as co-chairman of the chamber's centennial and redesigned its Memorial Weekend Fiesta Days banners.
The two have hiked the city's trail system, mapping routes for posterity. A former "La Cañadan of the Year," Wes served on the Community Prevention Council and Foothill Boulevard Master Steering Plan Committee and was a board member of YMCA of the Foothills and LCF Chamber of Commerce.
"It's easy to give back to the community you grew up in, raised your family in and live in," he said.
"I want to do something that makes a difference," agreed Jennifer. "It's fun to give back when people appreciate what you do and you know it helps."
Known for this Valley Sun column, "Thoughts From Dr. Joe," former Glendale Community College Professor Puglia is being honored with a Special Service Community award for his chairmanship of the city's annual Memorial Day Service in Memorial Park.
For the past decade, Puglia has called upon hundreds of local Scouts to help carry off the tribute to veterans of all wars. A Girl Scout leader of California's Troop 889 for 16 years, Puglia said he hopes to instill in Scout volunteers a reverence for the sacrifices made by those who died serving their country.
"I don't look at it as giving my time or volunteering," he said of his long involvement in the civic tradition. "I do it because it's a mission, because it's important."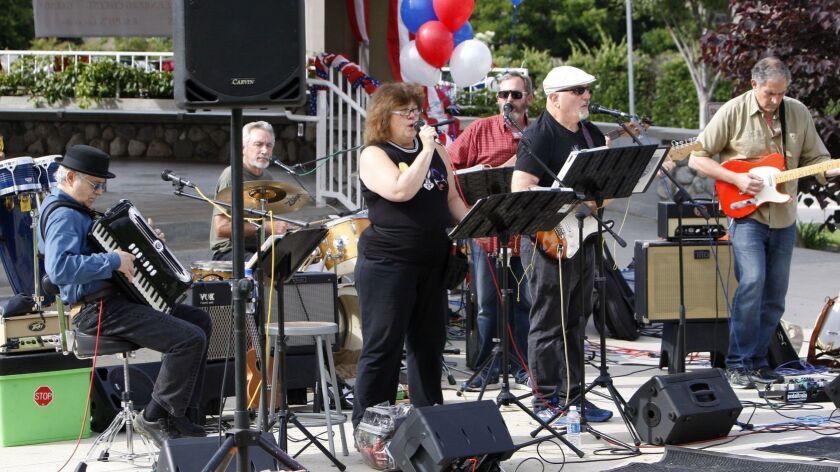 Few La Cañadans have not had a taco or listened to a tune (or both) for a good cause courtesy of Los Gringos Locos and local band Misplaced Priorities. Since 2002, "Tacos and Tunes" has offered a fundraising partnership to numerous local organizations that's raised $950,000.
Co-founded by resident Tom Reynolds, Misplaced Priorities thrills audiences at civic functions, including Fiesta Days, Music in the Park and Festival in Lights, with musical genres ranging from classic rock to country.
Los Gringos Locos opened in 1996 and was so successful it had to move into a larger location. Co-owner Bent Hansen sends out as many as 10 donations each week to local charities and schools and is glad to lend a hand.
"La Cañada is a special place — I think everybody who moves here feels that and wants to give back," Hansen said. "It's fun to be a part of the community, and it's what we're good at, so that's why we give."
Winning this year's Student Community Service award is Kelly Carney, who maintains a 4.0 grade point average at FSHA and plays varsity volleyball and is captain of the school's track and field team.
A member of the National Honor Society who regularly tutors elementary school students, Carney works in the Assistance League of Flintridge's Assisteens program, where she's assembled treat bags for homeless children, helped set up the Pasadena Bad Weather Shelter and made baby blankets for mothers in need. She is currently a member of the Flintridge Sacred Heart Campus Ministry Leadership Team and is renovating the counseling office at Pasadena's Door of Hope for her Girl Scout Gold Award.
"I've grown up watching my parents and older brother volunteer. I think that's inspired me to do the same," she said. "Plus I just love people."
The von Karman Auditorium of NASA's Jet Propulsion Laboratory is located at 4800 Oak Grove Drive, La Cañada. Admission is free. For more, visit lcfcc.info.
Twitter: @SaraCardine
---