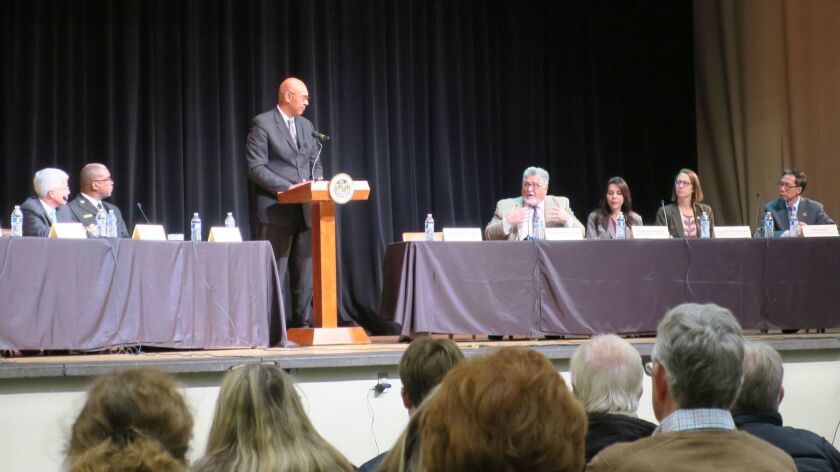 La Cañada residents may have survived the devastating 2009 Station fire and the equally devastating mudslides that followed, but public safety officials considering the possibility of a year-round fire season are warning Californians everywhere that no community is fireproof.
That point was made evident during a Feb. 21 Wildfire Town Hall Forum spearheaded by Assemblyman Chris Holden (D-Pasadena) — chair of the Assembly Utilities and Energy Committee — and attended by utility and emergency response leaders as well as state Sen. Anthony Portantino (D-La Cañada Flintridge) and Assemblywoman Laura Friedman (D-Glendale).
Area residents turned out in Pasadena High School's auditorium to learn about recent efforts being undertaken by state and regional legislators and utility providers like Southern California Edison to reduce danger in high risk fire areas and learn how to better protect their own homes and lives.
Legislation passed last September — Senate Bill 901— introduces sweeping changes, including offering utility agencies $1 billion in state cap-and-trade climate funding over the next five years for fire-risk reduction and requiring companies to submit fire mitigation plans to the California Public Utilities Commission.
Pedro Pizarro, president and chief executive for Edison International, apprised attendants of aspects of Edison's proposed 2019 Wildfire Mitigation Plan, submitted to the CPUC on Feb. 6.
"We believe that the wildfire mitigation plan, once approved, should provide the foundation for the CPUC to assess whether we have prudently managed our system," Pizarro said.
The plan calls for $530 million to $680 million in capital operations and maintenance this year alone. Additionally, Edison has installed 150 miles of insulated power lines — more resistant to wind and damage than their traditional counterparts — and has plans to replace another 3,000 miles by 2025.
Pizarro said vegetation growing near power lines is a threat to fire safety. SCE's Hazardous Tree Management Program calls for at least 125,000 tree-specific threat assessments that will remove or trim at least 7,500 trees in 2019 — the first year in a program that could take up to eight years to complete.
During a segment that allowed legislators to pose questions to fire and utilities experts, Portantino asked what kind of notification Edison might give residents in the event of a public safety power shutoff, just one effort the utility is considering for high-risk areas like La Cañada.
Pizarro said customers would first be notified 48 hours in advance of a potential shutoff scenario, and then again contacted 24 hours before it occurred.
Friedman asked whether the state offers financial assistance for low-income residents wishing to remove trees or further fireproof their homes. Los Angeles County Fire Department Chief Daryl Osby said communities could form fire safety councils that would be eligible for state and federal grants.
Elizaveta Malashenko, deputy executive director for CPUC's Office of Safety and Enforcement, stressed the need for more tree trimming, citing vegetation as the culprit in about 25% of California wildfires.
"Utilities are going to be much more aggressive about vegetation management this year," she said.
After taking a series of questions from the audience about evacuating pets, the role of CPUC in Pacific Gas & Electric's January bankruptcy filing and whether developments in high-risk areas might be prevented or taxed, Holden thanked participants for their contributions.
"We're all in this together," he said.
Twitter: @SaraCardine
---