Local YMCA celebrates 60 years of service as officials plan for future growth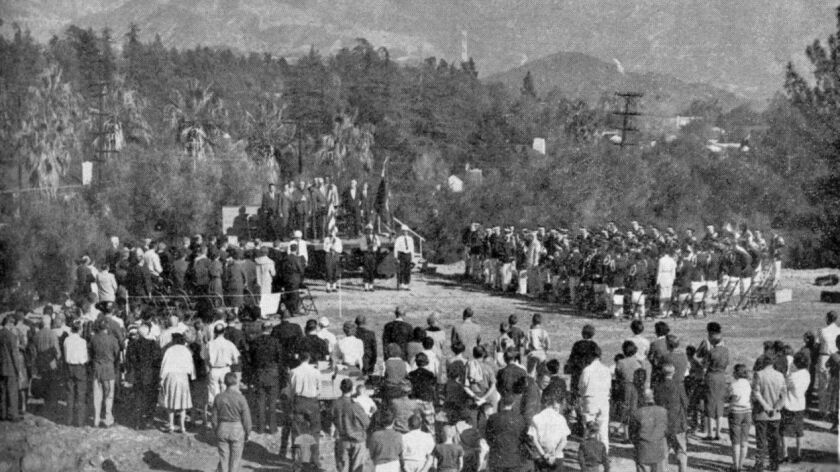 In 1958, a group of La Cañada families made a move that would affect the city and surrounding community for decades to come when they decided to form the Crescenta-Cañada YMCA.
La Cañada resident and Y board member Reid Samuelson was just a child when his father, Jack, and Uncle Bob helped buy a parcel of land on Foothill Boulevard, the former site of a Methodist church, to house a facility that still stands today.
"The Y gave free swimming lessons and taught them how to swim," Samuelson said of his forebears, who grew up during the Depression. "It was an important part of their lives, and they wanted to share that with their community."
Doing so meant breaking away from the larger Glendale organization of which they'd been a part for five years, but it also laid the groundwork for a broad expansion of services and programs that would carry the local nonprofit into the 21st century.
Today, serving more than 30,000 members in three facilities, YMCA of the Foothills offers programs for infants, seniors and every stage of life in between. Members are marking the 60th anniversary of that pivotal moment in their organization's history with a series of events and celebrations.
YMCA of the Foothills chief executive Tyler Wright reflected on what's changed and what's stayed constant throughout the past six decades and imagined what the next 60 years might bring.
"When our founding fathers built this YMCA, they saw it as a vehicle to continually promote our Christian principles through youth and adult activities, and that hasn't really changed," Wright said. "What has changed are the types of programs and services that we offer."
The organization has recently focused on reaching out into the wider community, bringing water-safety lessons, after-school activities and support services to those who can't travel to the campuses. But the original Crescenta-Cañada facility at 1930 Foothill is thriving and is about to see some big changes.
Officials are in the middle of a capital campaign that calls for the construction of a two-level parking deck, demolition of nearly 7,000 square feet of existing structures and 15,000 square feet of new space. They are working with representatives from CCS Consulting to help raise the $7 million needed to complete the project and see it through the city's planning process.
Consultant John Kozyra has been working directly with Wright, and the pair said if all goes well, the project could go before the city's Planning Commission later this year. In the meantime, a quiet effort is underway to bring members up to speed on the plans and rally support.
"We're in the process of planning for the next 60 years through this project," Kozyra said. "This is a transformational year for the organization. It's a time of growth, of really responding to the community's needs and paving the way for a much more impactful future."
Wright said when he thinks about the next 60 years, he hopes YMCA of the Foothills is still focused on what he sees as its primary mission — saving and improving lives.
"You may not be on the brink of death, but maybe you're alone. Maybe you've got physical issues. Maybe you're going through a tough time," he said. "That's what the Y's core purpose is all about."
Samuelson agrees.
"We're looking forward to the next 60 years," he said. "[The YMCA] may look different, it may feel different, but we'll still be connecting people to people."
Twitter: @SaraCardine
---