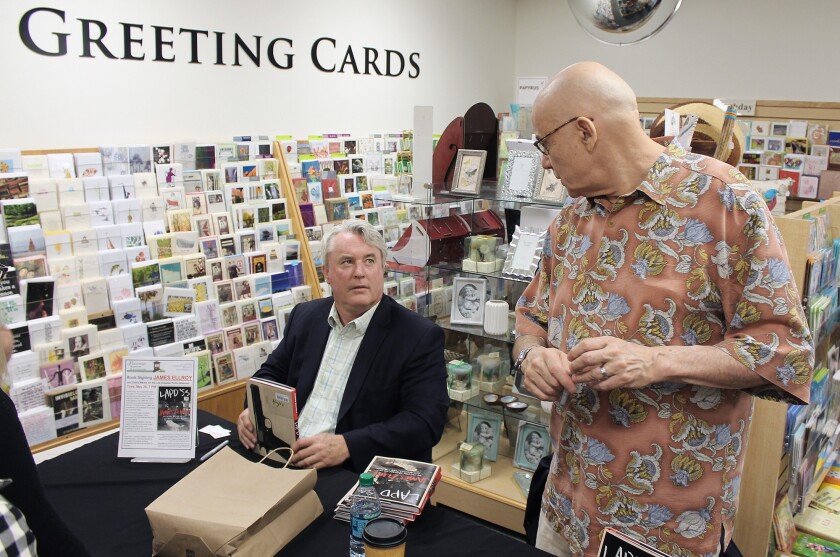 Crime buffs and mystery writing fans gathered at Flintridge Bookstore & Coffeehouse Tuesday night for a book-signing event for "LAPD '53" by novelist James Ellroy and La Cañada Flintridge resident Glynn Martin, executive director of the Los Angeles Police Museum.
Their collaborative work chronicles the scenes of the crime in a compelling narrative. More than 85 original duotone photographs serve as the basis for the book and accompany each story, detailed in Ellroy's trademark style.
La Cañada resident and Los Angeles District Atty. Debra Archuleta attended the book signing and said she first saw Ellroy at a reading in 1990 at the Met Theatre.
"He completely captures the LAPD crime scene," she said.
After combing through the photo archives of the police museum, Ellroy discovered that 1953 featured the most unusual and striking imagery of the extensive collection and was inspired to write 25,000 words of text that illuminate L.A.'s underbelly and the controversial law enforcement practices of the time.
"James Ellroy is the great American author of our generation," said La Cañada resident Kevin Hoffman. "And this book is an exemplary piece of his talent."
Ellroy's co-author on the book, Martin, was born in Glendale and in 1977 graduated from neighboring Crescenta Valley High School, where he was the editor of the school newspaper. He recalls receiving the "Staffer of the Year" award from the Glendale News-Press for his work on the school paper.
During his senior year in high school and his ensuing years at USC, Martin was a part-time sports reporter for the Ledger newspaper. After finishing at USC in 1982 he joined the LAPD. He retired in 2002 and has been the executive director of the Los Angeles Police Museum for the past 10 years.
--
Matt Sanderson is a contributing writer.
---