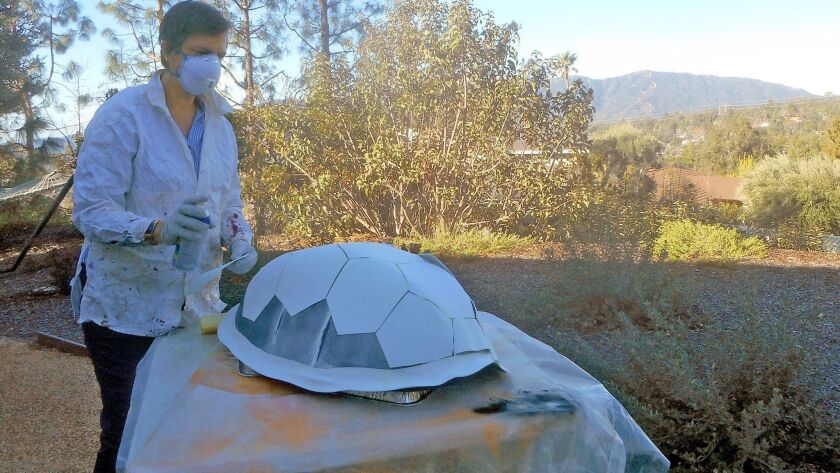 This animal is my stepson. Hovering somewhere between lovable and lethal, he was born in La Cañada and, if the laws of extinction hold, will end his days in North Hollywood in March.
He's a dragon in Mozart's "The Magic Flute," a freely adapted version by the Pacific Opera Project. My wife, Maggie, hatched him this week and I've been concerned that he might have been born too early: I'm told that most of his kind grow prodigiously and have been known to devour their parents. However, this one appears to be comfortingly stable.
Maggie, with only a consuming interest in making costumes for our three children at Halloween as experience decided a decade ago to take a certificate at Los Angeles Community College and has since costumed 27 operas, most of them with POP and all of them unconventional in some way.
She began with "The Fairies," the first opera that Richard Wagner wrote, so rarely staged that it had to wait more than 150 years before being performed in the United States. The Los Angeles Times said the costumes made the fairy chorus look lighter than air, a memorable tribute given that some of them were distinctly overweight.
By contrast, every opera company has tried its hand at "Don Giovanni," but few would think of replacing the tyrannical nobleman with a 1930s gangster boss, though the character traits are quite similar.
And how many companies would dare to outfit the cast of Mozart's "Abduction from the Seraglio" as Star Trek characters — and still fill the beautiful 1,200 seat Ford Amphitheatre?
POP was started by Josh Shaw, an artistic director, set designer, librettist and occasional performer, to take the starch out of an art form that has become increasingly stylized and out of touch with ordinary folk — and out of touch with their wallets too.
The fantasies proliferate in any production of "The Magic Flute," which explains why Maggie has forsaken the sewing machine that whirs deep into the night for a can of spray paint for the shell on the dragon's back. It's true that, unlike a real dragon's shell, which is meant to last a thousand years, this one might disintegrate in a rainstorm, but I don't forget for a moment that Dorothy's red shoes were made of wood pulp, gelatin and plastic, and one pair of them sold for $2 million.
Keep spraying, Maggie.
Reg Green lives in La Cañada. His latest book is "90 And Not Dead Yet."
---