Lew headlines La Cañada girls' basketball with top league recognition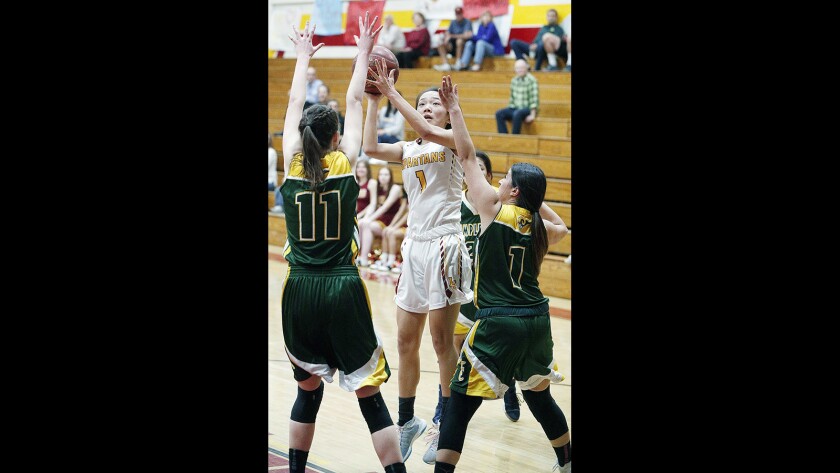 In games where the score got close, the La Cañada High girls' basketball team could turn to their senior captain Emmie Lew to help direct them to success.
Her guidance and leadership steered the Spartans through tight games down the stretch of the Rio Hondo League campaign.
Lew propelled La Cañada to its fifth consecutive league title, and, as a result, was named the league's most valuable player.
Spartans juniors Lauren Scoville and Bethany Co received all-league first-team selections and senior Annie Abnous and freshman Mia Oakley-Stilson earned honorable mention.
Their contributions helped La Cañada extend its unbeaten league streak to 49 games. The Spartans finished 18-11, 8-0 in league.
The Spartans endured a first-round playoff exit for the second straight season with a 53-49 home loss to Brentwood in the CIF Southern Section Division I playoffs.
Despite missing four games due to a knee injury, Lew finished her La Cañada career this season averaging 14.7 points and 5.6 rebounds per game.
Lew also put herself among the program's all-time leading scorers, finishing ninth on the list with a career total of 838 points.
"She was a four-year varsity player, a three-year varsity starter and a two-year varsity captain," La Cañada coach Owen Keenan said. "She's a leader on and off the court. She was a quiet leader last year, but this year, she was way more vocal.
"In the games she was injured, I don't think we won any of them. … She was definitely our most valuable player and the league's most valuable player, and I'm very happy for her."
Scoville and Co were consistent scorers and contributed double-figure scoring. Co averaged 13 points per game and Scoville contributed 13.2 points and eight rebounds per contest. On the defensive end, Scoville registered 2.2 steals and 3.7 blocks per game.
"Lauren, in our opinion, will be the best player in the league next year and it might not even be close," said Keenan, who's secured two Rio Hondo League titles in as many years at the Spartans' helm. "If she really wants to, she can dominate the whole league next year."
Abnous recorded 3.2 points and 3.3. rebounds per game, while Oakley-Stilson averaged 3.7 points and 3.9 rebounds.
"Annie is a senior who really works hard, and from her junior year, she didn't play very much and kept asking what to do to get better," Keenan said. "She did all those things and was a starter and a big contributor her senior year.
"Mia is only a freshman, but she's got the pedigree for really good things in the future. We wanted to bring her along slowly, but because of injuries, she did a really great job for us and we're looking forward to next year for her to be even higher on the pole."
---