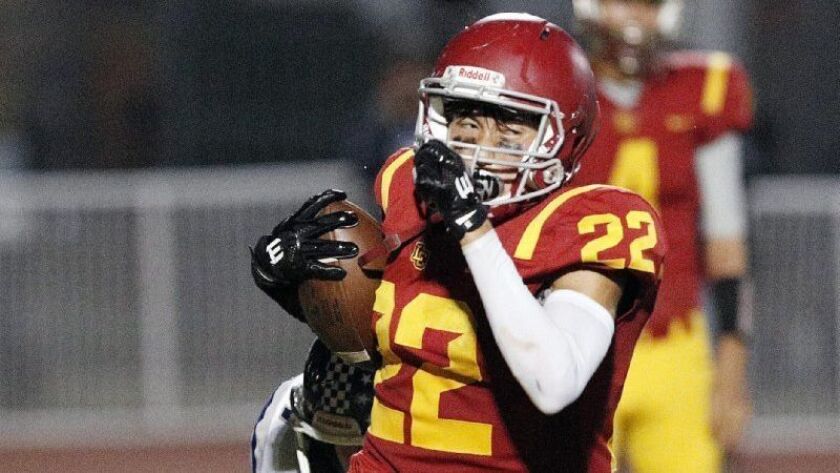 LA CAÑADA VS. SOUTH PASADENA
WHEN: 7 p.m. Friday
WHERE: La Cañada High
RECORDS: The Spartans are 1-7, 0-2 in the Rio Hondo League; the Tigers are 2-7, 0-3
LAST WEEK: La Cañada lost to Monrovia, 42-0; South Pasadena lost to Temple City, 21-7
OUTLOOK: Much like the rest of the area, La Cañada and Monrovia couldn't avoid the inclement weather Friday night, and due to the lightning strikes, the two schools' officials decided to call the game at halftime.The second half was not played and Monrovia was be credited with a 42-0 victory. The Spartans turned the ball over three times in the shortened game. The La Cañada offense has been led by senior Matt Bromley, who has thrown for four touchdowns. Senior running back Joe Travis has rushed for more than 300 yards. The Spartans will try to break a six-game league losing skid over the past two seasons. South Pasadena, in its final game of the regular season, enters the game after a short turnaround. The Tigers had their game Friday against Temple City postponed because of the weather and was finally able to continue the contest Monday. Tigers' junior receiver Ivan Estrada has scored three touchdowns.
SOMETHING INTERESTING: La Cañada is looking to win its first league game and score its first points in league competition this season, having been shutout in its two league contests, 91-0.
FLINTRIDGE PREP VS. MILKEN COMMUNITY
WHEN: 7 p.m. Thursday
WHERE: L.A. Pierce College
RECORDS: The Rebels are 3-3, 0-1 in Prep League; the Wildcats are 4-3, 0-1
LAST WEEK: Flintridge Prep lost to Windward, 65-49; Milken Community lost to Chadwick, 91-12
OUTLOOK: In eight-man football, Flintridge Prep got off on the wrong foot in its league opener. The Rebels got off to a slow start, yielding 27 points in a 37-second stretch in the first quarter and couldn't regroup. Flintridge Prep quarterback John Lytle completed 16 of 32 passes for 289 yards and five touchdowns. Zach Kim, who finished with 157 yards in eight receptions. caught three touchdown passes and had an interception. Charlie McCormick caught three passes for 81 yards and Ben Grable had had three receptions for 55 yards. Flintridge Prep running back Alexander Payne rushed for 68 yards in 18 carries. The Rebels, ranked No. 10 in CIF Southern Section Division I, have lost three of their last four games. Milken Community fell on hard times in its league opener. The Wildcats gave up a season-high in points versus Chadwick. Quarterback Daniel Schrager has thrown for more than 800 yards and 10 touchdowns.
SOMETHING INTERESTING: Flintridge Prep has yet to lose three games in a row in 2018.
ST. FRANCIS VS. CATHEDRAL
WHEN: 7 p.m. Saturday
WHERE: Cathedral High
RECORDS: The Golden Knights are 5-3, 1-0 in Angelus League; the Phantoms are 6-2, 1-0
LAST WEEK: St. Francis defeated Salesian, 41-0; Cathedral defeated Crespi, 42-0
OUTLOOK: The winner will clinch at least a share of the league title with one week left. St. Francis began league on a positive note by picking up an abbreviated home victory versus Salesian. The game was called at halftime because of inclement weather. The Golden Knights converted on their first four possession, leading to a 27-0 lead. Quarterback Darius Perrantes completed five of six passes for 207 yards and three touchdowns. On the season, Perrantes has completed 110 of 213 passes for 1,883 yards and 20 touchdowns and seven interceptions. Kevin Armstead finished with three rushing touchdowns,Tanner Tomko scored two touchdowns and Bryson Reeves added another for St. Francis, which advanced to the CIF Southern Section Division III championship game last season after finishing second in league behind Cathedral. It took two days for Cathedral to defeat Crespi. Cathedral had a 7-0 lead in the first half before lightning stopped the game Friday. It resumed Monday and the Phantoms didn't miss a beat. Cathedral, ranked No. 9 in CIF Southern Section Division II, received one rushing touchdown each from Donte Riley, Terence Simon Jr. and Brandyn Jordan. Simon leads the team with 10 rushing touchdowns.
SOMETHING INTERESTING: St. Francis won the inaugural Angelus League title in 2014. Cathedral has won or shared the last three league championships.
---