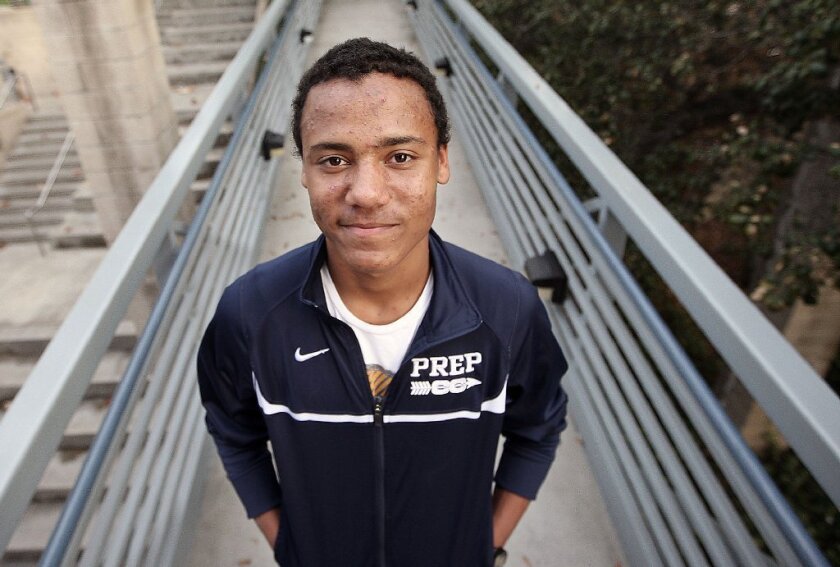 Somewhere over the last 12 months or so, Flintridge Prep senior Alan Yoho transformed from recreational cross-country runner to competitor, from middle of the pack to pacesetter, and from challenger into champion.
Ask the soft-spoken 17-year-old exactly when he knew he was in for a breakthrough 2013 season and Yoho doesn't talk about any of his impressive efforts from the just-concluded season.
No, in fact, Yoho points back to the 2012 CIF State Division V Championships and one of the more agonizing finishes in Flintridge Prep cross-country history.
"Losing at state really changed my attitude. We were so close and it was really disappointing not to win, especially being with seniors who really wanted that title," Yoho said.
The Rebels were nipped by the narrowest of margins, 86-87, by Alameda St. Joseph Notre Dame at Fresno's Woodward Park on Nov. 24, 2012.
On that day, Yoho finished 29th overall in 16 minutes, 36 seconds and was Flintridge Prep's No. 4 runner.
"For the first couple of years, running was really a side gig, it was just something that I just participated in," said Yoho, who recently verbally committed to Brown University of the Ivy League. "I didn't really take it that seriously, but that changed. Some of that came from maturation, but I knew I could do much better and I wanted more."
Yoho's epiphany helped spark a wildly successful 2013 campaign that led the senior to a Prep League individual title, while his CIF Southern Section Division V and CIF State Division V individual championships were firsts in the history of the Flintridge Prep program.
On the strength of those performances, Yoho has been unanimously chosen the 2013 All-Area Boys' Cross-Country Runner of the Year by the sports writers and editors of the Glendale News-Press, La Cañada Valley Sun and Burbank Leader.
One teammate who noticed a difference after the 2012 state finals was Jack Van Scoter, then a freshman on the Rebels' Division V runner-up squad.
Van Scoter finished 14th in the race in 16:19 and was the Rebels' third-best runner, behind seniors Elias Ellison (12th, 16:10) and Aaron Sugimoto (14th, 16:16) and ahead of Yoho.
"I really think it was at that race that Alan took the first steps toward becoming a championship runner," Van Scoter said. "I think he thought he would finish higher and I knew he was surprised that he placed behind some freshman from Texas. That race was a real turning point because I don't think he wanted to finish behind anyone anymore."
The 2013 season was one in which veteran coach Ingrid Herskind even admitted she wasn't too sure what to expect.
"We had a lot of youth obviously this year and when you graduate four of your seven seniors from state, there's definitely going to be change," Herskind said. "Coming into this season, I was curious to see who would lead this team. Alan was certainly a strong candidate, but there's always the matter of getting out there and running."
Yoho wasted no time in taking over the team reins as he galloped to victory at the season-opening Don Bosco Tech Invitational at Santa Fe Dam on Sept. 7 with a day-best time of 15:20.3, which won the 11-12 race.
"You love fast starts," Herskind said. "And he had one."
Ten days later, Yoho sent a message to the Prep League that he was top contender to the vacant league title when he blitzed the entire field en route to winning the league's first meet at Palos Verdes Peninsula Course with a time of 17:03, which was 52 seconds faster than Van Scoter, the league's next top runner.
The theme of victories and impressive outings continued for Yoho, who won the Stanford Invitational Division IV race in 15:42 on Sept. 28 and then captured the Clovis Invitational Small Schools event at Woodward Park on Oct. 12 in 15:23, which tied for the fifth-best time of any runner in any race that day.
"Clovis was really my best race of the season time-wise, but it's hard to say if that's the one I was proudest of," Yoho said. "Maybe it was Stanford because that's the first race I really broke away. I unlocked something in that race and I found a way to push through the pain."
Before Yoho and the Rebels advanced to the postseason, they took part in the Mt. San Antonio College Invitational on Oct. 25.
Perhaps it was at Mt. SAC where Yoho first thrust himself into Rebels lore when he won the Division V Sweepstakes in 14:58 and became the program's first athlete since Tom McLean in 2004 to capture a sweepstakes race and prized cow bell.
While Yoho wasn't finished with Mt. SAC, he next set his sights on the Prep League finals on Nov. 2 at Los Angeles Pierce College.
Again, outside of Van Scoter, Yoho found no competition as he ran to victory in a mark of 15:18, which tied him with Pasadena Poly's Wesley DeVall for the league's all-time best mark.
Yoho's victory, though, wasn't solitary as Flintridge Prep won it 21st league championship over the last 22 years in easily holding off rival Chadwick, 20-61.
"I think that's the thing people don't realize about Alan," Van Scoter said. "He's so far out ahead of everyone, but he cares more about how the team does than he does. He wants us to win and knows the best way for that to happen is for him to win."
Two weeks later, Yoho once again paved the way to team and individual glory.
Despite two false starts and a pair of sicknesses, the Rebels romped to a Division V title, 56-79, over Thacher. The win, coupled with Flintridge Prep also claiming a girls' Division V crown, produced a school sweep for the first time in two years and first time in six years within Division V.
As for Yoho, his biggest obstacle was a slight tail wind on an otherwise gorgeous afternoon on Nov. 23 as he again took home a title in 15:10, nine seconds ahead of runner-up Van Scoter.
"You know what I've always appreciated about Jack is that he keeps me on my toes. I can't be lax in practice or slack in a race because if I do, he'll beat me," said Yoho, who became the program's first male divisional champion. "I think some of my success was because he pushed me."
Yoho and Van Scoter enjoyed one last weekend of honors as the teammates finished first and third, respectively, in 15:11 and 15:41 at the Division V state championships at Woodward Park on Nov. 30.
The victory was also another first for Yoho, as he was the program's inaugural state champion while running the best time in the division's history.
"He ran an unbelievable race, as well as you could have wanted," Herskind said. "This program has accomplished a lot, but for Alan to win an individual title is special."
Yet, perhaps in a testament to Yoho's competitiveness, the senior was mildly disappointed when he crossed the finish line.
About 20 minutes later, that disappointment was cemented as the Rebels missed a top-three performance, instead finishing fourth with 127 points.
"I don't know what happened. I really thought we could at least match our state No. 2 ranking," Yoho said. "If we would have run the race we were capable of running, we could have won. It just wasn't our day."
Some frustration came also from the fact that Yoho entered Saturday preparing to run a 15:05 or better in the hopes of earning a berth to the Nike Cross Nationals in Portland, Ore. on Dec. 7.
"When I crossed the finish line, I thought my season was over and that was hard to accept," Yoho said. "Honestly, I didn't think I was going to make it."
About three hours later, Yoho received the news he had been looking forward to hearing.
"A Nike rep called me and told me that I was a finalist. That was so much more satisfying than crossing the line finish line," Yoho said.
With one more race left, perhaps Yoho forever shed any idea that he was just a small-school runner by taking ninth overall in 15:14 at the Nike Cross Nationals, which was quite stunning given the runner entered ranked 12th in state and 88th in the nation.
"I always knew I was capable of running against the best and, honestly, I think I could have done better," Yoho said. "It was just a great way to end a season."
Van Scoter, who ran No. 2 to Yoho all season, added that the senior did more than just put together a great individual season.
"This was a great experience for me individually put also for the team, to run with a living legend like Alan Yoho," Van Scoter said. "He created a new level of excellence for everyone to aspire to. He had a work ethic that we can all try to learn from. He changed and improved, so can we."

---