Angels' Mike Trout is open to playing for U.S. in WBC in the future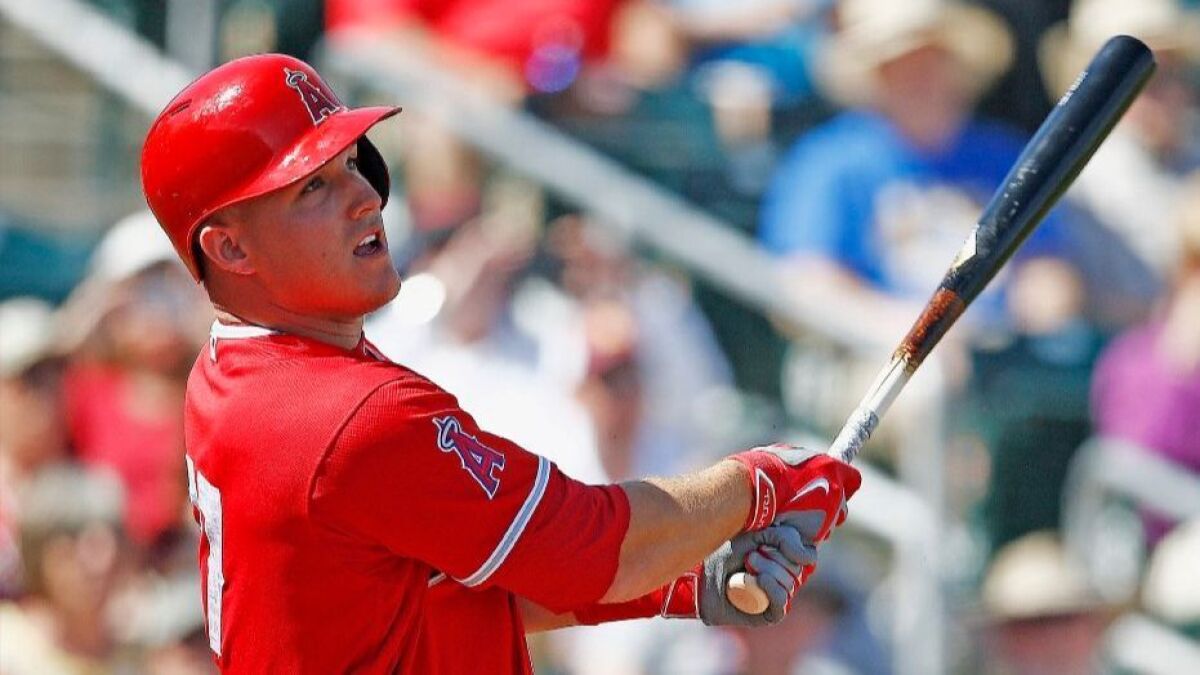 Reporting from Tempe, Ariz. —
Mike Trout hasn't contracted a full-blown case of World Baseball Classic fever, but the Angels center fielder and two-time American League most valuable player is warming to the idea of playing in the event after watching the passion and excitement of several first-round games.
"I mean, definitely, in the future, for sure," Trout said Monday, when asked if this spring's tournament has increased his desire to play in the next WBC. "If I get the opportunity to do it again, I'll probably do it."
Trout has watched several WBC games, but he was especially intrigued by the U.S.-Dominican Republic game Saturday night.
The Dominicans trailed, 5-0, in the sixth inning but mounted a rally, highlighted by Nelson Cruz's three-run home run against reliever Andrew Miller, for a 7-5 victory in front of a raucous and record crowd of 37,446 in Marlins Park.
"The games have been good, fun to watch," Trout said. "The park in Miami was sold out. That's good for baseball. A lot of people are saying baseball is falling off the map, but with the World Series last year and now the WBC, it's definitely helping out."
The WBC would be an even bigger event if top U.S. players such as Trout, Washington Nationals slugger Bryce Harper, Chicago Cubs star Kris Bryant, Dodgers ace Clayton Kershaw and Nationals ace Max Scherzer participated.
Trout said "it was a personal decision" to not play in this year's event. Is the WBC to Trout sort of like the home run derby, the All-Star game showcase that Trout has declined to participate in but says he would like to do some day?
"Yeah, that hits it on the nose," said Trout, who went hitless in three at-bats in the Angels' 3-1 exhibition loss to the Dodgers in Tempe Diablo Stadium. "The U.S. has a great team. I was talking to some of the guys. Obviously, they wanted me to be there, but like I said, it was just a personal decision, nothing more than that."
Armed and dangerous
Manager Mike Scioscia was asked to describe the throwing arm of new catcher Martin Maldonado, who was acquired in December from the Milwaukee Brewers in exchange for catcher Jett Bandy and minor league pitcher Drew Gagnon.
"A cannon," said Scioscia, the former Dodgers catcher.
Like the one Ivan Rodriguez, one of baseball's best-throwing catchers and a 2017 inductee into the Hall of Fame, had?
"A cannon," Scioscia repeated.
How about in relation to other current major league catchers?
"Some guys have a bazooka, some guys have a cannon, some guys have an M-16, and some guys have a pop-gun," Scioscia said. "His arm ranks with any of the best-throwing catchers I've seen. His arm strength is tremendous."
Maldonado, who has thrown out 67 of 190 base-stealers (35%) in five big league seasons, showed off the arm in the seventh inning Monday when he made a snap-throw to first base to pick off Charlie Culberson, who had wandered too far off the bag on a pitch to O'Koyea Dickson.
Maldonado, 30, has a reputation as one of the game's better pitch-framers, and Scioscia was impressed with the way the catcher guided starter Ricky Nolasco and five relievers through a well-pitched game Monday.
"Martin did nice job behind the plate," Scioscia said. "You can see the presence he brings."
Maldonado has been less impressive as a hitter. After striking out in both of his at-bats against the Dodgers, he has one hit in 23 at-bats.
Twitter trends
The Angels held their annual spring-training media and social media awareness meeting before Monday's workout.
What advice do the experts give players about using Twitter and other social media platforms?
"Just think," reliever Mike Morin said. "You don't want to do something that can't be undone. It's not rocket science. Just use your common sense, that's it."
For Morin, that means essentially avoiding social media. The right-hander maintains a Twitter account but has ignored it for the most part after receiving too many nasty comments after his rocky outings in his first two seasons.
"It's good and bad, a double-edged sword," Morin said. "There's a lot of positive stuff … and I think it's good to use your platform to connect with the fans and stuff like that. But there's a lot of negative stuff, too.
"When I first came up, it's kind of hard not to read [fan comments on Twitter]. You have a tough outing, some people aren't thrilled, the next thing you know it's just like … nothing productive is going to come out of reading anything like that."
mike.digiovanna@latimes.com
Twitter: @MikeDiGiovanna
---
Get the latest on L.A.'s teams in the daily Sports Report newsletter.
You may occasionally receive promotional content from the Los Angeles Times.