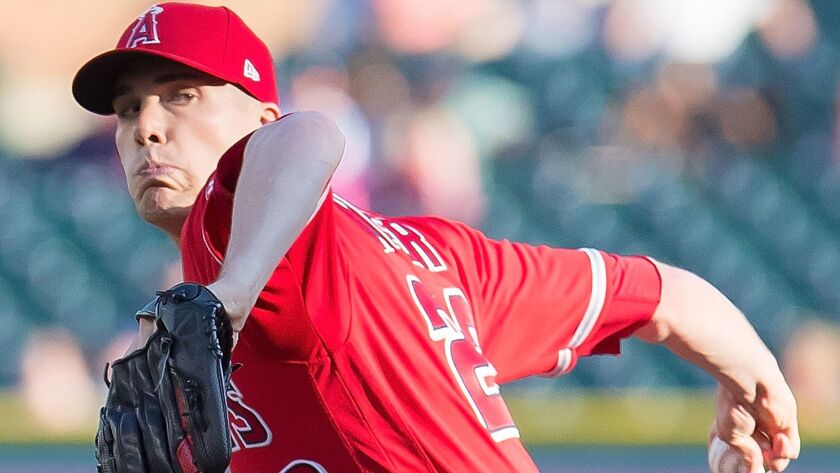 Hello, Angels fans. Your favorite team is 33-33 as of today, which translates to an 81-win pace for a full season. They played well last week in beating Detroit and Houston, both talented clubs. The Astros, in particular, are the class of the American League, although their chief contender, the New York Yankees, visits Angel Stadium for three games, beginning tonight.
Here are some questions and answers about the Angels.
The thing to remember about Alex Meyer is that, though he is 27, he is still remarkably green as a professional pitcher. He does not have the depth of high-level experience that is typical of big-league pitchers at his age. As he tells it, he was 17 when he first thought about pitching professionally, and it was sort of thrust upon him, because he is 6-foot-9 and he threw 95 mph in a game that influential evaluators saw. In the next year's draft, the Boston Red Sox picked him late and offered him millions of dollars to sign. He said no and went to the University of Kentucky, which is by no means a pro-training powerhouse.
After an up-and-down college career, Washington drafted him high, again offered him millions, and he accepted. The Nationals traded him to Minnesota not long afterward, which altered his development. Still, he has enticed evaluators for a decade because he is huge, throws exceptionally hard and can spin a breaking ball. But with that height comes corresponding issues repeating his delivery, which translates into free passes for opponents. Though he has logged a 4.08 earned-run average in seven starts this season, he continues to walk too many batters. He's issuing 6.1 walks per nine innings so far. Sustained success with that level of wildness is nearly unprecedented in modern baseball.
The last person to log a sub-4.10 ERA while walking that many men in 150 innings or more was Randy Johnson, a quarter of a century ago.
That's not to say Meyer does not have the potential to gain control. Staffers describe him as an eminently coachable player, more of a blank slate than almost all big leaguers, eager to learn, willing to try whatever is suggested. But there is a lot of work ahead yet.
Via email:
Please give your assessment of the Angels' chances for winning a wild-card slot. Which teams do you see as their primary competitors?
John Wold
I don't think it's likely the Angels will qualify for one of two American League wild-card slots. Excluding the Yankees, Indians and Astros, because they are probably going to win their divisions, I think the Orioles, Red Sox, Blue Jays, Tigers, Mariners, Rays and Rangers are probably more talented than the Angels, or at least similarly talented. I have no idea which among those teams will prove to be the wild-card clubs, but I would bet two of them will.
That written, the longer the Angels can stay within a couple games of the wild-card slot, the more supplementary intrigue develops. This is an organization that has not won a playoff game since 2009. How eager will owner Arte Moreno be to reset that marker? If a Garrett Richards return looks plausible, perhaps it makes sense to push part of the limited stack in and add a player or two.
If (Doug) Fister & (Tyler) Skaggs return and pitch well, is (Ricky) Nolasco a bullpen option? Meyer has impressed and (Jesse) Chavez keeps us in games better than Nolasco
I think Chavez is more likely to move to the bullpen. He has far more experience there than Nolasco, and he has pitched worse deep into games. It does not hurt Nolasco's case that Chavez's contract contains incentives worth more than $2 million the Angels will have to pay if he continues to start.
To win that wild card, the Angels will need better starting pitching than they've received.
He's pretty close to ready to start a major league game, in terms of stamina. On Sunday in Salt Lake City, he threw 89 pitches and nearly finished six successful innings. As far as how good he'll be, it's unclear. Obviously, they are not the same or even particularly similar pitchers, but Tim Lincecum threw exactly the same number of innings in triple-A and the majors a year ago, and his major league ERA and WHIP were each more than double his triple-A marks. Major league hitters are highly skilled individuals.
In the offseason, the acquisitions made were to bolster the defense primarily. Has that happened? Where do angels rank defensively?

— Tony Flores (@Upstream15) June 9, 2017
I wouldn't put much stock in team-wide defensive metrics at this stage in the season, but it's pretty clear that the Angels executed significant upgrades at second base and catcher. Danny Espinosa is a wonderful defender, truly. The contrast is so stark between him and Johnny Giavotella, last year's starter. Of course, his inability to put the ball in play is hurting the Angels, usurping his playing time and lessening his impact. At catcher, Martin Maldonado possesses enormous arm strength and the admiration of the club's pitching staff. In left field, Cameron Maybin and Ben Revere have been at least adequate.
How good really is Keynan Middleton?

— Brandon Warne (@Brandon_Warne) June 9, 2017
Oh, it's hard to say with a significant degree of accuracy. He's pretty clearly a big leaguer, but it's still unclear whether he's capable of handling high-leverage innings or more likely to be a middle man. He's a pure fastball-slider guy now, having scrapped the changeup he used as a starter. In an organization devoid of talented players at his age, he is exciting.
Has EYJr broken through? If not what more does he need to do?

— I Love Mike Trout (@Trout_LA) June 9, 2017
I am not a scout. I did not play baseball at a high level. But if I can impart one piece of baseball knowledge upon you that I am certain is true, it is this: Give your evaluations time. Most every player at every triple-A affiliate can succeed in the major leagues for a short stretch. Triple-A ballplayers are, generally speaking, amazing at baseball.
This is not a knock on Eric Young Jr., who is a hardworking man with legitimate skills grieving over a terrible thing. He has had success in the big leagues before. But, almost always, I'll take a years-long track record over a two-week sample.
Who will represent the Angels in the All Star game if it's not Mike Trout?

— Ahwatukee Taqueria 🌮🌵 (@rexcoot) June 10, 2017
My understanding is that Trout's impending election by fan vote will satisfy the league requirements to have an Angels representative in Miami next month. So, the Angels may not have a functional All-Star. If they do, I think it's likely to one of their relievers, Bud Norris or Blake Parker, two 32-year-olds who are new to their respective tasks and succeeding wildly. Shortstop Andrelton Simmons has been their second-best player, but shortstop in the American League is overcrowded: Francisco Lindor, Carlos Correa, Xander Bogaerts, Jean Segura and Elvis Andrus all have cases.
Asked this question last week, Angels Manager Mike Scioscia deflected it, saying, "We've got a lot of stuff on our plates right now. To be honest with you, that's way down the list of what we're dealing with."
He did go on to name a few players he said should be candidates: Simmons, Norris, Maldonado and designated hitter Albert Pujols.
Send questions to the below addresses to be considered for the mailbag every Monday, all season long.
---