Angels mailbag: Can the bullpen continue pitching this many innings?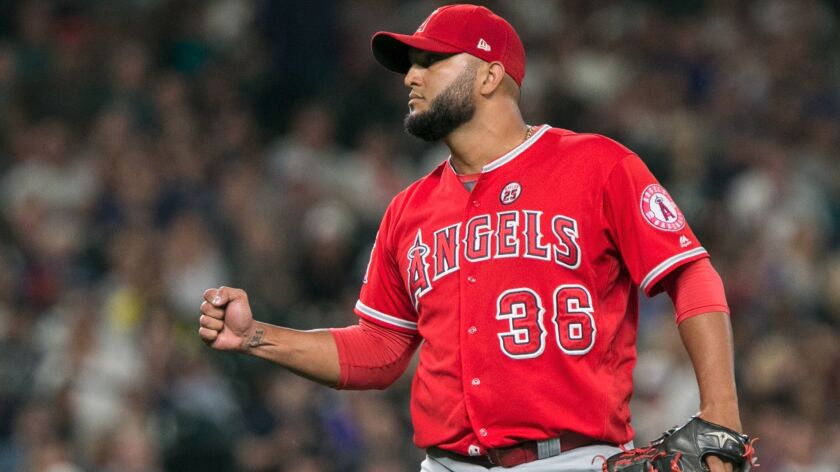 Hello, Angels fans. I am here for your questions about the baseball team you follow. I also follow it in a professional capacity, which I hope equips me to answer in a satisfactory way.
Your favorite team is 73-70, which is not great but not awful either, good enough to keep them within one game of the American League wild-card mix. Nineteen games remain on their schedule, and nine of them are against the AL's top two teams, including six of the next nine games at home. So, this should be an important, instructive stretch for the club.
Let's get to your questions.
They actually can. There are 14 relievers in the Angels' bullpen and 19 games left to play in 21 days. If the Angels' starters average four innings per start, those 14 men could pretty handily split 95 innings over three weeks. That's not even seven outs per man per week. September baseball, baby.
But, of course, not every guy in there is dependable. The Angels would prefer Yusmeiro Petit to handle far more relief innings than most, as he has all year to date. I just did that math to demonstrate that it's possible. What the starting staff needs to do is pitch well for however long they can, not necessarily deep into the game. Even that may prove difficult, particularly since the Angels are likely going to have to find a replacement for Andrew Heaney this weekend.
Increasingly, Garrett Richards should be able to pitch deeper into games. That should help.
Essentially, because he thought the chances David Hernandez's absence affected the Angels' ultimate outcome this season were minute. Also, because the Angels were firmly not in the mix to acquire players at the July 31 trade deadline. Brandon Phillips would have been available to them then if they wanted, but the Angels were too far from wild-card contention to deem that their right path. A month later, they changed their course.
So they traded Hernandez on July 31, and they would have traded Bud Norris, too, if the outside interest were there. Since the deadline, Hernandez has logged a 4.05 earned-run average in 13 1/3 innings for Arizona. That's replacement-level relief, though he continues to succeed in the peripheral statistics.
Though the Angels did not receive much in return for him, that seems like a reasonable enough trade to me.
Yes, the Angels have certainly hit on some low-key acquisitions in the last year, though I would not put all six of those men in the same category. Scouts remain skeptical of right-hander Parker Bridwell's ability to sustain success in the majors. Three have told me this month that they see him as more of a sixth-starter type. Even that, though, is a boon for the organization, considering they gave up nothing for him.
Regarding relievers Petit and Blake Parker, obviously, the Angels targeted the right sort of relievers as free agents last off-season. But general randomness obviously deserves some credit there, too. The Angels let Parker go on waivers early in the winter, and they did not sign Petit until spring training was near. If they expected those two men to be worth four wins this season, they would not have acquired them when they did.
Catcher Martin Maldonado is an interesting case. The Angels gave up a younger player at his position, Jett Bandy, who came with more team control and had hit better in the major leagues, albeit with much less of a track record. As the team has played him again and again this season, Maldonado's solid offensive start has regressed to about his career norms. But that .650-ish on-base-plus-slugging percentage is valuable given that it comes alongside his superb pitch framing and excellent arm.
Bandy has not played great this season for Milwaukee. So, it looks like the Angels acquired two years of a starting-caliber catcher for six years of a backup-quality catcher, which is a win.
The Angels are not really in the business of singling out specific staff members for suggesting or championing acquisitions. Let's call it a win for the whole front office.
As far as outfielder Eric Young Jr., they provided a supportive environment for a veteran ballplayer in need and let him play. He's had success in the major leagues before. The homers he hit upon replacing Mike Trout are not part of his game, but speed and contact are.
It is just too early to say with any certainty for either player. With Justin Upton, the chances are higher than with Phillips, because Upton has a guaranteed deal to remain an Angel for the next four seasons if he chooses it. There's plenty of time to discuss Upton's likelihood of opting out after the season ends.
It's not like there's no chance Phillips could return, but he will be a free agent at year's end, and he turns 37 next season. He says he loved his time playing at home in Atlanta, and Braves general manager John Coppolella recently told reporters he'd like to re-sign him this off-season. That seems to make more sense. In case of one team versus the field, always bet the field.
This was regarding Ricky Nolasco, the veteran right-hander who owns a 5.19 earned-run average. Jesse Chavez, the suggested replacement, has had success out of the bullpen, both this year and in the past. As a starter, he was no better than Nolasco. This seems like a classic case of the grass perceived as greener on the other side of the fence. The distinction between the two is small enough that it's not worth worrying about.
Albert Pujols likes to play baseball. He is proud to play baseball. He is paid handsomely to play baseball. And, he is still, by some measures, having success at baseball. As I wrote last week, he is not the worst player in baseball, despite the FiveThirtyEight article people keep tweeting to me.
All of that to say: The chances are close to nil.
That's it for this week's mailbag. Check back each Monday for new installments.
pedro.moura@latimes.com
Twitter: @pedromoura
---
Get the latest on L.A.'s teams in the daily Sports Report newsletter.
You may occasionally receive promotional content from the Los Angeles Times.