Tyler Skaggs could return Thursday for the Angels, Nick Tropeano not quite yet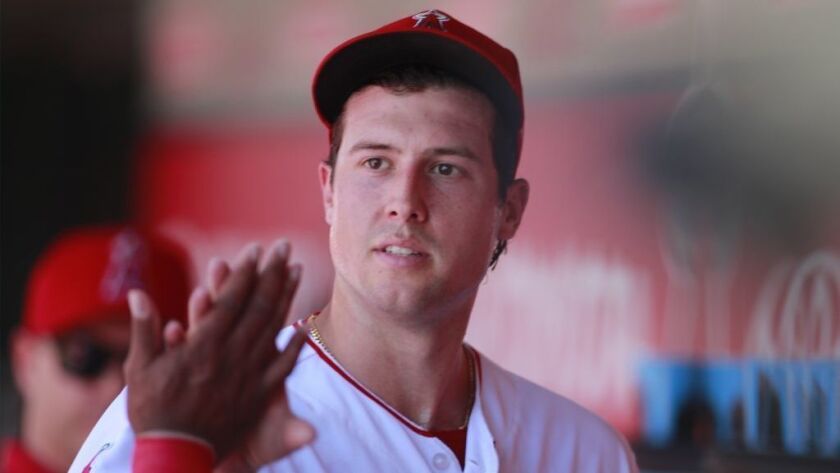 Tyler Skaggs took another step toward rejoining the Angels rotation Tuesday and so did Nick Tropeano, though Tropeano will be rejoining the rotation of the Inland Empire 66ers first.
"I guess they want me to throw a no-hitter this time out," the right-hander said, jokingly.
Tropeano pitched five scoreless innings with four strikeouts and gave up two hits with Inland Empire against Stockton on Saturday.
He needed only 52 pitches to get those 15 outs, the Angels hoping to increase his pitch count to 70-75 when he pitches for the 66ers on Friday.
Tropeano (shoulder) and Skaggs (muscle strain) threw bullpen sessions before the Angels played Seattle, each reporting good results.
The Angels intend to have Skaggs come off the disabled list and start Thursday in the series finale against the Mariners.
Tropeano had hoped his next game would come for the Angels, too, this weekend at Dodger Stadium. Instead, he has to settle for another Class-A rehabilitation appearance.
"I feel like I'm ready to go," Tropeano said, before adding of the Angels' thinking, "I understand it completely."
This is the second stint on the DL for Tropeano because of a shoulder problem that recently was diagnosed as bursitis.
"All you can do is strengthen it, rest, ice," he said. "It's frustrating, but I'm fine now."
For a team decimated by injury, the Angels are slowly returning to health, that is, pending Garrett Richards' status.
The right-hander, who spent time on the DL recently because of a hamstring issue, was forced to leave the game Tuesday in the third inning in the middle of a Nelson Cruz at-bat.
The Angels' rotation has been hit particularly hard, a fact obvious in a variety of ways, not the least of which is statistically.
Only the starters for the Miami Marlins and Tampa Bay Rays have secured fewer outs per game than the Angels' starters, and the Rays this season routinely have been starting relievers tasked with pitching only an inning or two.
The Angels are receiving an average of 15.7 outs from their rotation, which equates to barely five innings.
Manager Mike Scioscia suggested something closer to six innings would make a significant difference.
"That doesn't sound like a lot," he said, "but it's like one extra [relief] pitcher, which puts more stress on your bullpen."
The Marlins and Rays are also the only teams whose relievers have thrown more pitches than the Angels' relievers have.
"We've used an extraordinary amount of bullpen appearances," Scioscia said.
Short hops
The Angels recalled outfielder Michael Hermosillo from triple-A Salt Lake and optioned pitcher Deck McGuire. … Reliever Jim Johnson (lumbar strain) will make another minor league rehab appearance. He gave up two runs in his first inning Sunday for Inland Empire. … Jahmai Jones, one of the Angels' top-five prospects, was promoted to double-A Mobile. A former outfielder, Jones was moved to second base this season.
---
Get the latest on L.A.'s teams in the daily Sports Report newsletter.
You may occasionally receive promotional content from the Los Angeles Times.