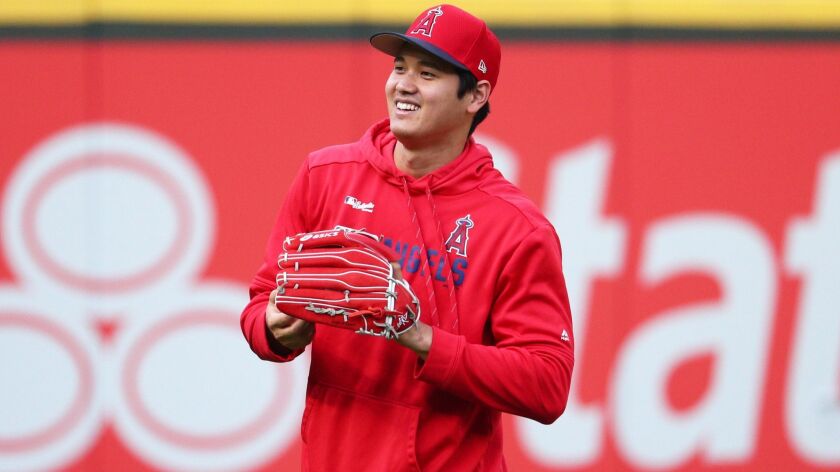 Reporting from SEATTLE —
About 70 Japanese media members were credentialed for Thursday night's Angels-Mariners game in anticipation of the first major league showdown between Seattle left-hander Yusei Kikuchi and Angels slugger Shohei Ohtani, who went to the same high school in Japan.
Much to their dismay, Angels manager Brad Ausmus killed the story.
Center fielder Mike Trout returned after missing Wednesday's game because of a bruised right foot, but Ohtani was not in the lineup for the first game of a four-game series in T-Mobile Park.
"Japanese baseball fans don't like me right now," Ausmus said. "Tell them I'm sorry. I'll make it up to them."
Seattle is starting left-handers in three of the four games here. Ausmus said he wanted to skip Ohtani for one of them, and he thought Ohtani matched up better against Saturday starter Tommy Milone (87.9 mph average fastball) and Sunday starter Marco Gonzales (88.4 mph) than Kikuchi (93.1 mph).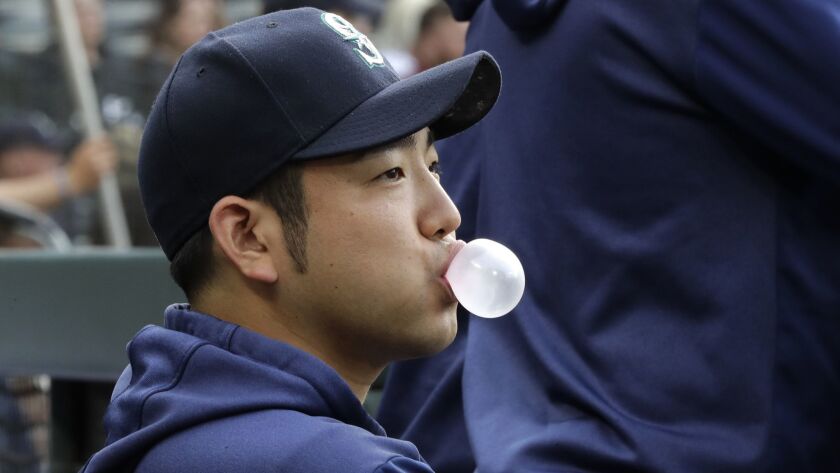 "Looking at some numbers," Ausmus said, "I thought it was a good day."
Did the potential matchup of Japanese stars creep into his mind as he made his lineup?
"I was aware of it, but it didn't influence the decision, obviously," Ausmus said. "There's a very good chance that they'll face each other at some point, so I wasn't overly concerned about that."
The Angels and Mariners play each other in three more series this season, in Anaheim on June 7-9 and July 12-14 and in Seattle on July 19-21. If Kikuchi stays on a normal schedule, he would be lined up to start the June 9 game against the Angels.
Sign up for our daily sports newsletter »
The Japanese media began speculating several weeks ago that Kikuchi could face Ohtani this weekend. When it became apparent they could square off Thursday night, a newspaper from Ohtani's hometown, the Iwate Nippo, sent two photographers to Seattle to chronicle the event. The game was televised live in Japan, with a start time of 10 a.m. Friday.
"We looked at the lineup today and said, 'Oh, what?' " said Masa Niwa, a Seattle-based writer for Sankei Sports. "It's quite disappointing. On a scale of one to 10, the disappointment is an eight or nine."
Kikuchi, 27, is three years older than Ohtani. Both played at Hanamaki Higashi High School in the Iwate prefecture, but they were not teammates. They faced each other five times during their Nippon Professional Baseball careers, with Ohtani hitting a single and a double and striking out three times.
If and when Ohtani and Kikuchi face each other in the U.S., it will be as highly anticipated as the Ohtani-Masahiro Tanaka matchup last season and the first Daisuke Matsuzaka-Ichiro Suzuki matchup in 2007.
But it will not be the first major league matchup of Japanese players from the same high school. On July 16, 2007 at PNC Park, Colorado's Kazuo Matsui grounded out against Pittsburgh's Masumi Kuwata in the sixth inning. Matsui and Kuwata both attended PL Gakuen High School in Osaka, Japan.
"I feel like I am letting them down," Ausmus said of the Japanese media and fans, "but that's not my job."
Short hops
Backup catcher Kevan Smith's return from the seven-day concussion list will be delayed until next week. Smith began hitting earlier this week but had to stop when some of his concussion symptoms returned. He was scheduled to resume baseball activities Thursday, but Ausmus said he won't be activated until Tuesday at the earliest. … Struggling right-hander Trevor Cahill's next start has been pushed back from Sunday to Monday's makeup game in Chicago against the Cubs. Ausmus said he hasn't decided on a Sunday starter. Among the candidates are triple-A pitchers Jose Suarez and Dillon Peters. … Shortstop Andrelton Simmons, who is expected to miss eight to 12 weeks because of a grade 3 left-ankle sprain, has begun walking without crutches. . . . JC Ramirez made his first rehabilitation start in his return from Tommy John surgery Thursday night, allowing three runs and two hits, both of them homers, in 1 2/3 innings for Class-A Inland Empire against Rancho Cucamonga. The right-hander threw 35 pitches, 19 for strikes. He struck out one, walked one and hit a batter.
---