Tigers avoid four-game sweep with 5-3, 10-inning victory over Angels
Detroit Tigers manager A.J. Hinch had seen enough of Shohei Ohtani in this four-game series to know what the smart play was in the 10th inning of Sunday's game in Angel Stadium.
With two outs and the Angels' two-way star representing the tying run, Tigers right-hander Michael Fulmer threw four pitches to the slugger, none close to the strike zone, essentially taking the bat out of Ohtani's hands with a walk.
Fulmer then struck out Taylor Ward with two on to close out a 5-3 Tigers victory before a crowd of 21,626.
"That's a dangerous at-bat because Ohtani has got one thing on his mind," Hinch said, "and Michael wasn't going to make a mistake."
The Tigers prevented a four-game Angels sweep and spoiled another afternoon of home run heroics by Ohtani, who moved into a tie with Toronto's Vladimir Guerrero Jr. for the major league lead with his 23rd homer of the season, a score-tying two-run shot to center field in the fifth.
Angels announcers José Mota and Daron Sutton look back fondly on the experiences they had while tagging along with their dads during their careers.
That gave Ohtani four homers and seven RBIs in the series, which included the right-hander's six-inning, one-run, five-hit pitching start in Thursday night's win, and six homers and nine RBIs in his last six games.
"It's pretty incredible, right?" Angels manager Joe Maddon said. "It's really fun to watch. He is so talented, and he's playing with a ton of confidence on top of it, pitching-wise, hitting-wise and baserunning-wise."
The Angels haven't reached the All-Star break, and Ohtani has set a career high for homers, one more than the 22 he hit as a rookie in 2018. His 23 homers in 72 games put him on pace for 51, which would shatter the franchise record of 47 homers, set by Troy Glaus in 2000.
"It's still the first half," Ohtani said through an interpreter, "so I'd like to do my best to hit more."
Ohtani looked overmatched in Sunday's first two at-bats against Tigers starter Casey Mize, a former Auburn star who was the No.1 pick in the 2018 draft, striking out on a 94-mph fastball above the zone in the first inning and whiffing on three pitches — the last another 94-mph fastball above the zone — in the third.
Ohtani used a light-blue Father's Day bat in those strikeouts. With David Fletcher, who had singled and taken second on a wild pitch, aboard in the fifth, Ohtani went back to his regular black bat.
Mize got ahead Ohtani again with a 1-and-2 count and threw a knee-high 85-mph slider on the outer half of the plate. Ohtani reached down and golfed a 414-foot shot over the center-field wall for a 3-3 tie.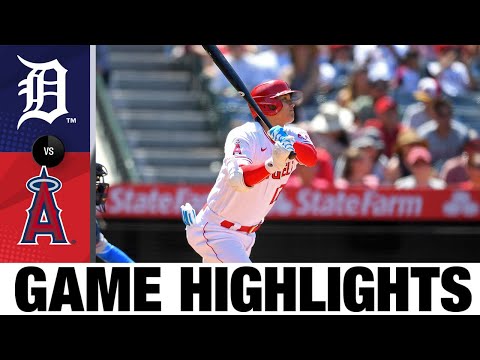 Highlights from the Angels' 5-3 loss to the Detroit Tigers in 10 innings Sunday.
Asked why he scrapped the light-blue bat, Ohtani said: "Because I couldn't hit with it. I was late with my timing [in the first two at-bats], so I was trying to get my timing right."
The Angels, who got a solo homer from Jared Walsh — his 18th of the season — managed only two hits against the Tigers' bullpen over the final five innings and went two for 12 with runners in scoring position in the game, grounding into three double plays.
They also turned an acrobatic double play behind starter Dylan Bundy with the bases loaded and one out in the second.
Isaac Paredes hit a 104-mph, one-hop smash to the left of second baseman Fletcher, who gloved the ball and made a leaping, spinning throw to second that was slightly wide of the bag.
Shortstop José Iglesias made a lunging catch of Fletcher's throw as he crossed the bag and somehow tapped the base with his left toe before spinning 360degrees and firing to first to end the inning.
"That should be shown for a while," Maddon said of the play. "That was more than unlikely, unbelievable. … Fletch has an uncanny ability to make the most clutch, accurate throws without even hardly looking. It was really one of the better double plays I've seen."
What will happen now that MLB has put out its memo reinforcing rules about foreign substances on baseballs?
The Angels weren't as nimble defensively in the 10th inning, and it cost them. Miguel Cabrera, whose bases-loaded, two-run single off reliever Chris Rodriguez gave Detroit a 3-1 lead in the top of the fifth, led off the 10th with a chopper to the left side.
Third baseman Anthony Rendon charged and appeared to have a play, but closer Raisel Iglesias, who threw a scoreless ninth, also went after the ball, which nicked off his glove for an infield single that put runners on first and third.
Akil Baddoo walked to load the bases, and Daz Cameron, the son of former big-league center fielder Mike Cameron, rolled a two-run single to center to give the Tigers a 5-3 lead.
Iglesias won an 11-pitch battle against Nomar Mazara, who lined out to shortstop. Steve Cishek replaced Iglesias and struck out Jake Rogers and Robbie Grossman to keep the deficit at two, but the Angels couldn't dent Fulmer, who whiffed Fletcher and Luis Rengifo to open the 10th and — after walking Ohtani — Ward to end it.
David Fletcher, Jose Iglesias turn head-spinning double play for Angels
It wasn't as impressive as the game-ending triple play turned by the New York Yankees, but the acrobatic double play turned by the Angels to end the top of the second inning in Sunday's game against the Detroit Tigers in Angel Stadium was, in the words of Larry David, pretty, pretty, pretty good.
The Tigers loaded the bases of Angels starter Dylan Bundy with one out when Akil Baddoo singled to right field and stole second, Daz Cameron singled to left and Nomar Mazara walked.
Isaac Paredes followed with a 104-mph, one-hop smash to the left of second baseman David Fletcher, who gloved the ball and made a leaping, spinning throw to second that was slightly wide of the bag.
Shortstop Jose Iglesias, who was playing the right-handed-hitting Paredes to pull, made a running, lunging catch of Fletcher's throw as he crossed the bag and somehow tapped the base with his left toe before spinning 360 degrees and firing to first to complete the double play.
Shohei Ohtani to make next pitching start Wednesday against Giants
Shohei Ohtani will make his next start on the mound Wednesday against the National League West-leading San Francisco Giants, setting up a marquee matchup between the two-way star and Giants ace Kevin Gausman, who is 8-1 with a major league-leading 1.51 ERA. The game is scheduled for 1 p.m. at Angel Stadium.
Ohtani is 3-1 with a 2.70 ERA in 10 starts, striking out 73 and walking 29 in 53 1/3 innings. The right-hander limited the Detroit Tigers to one earned run and five hits in six innings during Thursday night's 7-5 victory.
He will make Wednesday's start on his regular five days' rest, pushing right-hander Griffin Canning back to Friday night's opener of a three-game series at Tampa Bay. Starting Ohtani against San Francisco this week will also put him in line to pitch in Yankee Stadium next week.
Surging second baseman David Fletcher remains in ninth spot vs. Tigers
Left fielder and leadoff man Justin Upton will get the day off, but second baseman David Fletcher will remain in the ninth spot as the Angels look to complete a four-game sweep of the Detroit Tigers in Angel Stadium Sunday afternoon.
The struggling Fletcher was batting .250 with a .271 on-base percentage when he was demoted from the leadoff spot to the ninth spot on May 15, but he is hitting .320 with a .364 OBP, 17 runs, 11 RBIs, seven walks and nine strikeouts in 30 games since. Still, Luis Rengifo will lead off for the Angels on Sunday.
"Of course, I did think about it," Angels manager Joe Maddon said of moving Fletcher to the top spot for one day, "but I don't want to mess with his mojo now. It's been fabulous. There's been a lot of action at the bottom, and he's really taken care of that really well.
"He's setting up guys at the top of the order and guys are getting on in front of him, and there's still a lot of work to be done down there. So it's worked out pretty well for him."
The Angels outscored the Tigers 26-11 in the first three games of the series, with Shohei Ohtani hitting three homers in the previous two games.
Angels announcers José Mota and Daron Sutton look back fondly on the experiences they had while tagging along with their dads during their careers.
Angels right-hander Dylan Bundy will look to snap out of a season-long fun when he opposes Detroit right-hander Casey Mize in the 1 p.m. game.
Bundy is 1-7 with a 6.98 ERA on the season and has a 9.82 ERA in seven starts since May 2. He has been particularly ineffective with two strikes, yielding a .215 average, .423 slugging percentage, six homers, seven doubles and one triple.
The league average in two-strike counts is .161 with a .259 slugging percentage. Bundy yielded a .155 average and .275 slugging percentage in the pandemic-shortened 2020 season, when he went 6-3 with a 2.39 ERA in 11 starts.
"He's not been at the top of his game, no question," Maddon said of Bundy. "The guy is a consummate pro, and at the beginning of the year, I was touting him as an ace. He was pretty impressive last year. His last several starts not been the same. I don't have a tremendous answer to give you as to why.
"I would love to get this guy rolling like we saw last year ... because him getting back to form, wow, that would make a big difference for everything."
ANGELS LINEUP: RF Luis Rengifo, DH Shohei Ohtani, LF Taylor Ward, 3B Anthony Rendon, 1B Jared Walsh, C Max Stassi, SS Jose Iglesias, CF Juan Lagares, 2B David Fletcher, RHP Dylan Bundy.
TIGERS LINEUP: DH Robbie Grossman, 2B Jonathan Schoop, 3B Jeimer Candelario, 1B Miguel Cabrera, LF Akil Baddoo, CF Daz Cameron, RF Nomar Mazara, SS Isaac Paredes, C Jake Rogers, RHP Casey Mize.

Angels observations: Sandoval impresses again; Ohtani and Walsh lead offense to another big game
Joe Maddon couldn't stop coughing when he sat down for his postgame video conference with reporters on Saturday night.
"There's smoke in the clubhouse," the Angels manager said, grabbing a bottle of water. "They got a smoke machine in there. There's something about that I think I'm allergic to."
This week though, Maddon has had to tolerate it.
The smoke machine, according to pitcher Patrick Sandoval, is one of several props that have been added to the clubhouse this homestand used to celebrate wins.
And on Saturday, the Angels rattled off their third straight with an 8-3 defeat of the Detroit Tigers, setting off the orchestrated routine once again as the club climbed back above .500 on the season at 36-35.
Angels dual-threat Shohei Ohtani will participate in the 2021 Home Run Derby. He's third in the MLB in home runs and will be the first pitcher ever to participate.
"We have a smoke machine, we have a bubble machine that the bubbles have smoke in as well, and we've got lights and a disco ball," Sandoval said. "It's the hottest club in Orange County."
Sandoval contributed to the party on Saturday, giving up just three runs in 5 ⅔ innings.
The Angels lineup also produced their third-straight game of at least eight runs, powered by home runs from Shohei Ohtani and Jared Walsh as well as three hits and strong baserunning from David Fletcher.
And relievers Steve Cishek, Tony Watson, Mike Mayers and Alex Claudio combined for 3 ⅓ scoreless innings out of the bullpen as the Angels improved to 12-5 in June and 17-8 in their last 25 games.
Here are three observations from the game…
After another strong outing, Sandoval will get another start
Prior to Saturday's game, Maddon said Sandoval was making life hard on the team — in a good way.
Even with injured starting pitcher José Quintana nearing a return from a shoulder injury, Sandoval had been pitching so well as his replacement recently that "he's making it very difficult regarding decision-making" about what to do with the rotation, Maddon said.
Nothing about Sandoval's performance on Saturday changed that reality.
The left-hander pitched 5 ⅔ innings, giving up three earned runs while striking out nine batters. He was almost flawless through the first four frames, allowing only two Tigers batters to reach base. And he limited his mistakes to solo home runs in the fifth and sixth innings.
What will happen now that MLB has put out its memo reinforcing rules about foreign substances on baseballs?
"I think just being consistent and filling up the zone has been really helpful," Sandoval said.
Maddon said he only removed Sandoval, who had thrown just 81 pitches, after noticing a decline in his command during the sixth, when he issued a walk to Miguel Cabrera with two outs.
"Overall, great performance, another wonderful one to build off of," Maddon said. "I want to believe after something like that, as he gets a chance down the road, he's going to start going even more deeply into games, because he has the stuff to do that."
Sandoval's season ERA is now 3.69. In six starts (his first three appearances were in relief) that mark is just 3.13.
"You'll see him out there soon again," Maddon said when asked about Sandoval's status moving forward in the rotation. "He has earned that opportunity."
Ohtani, Walsh hit homers in another big offensive game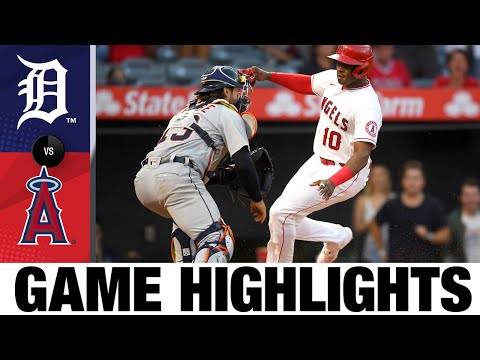 Highlights from the Angels' 8-3 win over the Detroit Tigers on Saturday.
For a second consecutive night, Ohtani and Walsh hit home runs in the same inning.
With one out and the Angels already leading 1-0 in the third, Ohtani sent a two-run shot deep the other way to left for his 22nd home run of the season — remaining one behind Vladimir Guerrero Jr., who also had a homer on Saturday, for the MLB lead.
It was Ohtani's second opposite-field blast in as many days, and reminded Maddon of line-to-line power he's only seen from a few hitters before in his career, such as David Ortiz and Bernie Williams.
"That's like a severe right-handed pull hitter, the way that ball left and how loud it was and the trajectory," Maddon said. "You have to be super strong to do that."
Walsh pulled a two-run homer into right three batters later, hitting his 17th of the season to make it 5-0.
There were other contributions from the rest of the lineup, too.
David Fletcher had three hits, two RBIs and a safety squeeze. Taylor Ward, batting third for a third-straight game, extended his hitting streak to nine games with a double. Justin Upton had two hits. And every starter reached base at least once.
Angels get aggressive on the bases
The Angels were also productive on the base paths Saturday, taking advantage of relaxed defense from the Tigers (29-42) to aid the offensive display.
After singling to lead off the big third inning, Fletcher tagged up at first on a pop-up caught by catcher Jake Rogers in foul ground. Initially, Fletcher held at the base after Rogers hauled it in. But once he threw it back to pitcher Wily Peralta, Fletcher took off for second base and then made it all the way to third after Peralta's errant throw sailed into the outfield.
Harkins, fired by the Angels amid MLB crackdown on pitch-doctoring, is looking to appeal after his defamation suit against team and MLB was dismissed.
"Somebody asked me today, 'What does it mean to Play like it's 1985?'" Maddon said, referencing his old-school slogan this year. "There's your answer."
Fletcher was involved in another baserunning play in the eighth, scoring from third on a double-steal initiated by Upton at first base, who caught Tigers reliever Joe Jimenez off-guard and took off running before he even began his delivery of a pitch.
"It's something we've been emphasizing since camp," Maddon said of the aggressive baserunning, adding: "Tonight, you see it come together. That's what you're looking for. You're looking for fearless nature, not afraid to take chances. I want to see more of that."
Being Ohtani's home run derby pitcher? Angels Jason Brown said it was an "easy decision"
Surrounded by cameras and audio recorders a few steps from the Angels dugout Friday, Angels bullpen catcher Jason Brown laughed near the end of an impromptu media scrum.
Two days earlier, Brown would have never been at the center of such attention. But that was before two-way star Shohei Ohtani announced not only that he would participate in next month's Home Run Derby, but that Brown would be his pitcher.
So now, a Japanese reporter wanted to know, how did Brown feel about the fact a whole country on the other side of the world would be rooting for him come the July 12 derby at Coors Field, when Ohtani will become the first Japanese player to ever participate in the event?
"I feel lucky," he said. "It's a special honor."
That doesn't mean, however, Brown wasn't surprised.
Ohtani, after all, hasn't been taking on-field batting practice much this season, instead opting for a batting cage-based routine. Brown had thrown to Ohtani on occasion during spring training, but certainly didn't anticipate Ohtani to ask him to be his home run derby pitcher.
"We had joked about it before, 'Hey, if it comes to that, who is he gonna ask?'" Brown said, adding: "I guess there was something about the way that I throw that he likes."
Brown, 47, is a Southern California native and USC alumnus who joined the Angels staff last season after spending the previous five seasons in the Yankees organization as a catching coach at both the minor and major league levels.
Of all the big-leaguers he's thrown batting practice for, Brown said Ohtani "is different."
"The way the ball comes off the bat, the way it travels, it's right there with the elite guys in MLB," he added. "Or better."
Had Ohtani not picked him, Brown said he probably would have just watched the derby from home with his parents and sisters.
"But when he asked," Brown recalled, smiling, "it was an easy decision."
Anthony Rendon returns to Angels lineup; Taylor Ward bats third again
After missing the Angels past four games with a triceps injury, third baseman Anthony Rendon returned to the team's starting lineup on Saturday.
The triceps injury, which Rendon sustained while attempting a diving play on Monday in Oakland, was the third different injury Rendon has battled this year. In April, he missed 11 games with a left groin strain. In May, he was out for nine more games after fouling a ball off his knee.
Entering Saturday, Rendon is batting .241 with four home runs and an on-base-plus-slugging percentage of .679.
In other roster news Saturday: The Angels optioned infielder Kean Wong back to Triple-A Salt Lake and recalled relief pitcher Jaime Barria. In 17 games with the Angels, Wong went just seven-for-38.
Here's the Angels full lineup, including Taylor Ward batting third for a third-straight day:
Angels observations: Ohtani homers twice, Cobb bounces back and more from an 11-3 blowout of the Tigers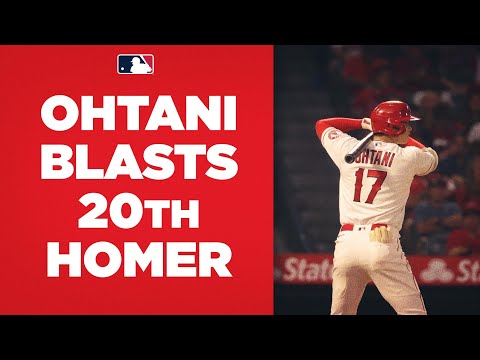 Angels star Shohei Ohtani hits his 20th home run of the season Friday against the Detroit Tigers
The Angels scored runs in all sorts of ways on Friday, blowing out the Detroit Tigers 11-3 in their most lopsided win of the season.
They were patient early on, drawing walks in the second and third innings that eventually turned into the evening's first two tallies.
They showcased their power in the fifth, getting home runs from Luis Rengifo (a solo blast that marked his first MLB long ball since last August), Shohei Ohtani (his first of the two on the night) and Jared Walsh (his 16th of the season, breaking an 0-for-10 skid at the plate) in a five-run frame.
They were persistent in the sixth, when Phil Gosselin and Justin Upton each hit singles and Juan Lagares and Taylor Ward both doubled, Upton's hit scoring one run and Ward's plating two more.
"That's what we're looking for," Angels manager Joe Maddon said. "Of course you love the home run, but you also love the ball being moved and action on the bases."
It was all backed by a 5⅔ inning start from Alex Cobb in which he surrendered only one unearned run, then capped by Ohtani's second home run of the night in the eighth inning, sealing a win that lifted the Angels (35-35) back to .500 and improved their record in June to 11-5.
Here are three observations from the game:
Ohtani goes deep … twice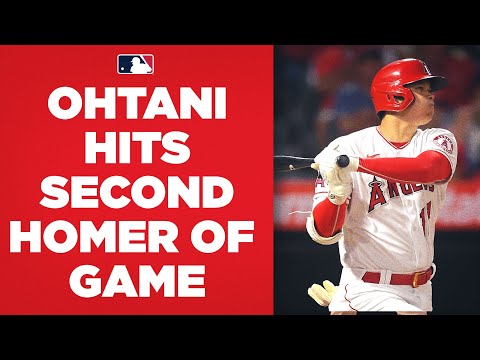 Shohei Ohtani hits his second home run of the game against the Detroit Tigers on Friday.
Hours after announcing he will participate in this season's Home Run Derby, Ohtani showed exactly why he was invited to the event in the first place.
The left-handed hitting slugger produced his first multi-homer game of the season and fourth of his MLB career, belting his 20th and 21st long balls of the campaign in the fifth and eighth innings, respectively. He is now one behind co-leaders Fernando Tatis Jr. and Vladimir Guerrero Jr. for most in the majors.
Ohtani's first home run Friday was a low line drive that was stung 114.3 mph off the bat and just barely cleared the wall in right.
The second was driven the other way, soaring out to left-center field at a projected distance of 408 feet.
After hitting only two home runs in his first 11 games in June, instead settling for more walks as opponents increasingly began to pitch around him, Ohtani now has four in his past four games.
"The first one was like 15 feet off the ground," Maddon said. "And that second one, that's a great spot for him. When he's hitting the ball like that to left-center, you know he's got his A-hack going on."
Cobb cruises in bounceback performance
In his last two starts, Alex Cobb suffered big innings the second time through the order, giving up a combined 10 runs in his past 10 innings entering Friday.
The right-hander had no such problems against the Tigers (29-41), finishing his night charged with just the one unearned run, three hits and two walks while striking out eight. His ERA is now 4.41.
Cobb had a lot of success with his offspeed pitches, getting a whiff on 14 of his 40 splitters and eight called strikes on 15 curveballs. And after throwing 44 pitches in the first two innings, he worked quickly the rest of the night in a 111-pitch outing.
The most intriguing moment of his evening: With Jeimer Candelario on second base and two outs, Cobb seemed concerned that Candelario was relaying signs to batter Eric Haase. After striking out Haase to end the inning, broadcast cameras showed Cobb yelling "I see you" to Candelario on his way back to the dugout before pointing two fingers from his eyes back at the baserunner.
Postgame, Cobb said that once he saw Candelario was relaying signs, he showed one grip on the strikeout pitch before switching at the last second to a sinker that Haase awkwardly swung through.
"If they wanna relay it to the hitter, I'm cool with that, that's fine. I'm just going to let you know I see what you're doing," Cobb said. "I believe he relayed him the wrong pitch based off the swing that I saw from the hitter."
Ward, Upton shine in all-around offensive display
In Anthony Rendon's absence, Ward has taken advantage of a bump up to the three-hole in the batting order.
After hitting his first career grand slam on Thursday, the outfielder had three hits and three RBIs on Friday, raising his season batting average to .256 and pushing his on-base-plus-slugging percentage over .800.
After failing to make the opening day roster and struggling in May after being recalled, Ward is now on an eight-game hitting streak and has 13 RBIs in June.
Upton also produced one of his best games of the season Friday, reaching base four times to continue his own excellent form in recent weeks.
Since moving to the leadoff spot in the lineup on May 23, Upton has 29 hits in 23 games and an on-base-percentage of .429.
"It's just how he's leading right now," Maddon said of Upton. "He is enjoying it. It's obvious the other players feel it, the coaches feel it. I want to believe the fans feel it. He's maybe the biggest reason why we've ascended like we have."
Anthony Rendon out of starting lineup again with triceps injury
Anthony Rendon wasn't in the Angels' starting lineup Friday night for a fourth straight game as he continues to battle a triceps injury.
For a second straight day, Rendon went through pregame batting practice and fielding drills. Angels manager Joe Maddon said he was hopeful Rendon could possibly pinch-hitter later in the game too.
But since exiting Monday's game after suffering the injury on a diving play at third base, Rendon has still yet to return to the starting lineup. It's the third different injury Rendon has battled this season, following an April stint on the injured list with a left groin strain and another trip to the IL in May with a left knee contusion.
In other roster news Friday: David Fletcher got a day off, replaced in the lineup by Luis Rengifo. Maddon said Thursday he was looking to give Fletcher a rest at some point soon.
Shohei Ohtani makes history with announcement of Home Run Derby participation
Shohei Ohtani was already one of the biggest stories of this MLB season.
Next month, he'll step onto one of the sport's biggest stages.
The Angels' two-way star will compete in MLB's Home Run Derby on July 12 at Coors Field in Denver, Ohtani making the announcement official on Instagram on Friday afternoon.
Ohtani, the 26-year-old left-handed hitting slugger who entered Friday third in the majors with 19 home runs, will be the first Japanese-born participant in the event's 36-year history and first Angels player to take part since Albert Pujols in 2015. He will also be the first derby contestant to have started an MLB game as a pitcher.
With stadium capacity restrictions lifted, Angels hold off Tigers in 7-5 win
Every roar was a little louder, every gasp a little more intense.
And when the evening reached a crescendo, Angel Stadium sounded like normal again.
For the first time since 2019, there were no capacity limits at the Angels home ballpark on Thursday. And on what became a de facto "reopening day" game, Shohei Ohtani greeted the 30,709 in attendance with another two-way treat before Taylor Ward provided a raucous exclamation point in the seventh inning with his first career grand slam.
"There was definitely a higher level of energy in the ballpark today," Angels manager Joe Maddon said. "It was only because of the fans."
The Angels went on to win 7-5 against the Detroit Tigers, taking the first of a four-game series that is representing the greatest return to normalcy at their home stadium yet.
The last season and a half had been played under coronavirus pandemic restrictions, barring fans from entry last year, then limiting capacity to 33% for the first 34 home games of this campaign.
But on Thursday, the Angels' first home game following California's lifting of pandemic limitations two days earlier, the sea of once empty seats disappeared. The once muffled reactions of sparsely populated stands were gone.
Instead, the venue's biggest crowd in 627 days had plenty to cheer, the Angels (34-35) bouncing back from a three-game sweep at the hands of the Oakland A's earlier this week behind big games from Ohtani and Ward.
Ohtani shined early on, walking twice as a batter and giving up only one run in six innings on the mound.
He overcame some early command issues by mixing in a season-high proportion of sliders, a pitch he said he wanted to throw more often to left-handers in particular.
"He didn't have his fastball command, so he pitched more with his breaking balls," added Maddon. "That's what he does. He'll know what he's got going on and he makes adjustments."
Ohtani fielded his position on a couple occasions and benefitted from even stronger team defense behind him, including two double-plays and a perfectly executed relay play between Ward in right field and second baseman Luis Rengifo during the second inning to throw a runner out at third.
"Those plays were huge for me, especially because I didn't have my strikeout pitches today," said Ohtani, who matched a season-low with only five strikeouts. "Getting those big outs on the defensive side was huge for me."
And he not only lowered his season ERA to 2.70, but also produced his third six-inning outing in his past four starts, something he achieved only once in his first six appearances this season.
Ohtani probably could have pitched deeper into the evening too, his only run coming on a solo home run in the sixth inning that cut a two-run Angels — Rengifo, who was recalled earlier in the day, and David Fletcher hit RBI singles in the second inning — lead in half.
However, even with Ohtani only at 78 pitches, Maddon instead turned to his bullpen to begin the seventh, summoning Tony Watson to protect the one-run advantage.
"I thought that was a pretty significant day's work for him," Maddon said of removing Ohtani. "It is still June, and I want this guy to have one of the greatest seasons ever. So you don't want to jeopardize his overall health."
Watson, who a day earlier had given up a career-high six earned runs without recording an out, barely kept the lead intact, stranding a runner at third in an inning that included a leadoff double and wacky six-throw rundown between third base and home plate.
A half-inning later, Ward broke the game open.
After the first four batters in the bottom of the seventh reached base, including an RBI single from José Iglesias, Ward unloaded the bases with a grand slam to left-center, the ball bouncing out of sight as the stadium's decibel level spiked to pre-pandemic heights.
"It's one of those moments you never want to end," said Ward, who was previously zero for five with one walk in his career with the bases loaded. "As a player, as you get into things, you maybe don't notice [the crowd] as much. But having that many people all of a sudden, you feel it for sure. It was great."
There were nervy moments down the stretch.
In the eighth, reliever Mike Mayers surrendered one run before turning a bases-loaded and no-out jam over to closer Raisel Iglesias, who let two of the inherited runners score.
The Tigers (29-40) scored again in the ninth and with two outs had the tying run at the plate. But Raisel Iglesias finally completed the six-out save on a game-ending groundout, pointing to the sky in celebration as the restriction-less crowd came to life one last time.
"It is definitely something we had been missing for a bit," Maddon said. "I just want the fans to know that."
Shohei Ohtani to play both ways Thursday against Tigers
Shohei Ohtani will play both ways on Thursday, taking the mound and batting second as the Angels open a four-game series against the Detroit Tigers.
To bolster the bench on a day the Angels will sacrifice their designated hitter, the club recalled infielder Luis Rengifo and optioned reliever Aaron Slegers to Triple-A Salt Lake.
Third baseman Anthony Rendon wasn't in the starting lineup as he continued to nurse a triceps injury, but could be available as a pinch-hitter according to manager Joe Maddon.
On Wednesday, Maddon hinted that if Rendon didn't play Thursday, Ohtani wouldn't be in the lineup. However, the addition of Rengifo — who will bat eighth and play second base, with David Fletcher moving to shortstop in order to give José Iglesias a day off — gave Maddon enough position player depth to feel comfortable playing Ohtani both ways for the seventh time this year.
Entering Thursday, Ohtani has a 2.85 ERA with 68 strikeouts as a pitcher, and a .271 batting average, .986 on-base-plus-slugging percentage and 19 home runs as a batter.
Here is the Angels full lineup:
Angels vs. Tigers: Thursday betting lines and anaylsis
The Angels start a four-game weekend series against the Detroit Tigers at 6:38 p.m. Thursday at Angel Stadium after being swept during a three-game series in Oakland to drop below .500 at 33-35. The Tigers (29-39) are coming in after a three-game sweep in Kansas City.
Las Vegas oddsmakers opened the Angels between -210 and -220 favorites on Wednesday afternoon and early money has come in on the Tigers as the line was sitting at -200 as of 10 a.m. Thursday.
The Angels certainly have the starting pitching advantage with Shohei Ohtani (5-4, 2.85 ERA, 1.18 WHIP) against Detroit's Matt Manning, who is making his MLB debut. Ohtani has struck out 45 batters in just 33 2/3 innings in his last six starts. Ohtani, who is also hitting .271 with 19 home runs and 47 RBI, is vying for favoritism in the AL MVP race with Toronto's Vladimir Guerrero Jr. Ohtani is the -240 favorite at William Hill books, but the +120 second choice behind Guerrero at the Westgate.
The Over/Under for the series opener has been set at nine runs, with the Angels averaging 4.82 runs per game while the Tigers average just 3.87. With the Under more likely, most bookmakers have shaded the Under 9 to -120 instead of the standard -110 with the Over 9 at even money.
The Angels are -265 series favorites, meaning they'd have to win three of the four games (a 2-2 split would be a push and a refund).
Angel Stadium returns to full capacity
For the first time since the end of the 2019 season, Angel Stadium will be opened up to full capacity when the Angels open a four-game series against the Detroit Tigers on Thursday night.
After playing all of last season in empty ballparks during the coronavirus pandemic, the Angels had been forced to cap capacity at Angel Stadium to roughly 33% so far this season under state pandemic limitations. In their first 34 home games, their average attendance was 11,762.
But those restrictions were lifted on June 15, allowing the Angels and other California sports teams to sell tickets for all seats once again. Between 2002 and 2019, the Angels never ranked lower than seventh in average attendance among MLB teams.
"It's awesome, it's wonderful," Angels manager Joe Maddon said this week of his team playing in front of full-capacity crowds again. "I hope it's raucous, crowded, shoulder to shoulder, elbow to elbow, it will be wonderful to get back to that."