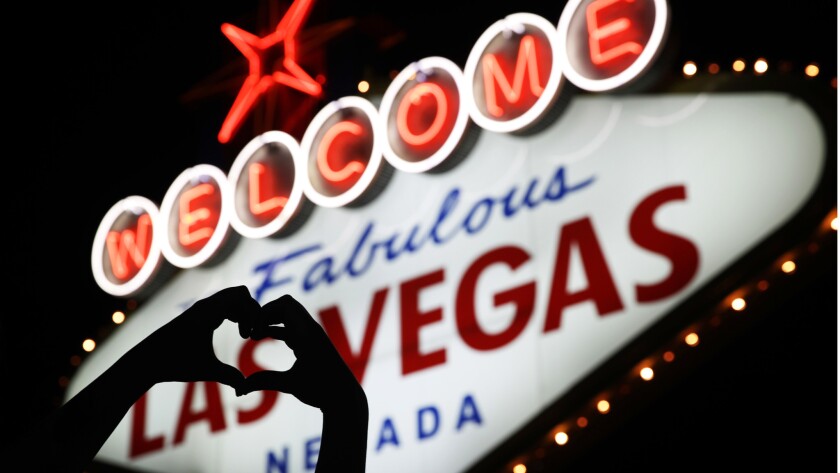 On the heels of two recent fight weeks that demanded round-the-clock attention, I originally viewed the job of Saturday's UFC 216 card in Las Vegas to be something far less demanding.
That all changed Monday morning around 5 a.m. when I was awoken in my bed from the ping of a text message sent by my ex-wife: "I'm OK. Locked in my room."
Below the text was a news alert: "Worst shooting massacre in U.S. history in Las Vegas … ."
I had our two boys while she attended the Route 91 Festival. She had gone Friday and Saturday and was supposed to be there Sunday night when a shooter sprayed bullets from the 32nd floor of the hotel at Mandalay Bay to the grounds where I sat six weeks earlier in the Floyd Mayweather Jr.-Conor McGregor media tent.
Instead, a couple who were huge fans of headliner Jason Aldean begged to buy her wristbands for Sunday night's show, and she took the offer in exchange for a nice dinner and a quiet evening.
I rose from bed and hurried to the boys' rooms, ensuring they were still asleep, staying close so they wouldn't hear anything on the news before they heard my voice.
When both awoke an hour or so later, I was standing over each, telling them, "First of all, mom's OK. There was a terrible shooting at the concert festival. She didn't go last night, but many people are dead. She's fine."
Staying at the Luxor that night, she said the bullets sounded like a jackhammer, peering down to see the flood of panicked concert goers and soon after a wave of emergency vehicles' flashing lights.
The Luxor later endured a bomb threat and a lockdown of several hours.
My youngest son, 10, sat to watch the news, and I shuddered watching him as he heard some early stories while viewing the scene and let out a deep breath of relief, so thankful his mother was not among the hurt.
Also troubling was inspecting Facebook and seeing the amount of my Las Vegas friends who had yet to check themselves in as "safe." I knew some were certainly at the concert.
After more than 10 years of covering boxing and the MMA, the volume of contacts I've built in this city struck me. So did the fear and the senselessness.
Hours later, the boys knew mom was safely home and the "safe" check-ins had all been clicked. I covered the fifth game of the WNBA Finals between the Sparks and Minnesota Lynx on Wednesday, but reaching Vegas next seemed imperative.
Security was tight outside T-Mobile Arena, site of Saturday's fight, and I remarked to a guard scouring my laptop bag, "Seems like there's only so much you can do sometimes," to which he replied, "We have to do everything we can."
Nearly everyone here seems drained, touched by tragedy that has reached either a friend or a neighbor.
One friend, who has worked to help Las Vegas became a world entertainment capital, told me of the guilt they felt for helping to promote the Route 91 Festival. Guilt? For encouraging people to enjoy life? That's the residue of terror.
UFC President Dana White, so used to boisterously hyping his fights, wrapped up a Friday news conference, , and said, "It's been a terrible week. Thank you all for being here today."
Saturday, my close friend, Gareth A. Davies of the London Daily Telegraph, and I walked over to the memorial set up for the victims. .
What we saw: Thousands of flowers with hundreds of somber people paying respects. A cowboy hat stapled to a palm tree reading, "Vegas Strong." A sign reading, "As a city, we stand together to show that love can be the change." A list detailing, "58 things to help Vegas."
Being a reporter is an adventure, a decades-long ride for the fortunate who last in the business, gathering experiences you frequently never expected.
Following an especially hectic journey of fight weeks that has included stops in New York, London and fight city — all, now, scarred by terror — this one stopped me in my tracks.
It was only a few months ago, on the top floor of Mandalay Bay, that I had the first full-length interview with Gennady Golovkin about his excitement in agreeing to his Sept. 16 fight against Canelo Alvarez.
In June, Andre Ward stopped Sergey Kovalev at the same property.
You see the shining gold building now, and your eyes hauntingly go directly toward the 32nd floor.
As we stood there in the memorial, placed on the island median of Las Vegas Boulevard, sirens again screamed Saturday as police closed down the section of The Strip south of Mandalay Bay up to Tropicana because Vice President Mike Pence had come to visit.
Pence called the tragedy one of "unimaginable proportions," but left out the evasive solution of how to stop it.
Twitter: @latimespugmire
---