From welfare checks to a $100-million payday, Conor McGregor's road to stardom
Reporting from Las Vegas —
Conor McGregor's infectious enthusiasm for fighting is seen in a flurry of boastful moments, but the heights he's reached inside the UFC octagon are rooted in a sober, analytic and sometimes even dark private place.
"I've seen difficult times. I know what that's like. I learned from when I've lost and I've put things in place to make sure it doesn't happen again," McGregor said recently. "If you beat me, I'll say fair enough and I'll come back better and get you the next time. You can't keep me down. I learn from everything. Every experience makes me better."
McGregor's ongoing improvement as a fighter and man has taken him to a fight week that only he imagined: Saturday's showdown in the boxing ring against unbeaten Floyd Mayweather Jr. at T-Mobile Arena, in what could become the most lucrative combat sporting event in history.
The fight is projected to gross more than $600 million in revenue, about the same as Mayweather's fight against Manny Pacquiao. Mayweather said on "Jimmy Kimmel Live" that he expects to make up to $350 million; McGregor has told reporters he'll be paid $100 million or more.
The most visible example of McGregor's resilience came last year, after he accepted a fight with Nate Diaz as a late replacement at a weight 25 pounds above his own UFC featherweight class to preserve a pay-per-view main event, then lost by humbling second-round submission.
Diaz rocked McGregor with several punches before the fatigued Irishman was submitted by the Brazilian jiujitsu specialist.
But there was something inspiring about McGregor that night, even in his facial expression inside the octagon that revealed the pain of losing, a sort of tribute to the better man and the determination to win the rematch.
McGregor admitted immediately afterward he was "heartbroken … I took a chance [moving up in weight] and it didn't pay off," adding in a television interview, "I will not shy away from it and I will not make excuses for it. I will assess and come back."
This authenticity is what has drawn millions of fans to his corner. The Las Vegas Strip will see a mass influx of Irish countrymen this week and the faithful will continue to bet on McGregor's long-shot victory.
Five months after their hero lost to Diaz, after insisting they fight again at 170 pounds, a fitter McGregor landed steady punches that dropped Diaz early in the fight en route to a win by decision.
McGregor's showmanship was on full display in November when he headlined the first UFC fight in the history of Madison Square Garden. He flaunted a white mink and drove around Manhattan in a Rolls-Royce in the lead up to his victory over Eddie Alvarez, which secured him an unprecedented second UFC belt as lightweight champion.
"Conor is one of sports' all-time great self-promoters. The best since Ali," veteran boxing promoter Lou DiBella said.
Believing such glory will occur sets in motion a process for the dream to become reality.
McGregor lives this thinking, known as the law of attraction and documented in the book and film "The Secret." He's developed such a profound confidence about it he's taken on the persona known as "Mystic Mac," eerily predicting how he'll win fights.
He spoke before becoming featherweight champion in 2015, which required him to end then-champion Jose Aldo's 10-year unbeaten streak, by telling The Times and London Daily Telegraph that he'd lure Aldo forward, disappear like a ghost and deliver a knockout punch. Thirteen seconds into that fight, that's exactly what happened.
"About when I was 15," McGregor said his sister tried to educate him about the law of attraction. "It didn't resonate. I was like, 'Nah, shut up,' but then it did eventually, and I've been walking it since.
"I'd been hearing and reading about it and then I noticed it coming into play. Let's say you wake up in the morning in a rush. If I felt that feeling, I'd go outside it and go to the attraction. Then I'd start waking up chilled and not worried, and it was like … free roads … so I just kept playing with it."
Floyd Mayweather Jr. and Conor McGregor engage in some verbal jousting at their promotional stop in London on Friday.
(Matthew Lewis / Getty Images)
Conor McGregor hcuckles while listening to Floyd Mayweather Jr. at their promitional stop in London on Friday.
(Matthew Lewis / Getty Images)
Conor McGregor, right, goes on the verbal offensive with Floyd Mayweather Jr. on Friday at SSE Arena in London.
(Matthew Lewis / Getty Images)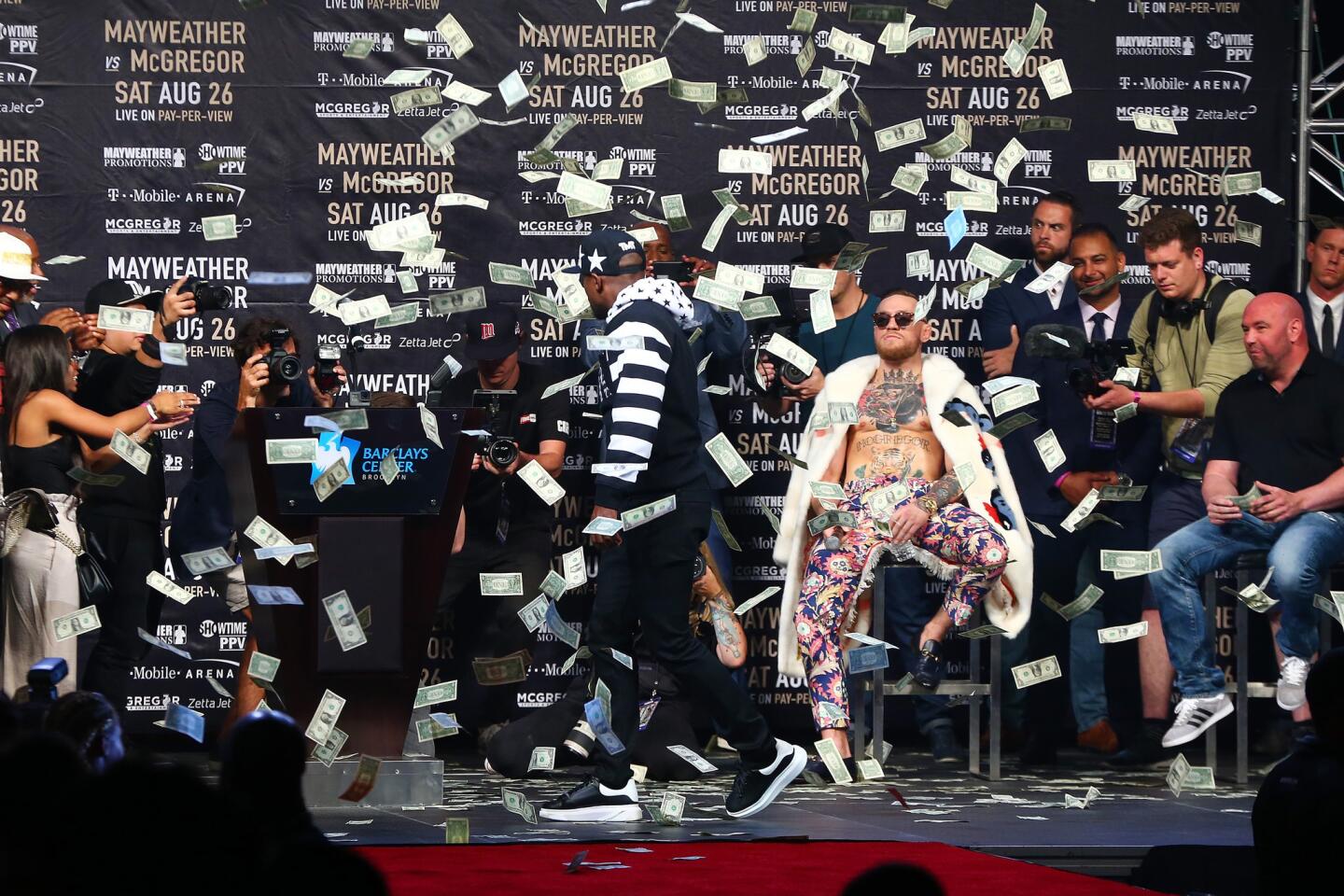 Floyd Mayweather Jr. stalks the stage as money rains down around a seated Conor McGregor on Friday in Brooklyn.
(Mike Stobe / Getty Images)
Floyd Mayweather Jr., arrives at a news conference at Barclays Center on Thursday wrapped in the Irish flag, something that preturbed Conor McGregor (not pictured).
(Frank Franklin II / Associated Press)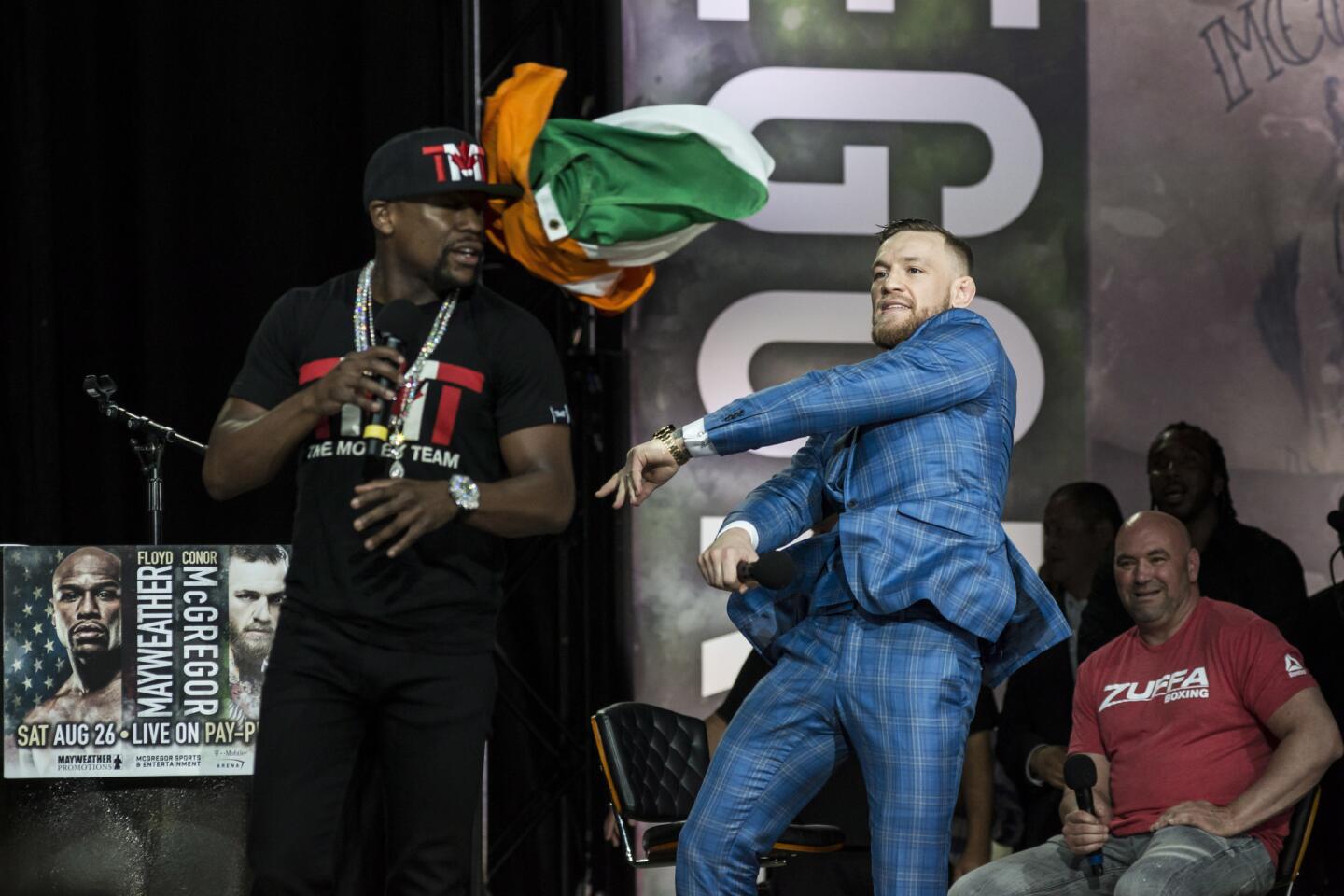 Conor McGregor, right, rips an Irish flag off Floyd Mayweather Jr. during their promotional stop in Toronto on Wednesday.
(Christopher Katsarov / Associated Press)
Floyd Mayweather Jr., left, and Conor McGregor stand their ground, nose to nose, during the promotional stop at Barclays Center in Brooklyn, N.Y.
(Frank Franklin II / Associated Press)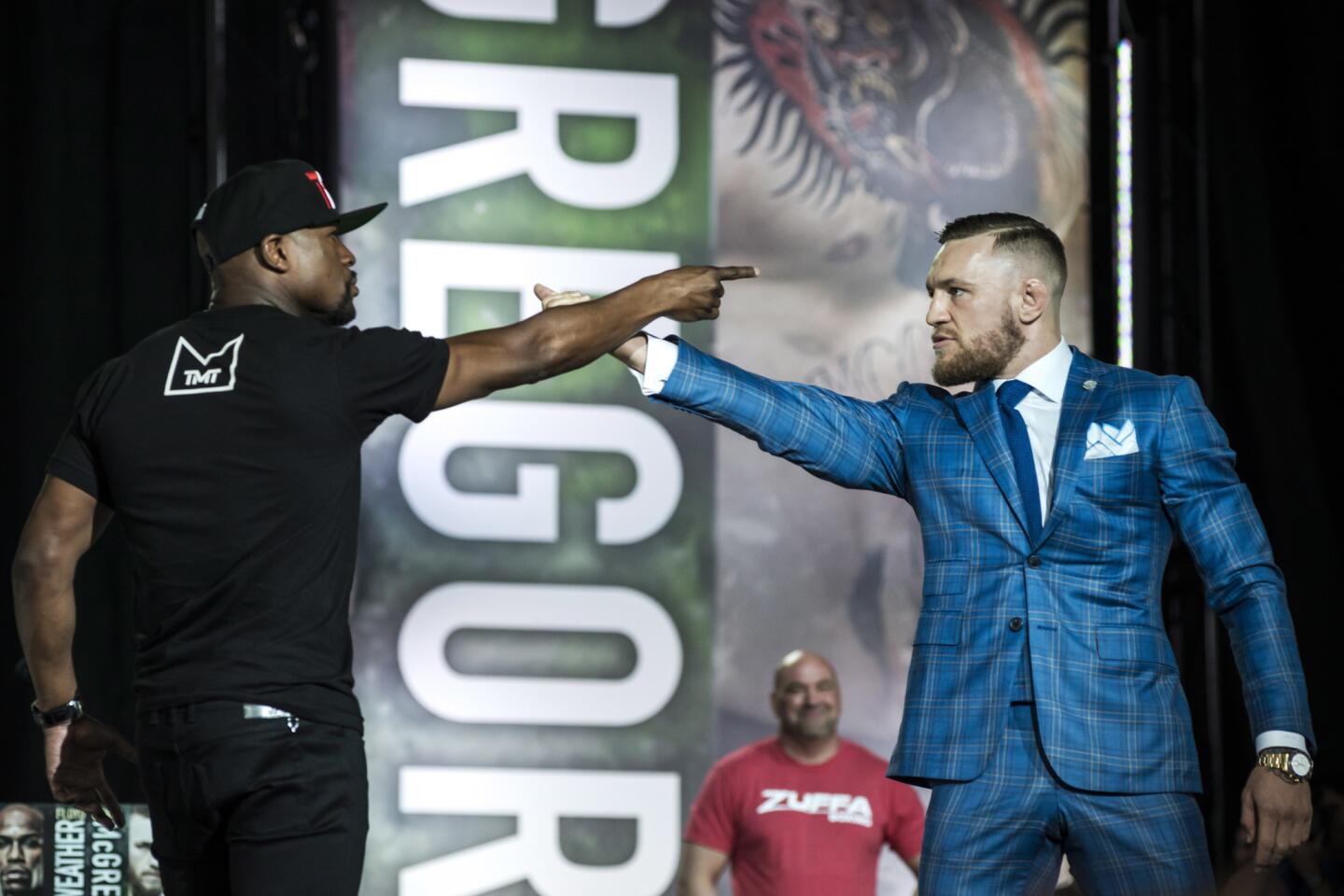 Floyd Mayweather, left, and Conor McGregor exchange harsh words during a promotional stop in Toronto on Wednesday.
(Christopher Katsarov / Associated Press)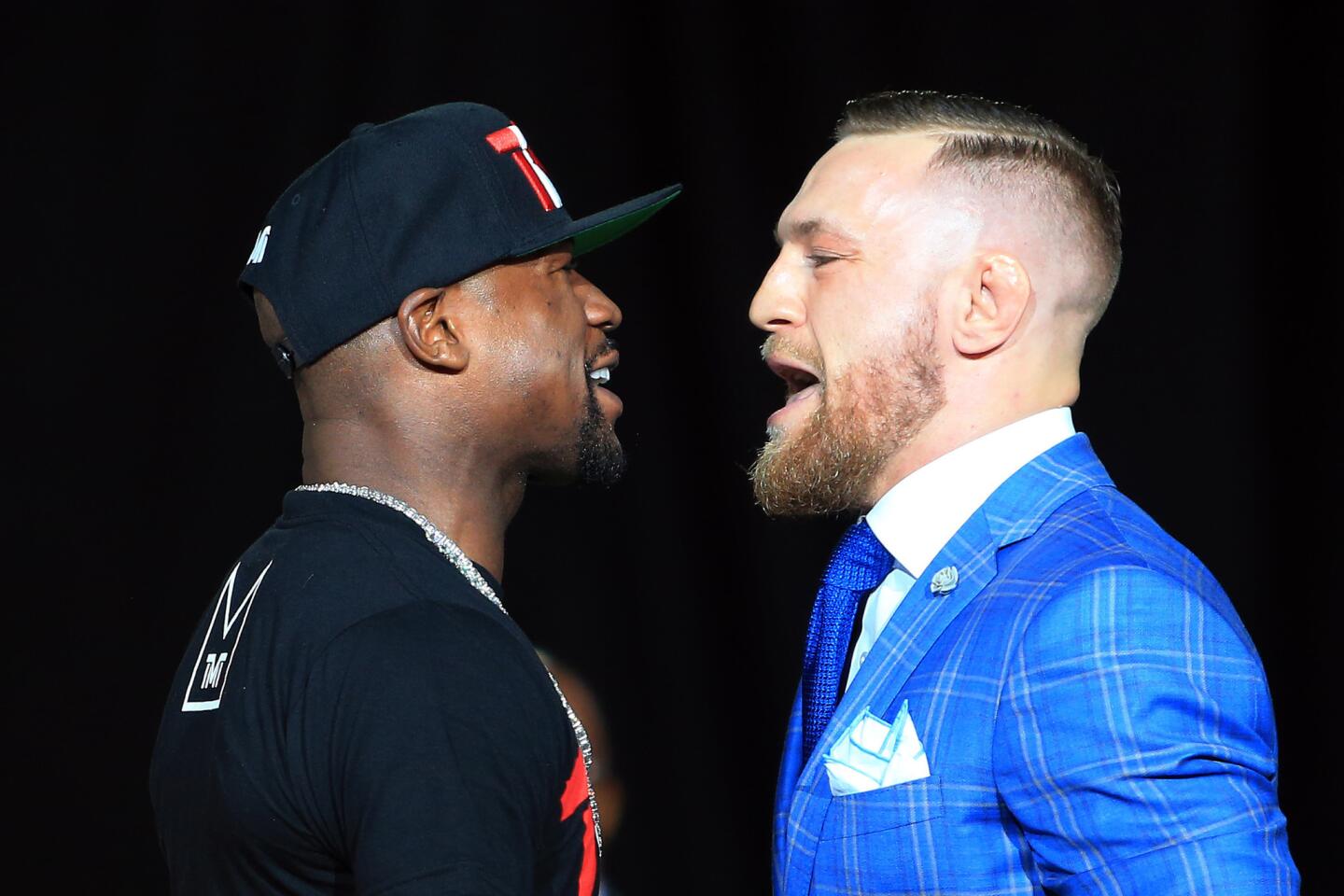 Floyd Mayweather Jr. and Conor McGregor face off in Toronto during their promotional stop on Wednesday.
(Vaughn Ridley / Getty Images)
Floyd Mayweather Jr. and Conor McGregor take the steage at Staples Center on Tuesday to open their four-city international press tour.
(Gary Coronado / Los Angeles Times)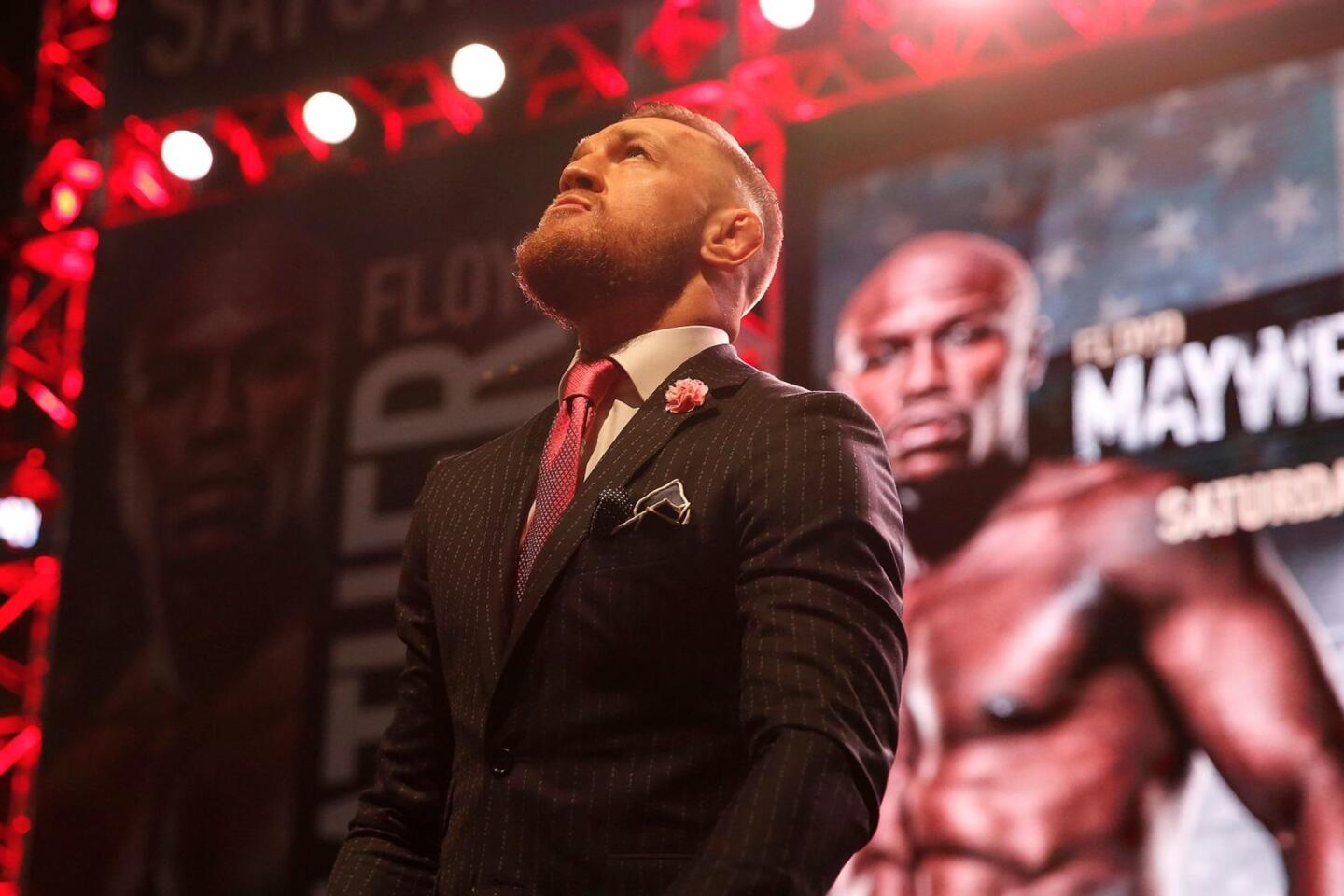 UFC champion Conor McGregor takes the stage during his promotional tour with unretired boxing champion Floyd Mayweather Jr. at their stop in Los Angeles on Tuesday.
(Gary Coronado / Los Angeles Times)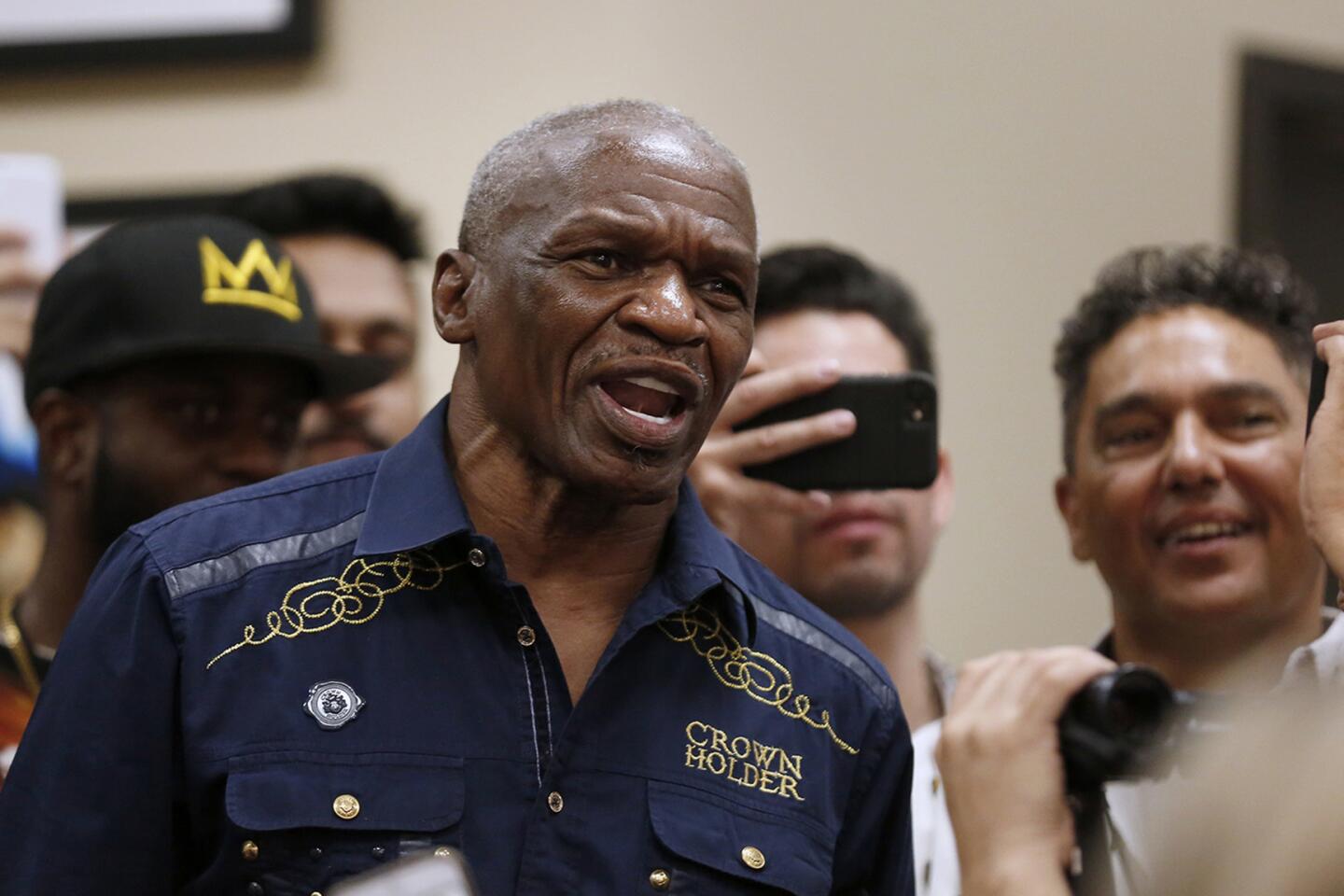 Floyd Mayweather Sr. defends his son Floyd Mayweather Jr. while getting into a shouting match with Conor McGregor (not pictured) during a promotional stop at Staples Center on Tuesday.
(Gary Coronado / Los Angeles Times)
Floyd Mayweather Jr., left, and Conor McGregor have to be separated by UFC president Dana White after standing toe to toe at a promotional stop at Staples Center on Tuesday.
(Gary Coronado / Los Angeles Times)
He said he used it to bring the Mayweather fight to life, both as a means to life-changing wealth and an opportunity to hold the boxing champion accountable for words less committed men would forget.
"This is a fight that's been in my crosshairs since Floyd has been opening his mouth. Not since he's been speaking my name, but since he's been speaking bad about mixed martial arts. He's been speaking ill about it multiple times," McGregor said.
So as his fame was rocketing, McGregor took it upon himself to respond to Mayweather's verbal jabs, coaxing the 40-year-old legend out of retirement.
This time, McGregor forecasts that the use of eight-ounce gloves will lead to an early knockout and perhaps seal which combat sport is king.
"I'm going to knock him out. He's too small," McGregor said. "I know he's fast. I know he has good reflexes. I don't care. I hit you, you fall. Eight ounces? He'll be unconscious inside two rounds."
Unlikely?
Yes, but so is McGregor, considering he collected a welfare check in an area of Dublin known as Crumlin five years ago, winning a fight days later that would help ensure he wouldn't have to return to the office.
"I always make a point to see it" on returns home. "Look back, reminisce and pinch myself that I'm in this position," McGregor said. "But never stare. You stare, you stay there. I look, pay homage and use it as fuel to keep going. I never become complacent or comfortable. I've never changed. Ask anyone."
Well, he has on occasion. He admits getting too full of himself after defeating Aldo, half-listening to his longtime coach John Kavanagh through camp and during the first Diaz fight, paying the price.
"I used to train 10-hour days, showing up [to the gym] with Tupperware and cutlery … I'd stay there the whole day," McGregor said. "Eventually, you run into a brick wall. You over-train, you get sick. That's what happened."
Recommitting to Kavanagh is part of the reason McGregor hasn't summoned one of the premier boxing trainers into his camp for Mayweather.
"Keep believing in your ability. Look at everyone around you and celebrate them. Don't think you've got to go somewhere else," McGregor said. "That's the sign of a weak-minded fighter. My team stays my team. [Boxing's] a different discipline, but fighting is fighting. And we are masters at fighting, a different breed.
"That's what these young fighters have to believe in --their roots. That's the secret to success. Celebrate your surroundings and you will succeed. Don't, and you're going away from yourself and you're just another guy on another guy's team. You know what I'm saying? You're just a tourist."
The one newcomer McGregor has welcomed is his son, Jack, born in May.
What bedtime stories the young boy is in for.
"That's one of the things I look forward to the most: to show him back my whole career, this crazy journey I've been on," McGregor said. "The hard work and sacrifice I've put into this … . He'll come up surrounded by many luxuries, but he must always understand hard work achieves this. That's the message I choose to give my son."
Twitter: @latimespugmire
Get our high school sports newsletter
Prep Rally is devoted to the SoCal high school sports experience, bringing you scores, stories and a behind-the-scenes look at what makes prep sports so popular.
You may occasionally receive promotional content from the Los Angeles Times.