Chargers need rookie Dan Feeney to step up after losing starting guard Matt Slauson to a biceps injury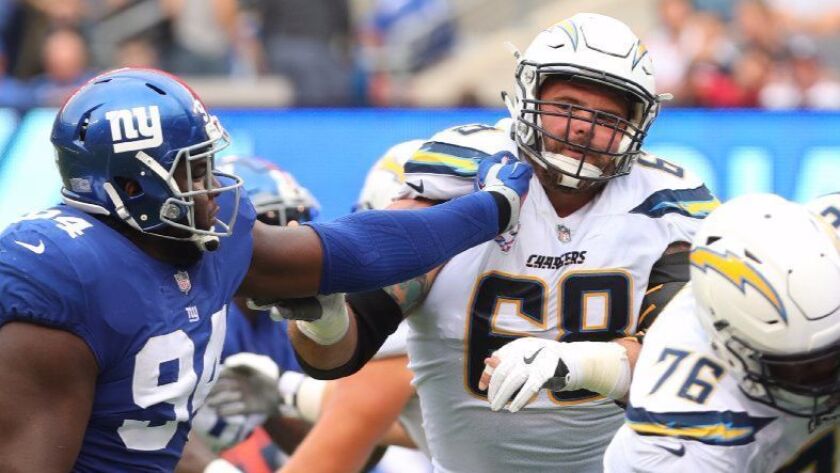 The Chargers should be riding high after cleansing most of the stench off a 0-4 start, but Anthony Lynn's weekly Monday news conference wasn't much of a victory lap.
While the team on Sunday played arguably its best game this season, the news — and the coach's mood — had a darker feel.
"I just found out that Matt Slauson's going to be out for the season with his biceps injury. So [Dan] Feeney will definitely step up into that spot," Lynn said. "And we'll keep it moving."
Slauson, the starting left guard, injured his biceps in the second half of the Chargers' 21-0 victory against the Denver Broncos. He'll need surgery.
Since signing with the team before the 2016 season, Slauson started in 23 consecutive games. After playing center last season, he was moved to guard in the offseason.
Although Slauson's skills might have declined, as anyone would imagine a 31-year-old veteran's might, his off-field presence seemed to make up for it.
"He was one of our captains, so you're going to lose some leadership there in that offensive line room. He was a like another coach in that room, especially for the young players," Lynn said. "So he had a lot of good intangibles. It wasn't just what he did on the field. We're definitely going to miss Matt."
The Chargers selected Feeney in the third round of the 2017 draft because he was a polished run blocker.
He wasn't able to win a spot on the starting offensive line in training camp, though he'd begun to receive small amounts of playing time over the last month.
"As a young guy with all the communication, recognizing the stunts and blitzes, he's come light years in his pass protection," Lynn said. "In the run game, he was good from Day 1 in my opinion. That's why we drafted him. But in the passing game, that's where he's made his big leaps."
With Feeney, the Chargers gain in athleticism what they lose in experience.
"I have a lot of confidence in Dan," Lynn said. "Dan's been growing like a weed, and he's ready. We knew that if something happened, that he could step in and fill that role."
Lynn said the Chargers likely will make at least one roster move to add depth to the offensive line. The team has guard Brett Boyko on its practice squad.
Before the season, the Chargers tried to retool their offensive line, releasing three starters from the 2016 line, including guards Orlando Franklin and D.J. Fluker.
The team signed left tackle Russell Okung, moved Slauson to guard and drafted Feeney after they took well-regarded guard Forrest Lamp in the second round.
The Chargers lost Lamp to a knee ligament injury early in training camp.
If there's a silver lining, it's that all season Slauson has had a hand in getting Feeney ready. The eight-year veteran and the rookie would go through pregame warmups at the same time, with Feeney mirroring Slauson's movements.
"We've been preparing Feeney," Okung said. "Matt's been preparing Feeney since minicamp and OTAs. Expectations are high in our room, and we're going to help him as he comes into this process. I'm very hurt by Matt not being able to play. His presence in our room is amazing. But Feeney is a guy who has watched everything Matt has done every second of every day."
Etc.
Rookie Mike Williams isn't on a snap count and is physically fine, Lynn said. Williams, who played 14 snaps Sunday, will have his workload increase as he improves his route running and command of the team's offense. … Wide receiver Keenan Allen, who was questionable for Sunday's game against Denver, came through the game without worsening the shoulder injury, Lynn said. … Reserve running back Branden Oliver was a healthy scratch against the Broncos, as the Chargers opted to go with running back Andre Williams because of his contributions on special teams.
Twitter: @DanWoikeSports
---
Get the latest on L.A.'s teams in the daily Sports Report newsletter.
You may occasionally receive promotional content from the Los Angeles Times.