Chargers' Okung explains symbol of protest during national anthem
Reporting from Glendale, Ariz. —
In the corner of the Chargers locker room at the University of Phoenix Stadium, Chargers left tackle Russell Okung tried to explain why he did what he did.
During the playing of the national anthem Saturday in the team's first preseason game, Okung raised his fist in the air, a symbol of protest and solidarity. It's something he's been doing since last season.
And pressure from the president of the United States and an unclear policy from the NFL won't stop him from speaking out against societal ills.
"I think it's pretty simple. I think the way laws are set up, whether we're looking at the civil rights amendment, people have abilities and (power) in which how they can handle people and handle people from certain backgrounds," Okung said calmly. "I think police brutality is a really difficult issue in this country and disproportionate to people of color – black people specifically. I think it's important to further that conversation and really look forward to ways of change."
During the first week of the NFL's preseason, player protests again made news, with athletes in Miami kneeling during the anthem, with players in Denver staying in the tunnel during the playing of the song and with others, like Okung, raising their fist in the air.
President Donald Trump, like he did during the protests last season when he advocated for the firing of any players who protest during the anthem, responded to the wave of protests on Friday by calling for players to be suspended without pay if they kneel during the anthem.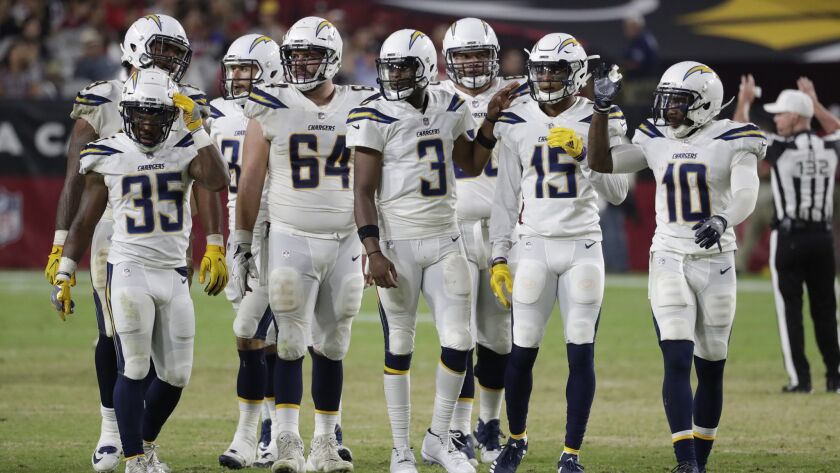 Okung, who had been involved in discussions with the NFL about social injustices a year ago, said reactions from Trump embolden players and force them to stick to their original convictions.
"One, we're not protesting the president of the United States," Okung said. "I think it's unfortunate that the president , I guess, does not respect advanced American citizenship, in terms of what our country actually looks like – the reflection of that. Our country is a place where there has always been creative conflict in order for us to move forward. I think what we're doing now is healthy.
"It's no direct reflection of disrespect for the military. I think all the guys who have protested are definitely for the military. It's been unfortunate to see the president has worked to gain political points by putting players down."
The NFL's owners attempted to implement a policy that allowed for players to stay in the locker room if they didn't want to stand for the anthem. If a player didn't stand while on the sidelines, his team would be fined by the NFL and the player would be open to further discipline decided upon by the franchise.
The policy was put on hold after criticism, and currently, the NFL and the NFL Players Association are trying to find a solution that works for both sides.
Still, Okung views the protests as a success – at least when it comes to opening eyes to issues of social injustice and inequality that might have gone unnoticed before.
"I think there have been a lot of conversations. People are really aware of things that people … people maybe never saw this as an issue before," he said. "It's just so unfortunate that people try to shift the narrative for their own interests and create propaganda around these issues."
Chargers rookies up to speed
It was fourth-and-goal from the 2, and the Chargers appeared to make the stop.
Arizona running back Chase Edmonds got swallowed into a pile of white-jerseyed defenders, and one of them, rookie linebacker Kyzir White, celebrated the big play – but he was premature.
Edmonds kept fighting, squirting his way into the end zone for Arizona's first touchdown, giving the Chargers a crucial early-season lesson.
"The whole defense thought he was down," Chargers coach Anthony Lynn said. "And, we have to finish that play. That's a great lesson for a young player that just came into this league. There were a lot of teaching things on that tape that we can learn from."
Other than the gaffe, things went fairly smoothly for White and first-round pick Derwin James, who both were making their NFL debuts.
"It wasn't what I (expected). I thought it was going to be a lot faster, a lot more going on," said White, who led the team with 39 defensive snaps. "I thought it was slow out there. It was easier than I thought."
James felt the same way.
"We were on the field talking about it. It was much slower than we expected," James said. "But I guess that comes from our preparation."
While it's good news, in part, to hear the rookies talk about the game speed being manageable, it's still not a true representation of what's to come, veteran safety Jahleel Addae said.
"Coach puts us in a position in practice where things are sped up for this exact reason, so when you get here on Saturday or Sunday, the game is a little slower for you," Addae said. "But with guys, young guys like them, coming in, it's more like a college all-star game. Everybody out there is a rookie, fighting for a roster spot. Everyone's not playing at their fastest because they're thinking a lot at this stage of their career.
"It'll definitely speed up."
Etc.
Lynn said Chargers quarterback Philip Rivers will play in the next two preseason games, both of which will be played at StubHub Center. …Cardale Jones, who got the start on Saturday, was put in the position by Lynn because "at some point, I need to know what we have in Cardale Jones," he said. "He came in this league and has never been given a legitimate opportunity." …The Chargers' tight ends caught just two of the eight targets to the position. Lynn wouldn't say if the struggles would accelerate the need to re-sign Antonio Gates, who is a free agent. "You know we've talked to Antonio and we're still talking with him. I don't know where that's going to go," Lynn said. "But we need to make more plays at that tight end position. We dropped some balls today that should've been caught."
Twitter: @DanWoikeSports
---
Get the latest on L.A.'s teams in the daily Sports Report newsletter.
You may occasionally receive promotional content from the Los Angeles Times.