Chargers were never able to get over Hill and his lightning-fast touchdowns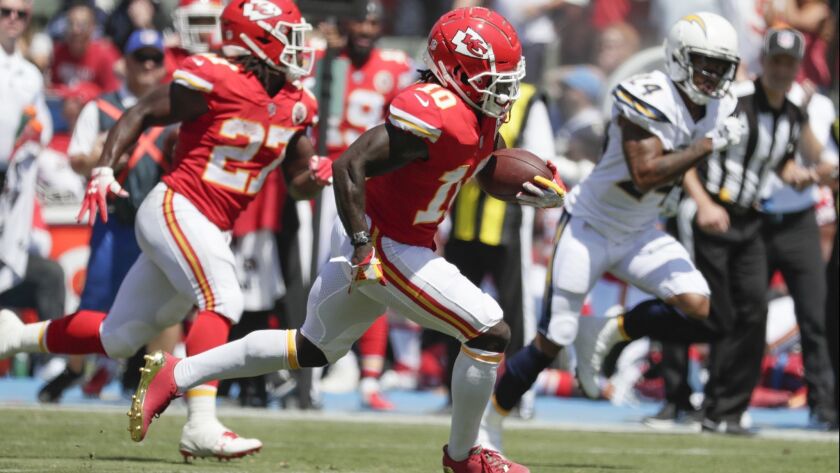 Give Tyreek Hill an inch and he'll take 268 yards. And a touchdown or three.
The Kansas City wide receiver, deemed "the fastest guy in the league, hands down," by Chargers cornerback Casey Hayward, blazed a trail through StubHub Center that left the host team grasping at air Sunday afternoon.
Hill, who goes by the Twitter handle @cheetah, returned a punt 91 yards for a touchdown and turned a short pass into a 58-yard scoring play in the first quarter, putting the Chiefs on the fast track toward a 38-28 victory over the Chargers.
The 5-foot-10, 185-pound Hill racked up 268 all-purpose yards — 169 of them on seven receptions — and scored a third touchdown on a one-yard shovel pass from Patrick Mahomes in the fourth quarter.
"He's electrifying — he's elite," Chargers safety Jahleel Addae said of Hill. "He's probably the best in the league at making something happen."
Speed isn't Hill's only weapon. He's elusive, instinctive and a better-than-average route-runner.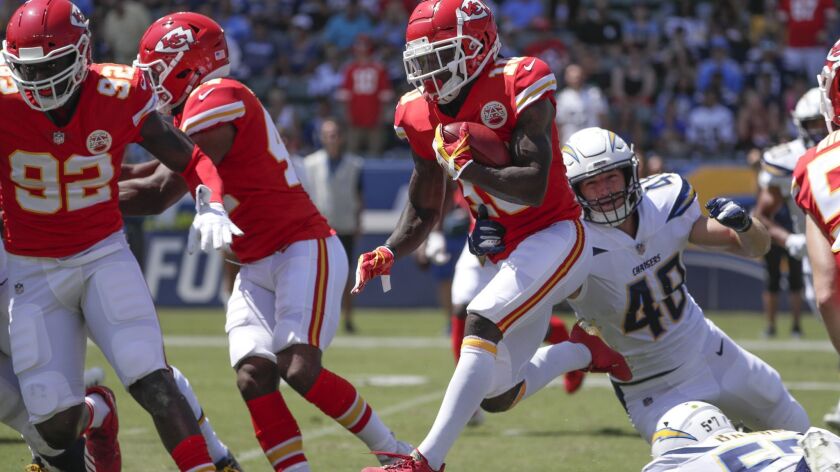 On one key third-and-13 play from the Kansas City 11-yard line late in the third quarter, Hill found a seam behind nickel back Desmond King and in front of free safety Derwin James for a 34-yard reception.
Two plays later, Mahomes lofted a 36-yard touchdown pass over the outstretched hand of leaping linebacker Kyle Emanuel and into the arms of fullback Anthony Sherman for a 31-12 lead with 48 seconds left in the third quarter.
"He's an all-around player, man," Addaee said. "He can line up at the one, two and three spots, and he can run the whole route tree. He's like a punt returner for them with the jet motions, the jet sweeps, the shovel passes and the screens. He's a gadget guy, but he can also get out there and run some decent routes."
Hill was quick out of the blocks. On the fourth play of the game, he made an over-the-shoulder catch of Drew Kaser's 57-yard punt at his nine-yard line and avoided the grasp of Craig Mager near the right sideline.
Hill ran toward the middle, got a great block from Armani Watts and quickly shifted from horizontal to vertical. Hill had two Chargers to beat, long-snapper Mike Windt at the Chiefs' 30-yard line and Kaser near midfield.
It was a mismatch of Usain Bolt vs. Albert Pujols proportions. Hill was alone for the final 50 yards of a 91-yard touchdown return that gave the Chiefs a 7-0 lead.
"Once I caught it, it was like, 'Man, this is wide open,' " Hill said. "Credit to our punt return unit. They did their job."
The Chargers did not.
"We lost containment, and he made us pay," Chargers coach Anthony Lynn said. "If you noticed, we punted it far left. We were trying to make it hard for him. If he was going to come back across the field, surely someone could get there and make a play, but we didn't get it done."
Mager was within a few yards of Hill when Hill caught the ball and appeared to have a bead on him.
"I feel like I had a chance to lay out, but I didn't want to be on the ground and take myself out of the play," Mager said. "I just have to take my shot and come up with a big play for the team. That definitely gave them a lot of momentum."
On Kansas City's first offensive possession from its 42, Mahomes, threw to Hill on a short slant pattern. Hill made the catch in front of Hayward, who gave Hill a wide berth. Addae was able to get one arm on Hill's leg, but Hill easily broke the tackle en route to a 58-yard touchdown play and a 14-3 lead.
"I took the right angle, but he flattened it out to the side of the field," Addae said. "There was nothing but grass there, so it was a track meet."
On the final play of the first quarter, Hill made a leaping catch between Addae and linebacker Kyzir White for a 30-yard gain, giving him 179 yards on his three first-quarter touches.
Hill had banged his head on the ground, however, and walked gingerly off the field. He spent the next drive in the medical tent, going through the NFL's concussion protocol.
Hill returned midway through the second quarter and took a reverse 21 yards on the first play of the third quarter to spark an 11-play, 75-yard touchdown drive that gave Kansas City a 24-12 lead.
After Chargers rookie JJ Jones fumbled away a punt at the Kansas City two-yard line, Hill scored on a shovel pass from one yard out for a 38-20 Chiefs lead with 9:42 left. Hill punctuated the score with an end-zone back flip.
"I had to show my athletic ability," Hill said. "I shouldn't have done it, though, because I started cramping up right after. It was a bad idea."
Follow Mike DiGiovanna on Twitter @MikeDiGiovanna
---
Get the latest on L.A.'s teams in the daily Sports Report newsletter.
You may occasionally receive promotional content from the Los Angeles Times.