Chargers go from double-digit favorite to double-digit deficit vs. 49ers, but rally to win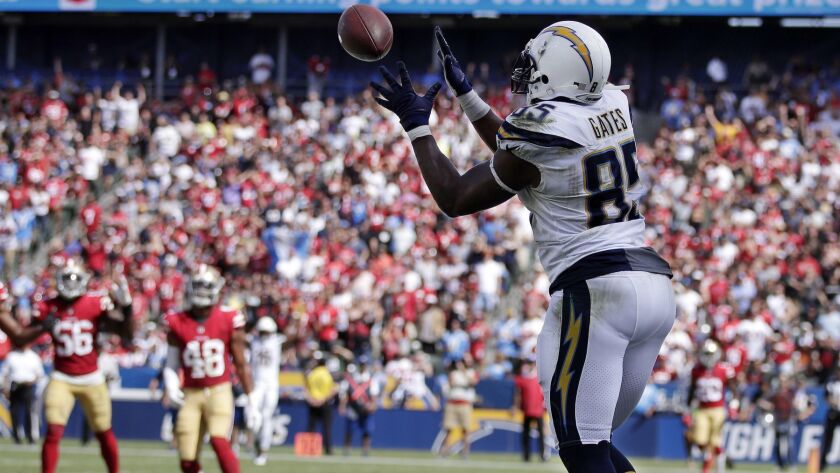 Losing to the Rams was reasonable enough because everyone has lost to the Rams so far.
Same goes against the Kansas City Chiefs, who on Monday night will attempt to improve to 4-0.
Those are the NFL's only remaining unbeaten teams.
But if the Chargers lost to 1-2 San Francisco, as 10-point favorites, one week after the 49ers' franchise quarterback went down with a season-ending injury? That would be concerning.
Mercifully, the Chargers showed their resolve and survival skills in a 29-27 victory Sunday inside a sold-out StubHub Center.
"We gotta believe in the people in this building," defensive end Melvin Ingram said, glancing around the locker room. "As long as we believe in each other …we're going to be all right."
The people in the building were decidedly pro-49ers, as the Chargers trailed by two touchdowns early. But L.A. scored 20 consecutive points to open a nine-point lead, before falling behind again in the fourth quarter.
In the end, the Chargers triumphed after their kicker made a 21-yard field goal midway through the fourth quarter, his third of the game. And yet afterward he faced questions about possibly being fired.
It was that kind of spastic and disjointed day.
Caleb Sturgis also missed two extra points — giving him three misses for the season — and a 54-yard field goal attempt. Sturgis' boss, coach Anthony Lynn, acknowledged the performance left him "disappointed, no doubt," after blown kicks haunted his first season on the Chargers sideline.
The Chargers overcame that too, Sunday, thanks to Melvin Gordon's 104 rushing yards, Philip Rivers' three touchdown passes and the defense's ability to turn sturdy and opportunistic when it mattered most.
Cornerback Trevor Williams intercepted a C.J. Beathard pass at the two-yard line in the third quarter and returned it 86 yards to set up one of Sturgis' field goals.
Defensive end Isaac Rochell intercepted another Beathard attempt — after safety Derwin James belted the San Francisco quarterback on a blitz — in the final three minutes to seal the result and even their record.
"I love the resolve of this team," linebacker Kyle Emanuel said. "We've been in situations like this before. It's the same attitude every time … [You] saw a bunch of swings, our way, their way. You just have to keep playing … It's a good mindset to have."
Having entered 1-2 themselves, the Chargers were staring at a second consecutive rocky start after opening 0-4 a year ago.
They eventually recovered late in 2017 and missed a playoff berth in a tiebreaker. The prospect of climbing from another September hole was unappealing.
"I feel like we could be better than 2-2," Lynn said. "But we come out of this thing .500. We start the second quarter [of the season] next week. Hopefully, we can learn from this first quarter and all of us can grow — coaches and players."
Sitting at .500 had the feel of being winners Sunday, the Chargers holding the NFL's second-best rushing attack to 76 yards and repeatedly pummeling Beathard.
After allowing San Francisco to convert on four of its first five third downs, the Chargers held the 49ers to one conversion on their final seven attempts and finally generated some pass rush.
"They definitely felt us, the quarterback for sure," Rochell said. "That's what we want to do."
The Chargers did lose left tackle Russell Okung to a groin injury, though the veteran indicated that he didn't believe it was serious. They also lost wide receiver Travis Benjamin, who re-aggravated a foot injury.
Overall, they walked away as intact as their record. Still, at 2-2 and having gone loss, win, loss, win to open the season, the Chargers understand that pattern won't be good enough.
"We can't keep going win for loss, win for loss the whole way," Rivers said. "We know what that does. That usually leaves you on the outside looking in. But we don't need to think about that now. We just need to think about winning another one. Today, we were talking about getting on a roll, and you can't get on a roll unless you win one."
Twitter: @JeffMillerLAT
---
Get the latest on L.A.'s teams in the daily Sports Report newsletter.
You may occasionally receive promotional content from the Los Angeles Times.