Injuries to Broncos' offensive line could allow Corey Liuget to break out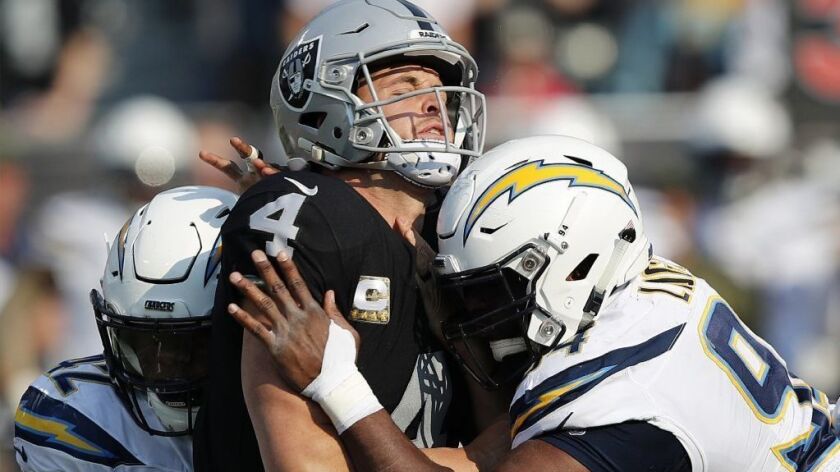 He has been back for five games now, in the last two earning notable grades from the X-and-O experts who determine such things.
Last weekend in Oakland, 300-pound Corey Liuget even had a 24-yard fumble return that would have been the Chargers' third-longest offensive play of the game.
"A few people have told me I've been playing pretty well," he said. "But it's still not to my standards, you know? I'll let you know when I have that game. Then we'll really have something to talk about."
Sunday, perhaps?
Liuget and the Chargers are set to face a Denver team that has been ravaged by injuries along the offensive line.
The Broncos will have a player starting at center for the first time ever, and a guard starting anywhere for the first time ever. This will be their sixth different alignment up front this season.
The Chargers, though, even with defensive end Joey Bosa nearing his return, just lost linebacker Denzel Perryman, a run-stopper who will be missed against Denver, a team that loves to start with the run.
Perryman suffered a season-ending knee injury Sunday against the Raiders, the Chargers no doubt quickly remembering just how much their rush defense struggled when Perryman was hurt and missed nine games in 2017.
"Not having D.P. out there … it's going to be an interesting week to see how we are bringing guys to the ground," said Liuget, who was suspended for the first four games after testing positive for PEDs. "We have to get out there and tackle."
Despite the instability along the offensive line, the Broncos have averaged 5.2 yards per rush, and no NFL team has been more productive by that measure.
The Chargers intend to fill Perryman's spot via committee, an approach that will rely on the versatility of players such as Adrian Phillips and Kyle Emanuel and the depth provided by the likes of Hayes Pullard.
They also will need more from Liuget and his teammates who make up the Chargers' first line of defense, a group that has helped hold five consecutive opponents to fewer than 20 points.
Included up front is Brandon Mebane, who, along with Liuget, was singled out by Denver coach Vance Joseph as likely to play significant roles Sunday.
It appears that the combined 611 pounds — along with everything else — that Liuget and Mebane bring already are weighing on Joseph's mind.
"Those two guys are big guys and they are hard to move," he said. "For us to have any success running the football on Sunday, we have to move those guys out of there."
These teams enter this AFC West matchup from decidedly different places. The Chargers have won six in a row and the Broncos have lost six of seven.
Another victory would give the Chargers a chance to reach 9-2 entering December, their final game this month coming against 2-7 Arizona at StubHub Center.
Denver has four one-score losses, including to the NFL's two 9-1 teams, the Rams and the Kansas City Chiefs.
Broncos quarterback Case Keenum told reporters in Denver that it's "whatever-it-takes time" and "hold-nothing-back time" and "fire-all-the-bullets-in-the-chamber [time]."
Clearly, at 3-6 and desperately looking for an answer, Keenum will leave no cliche unturned.
His counterpart with the Chargers, Philip Rivers, has been anything but trite this season.
In fact, the veteran has been so impressive — 21 touchdowns, four interceptions, 115.4 rating — that Joseph even noted the plays Rivers hasn't been making these days.
"Philip is playing team ball," the Denver coach said. "I think it's hard for a guy like Philip who's, in my opinion, a first-ballot Hall of Famer, to do less to help his team win. So that speaks to the person …
"When I watch Philip, I see a guy that's taking care of the football. … In the past, we all know Philip has made some big plays. But he's also made plays where he could throw the ball to you. I haven't seen those plays on tape [this season]."
So Rivers and the Chargers will try to keep rolling, while the Broncos attempt to start rolling.
And for Denver that likely means moving man mountains such as Liuget and Mebane, more than a quarter-ton of humanity committed Sunday to forming Mt. Rush-less.
"I feel like I haven't played to my full potential yet," Liuget said. "I think there are better games ahead of me right now. I just gotta keep making strides."
Twitter: @JeffMillerLAT
---
Get the latest on L.A.'s teams in the daily Sports Report newsletter.
You may occasionally receive promotional content from the Los Angeles Times.