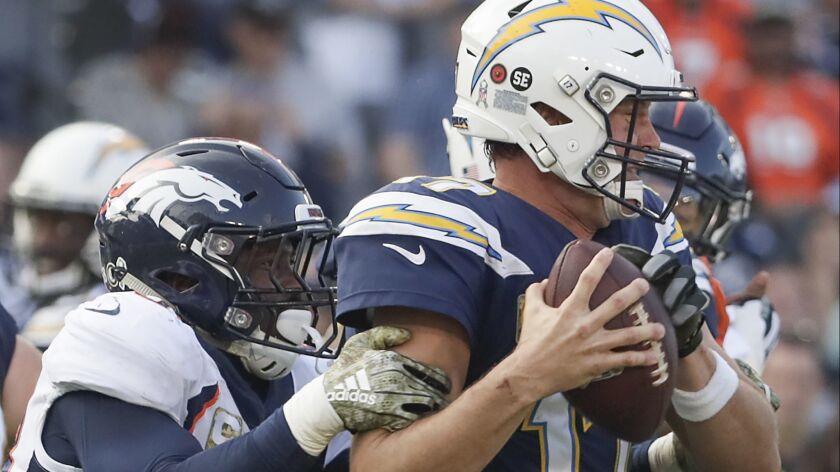 He began his postgame news conference with an apology.
For his tardiness. Not for his team's play.
Anthony Lynn would have been justified in either case.
"Sorry for keeping you guys waiting," the Chargers coach said. "We had a lot to talk about."
Boy, did they ever, the Chargers snapping their six-game winning streak by ham-handing Denver an unlikely 23-22 upset at StubHub Center.
A team that reached a mark of 7-2 by repeatedly finding ways to win discovered a variety of ways to lose Sunday.
The Chargers had 14 penalties totaling 120 yards. They had the game's only two turnovers. Their rookie kicker missed an extra-point try for the first time and, not two hours later, they came up a point short.
"We said there were going to be more games in this league lost than won," Lynn said. "Today, we lost that one."
Hear from Chargers head coach Anthony Lynn and quarterback Philip Rivers after the Chargers lost to the Broncos on Sunday at the Stubhub Center, 23-22, in a game ripe with Los Angeles penalties, interceptions, fake punts and more.
Then, before his opening remarks were complete, Lynn added: "Fourteen penalties? 120 yards? You got to be kidding me."
This performance, relative to what the Chargers had been producing, was indeed like a joke. A bad one.
Even after blowing a 19-7 third-quarter lead, they had an opportunity to clinch a victory by securing a first down in the closing two-plus minutes.
But their star running back, Melvin Gordon, went the wrong way on a play, the result being a four-yard loss when quarterback Philip Rivers intentionally fell to the ground.
On the next snap, with the play going nowhere, Rivers purposely threw into the turf for a clock-stopping incomplete pass when falling to the ground would have drained precious seconds. The Broncos already had depleted their timeouts.
As it turned out, the Broncos needed every last tick, winning when Brandon McManus made a 34-yard field goal as time expired.
Here were two the Chargers' best players bumbling away a game that was such a complete a collapse that seemingly everyone contributed.
"We could have won this game," Gordon said. "We should have won this game. Everybody in this locker room knows that. We fell short. Everybody's just got to hold themselves accountable."
Those 14 penalties were committed by 13 Chargers. They were called for multiple infractions of unnecessary roughness. They were called for penalties before snaps and after whistles.
And they were called for perhaps the NFL's second-most ridiculous wardrobe malfunction.
Late in the first half, Rivers expertly eluded defensive end Derek Wolfe and found Keenan Allen alone in the back of the end zone. The four-yard scoring pass and extra point would put the Chargers up 13-7.
But after the play, Allen approached the fans seated in the front row and handed the ball to one of them. He then grabbed a Chargers-themed championship-type belt from another.
Allen modeled the belt as his teammates arrived to congratulate him. The moment resulted in a highlight for all the daily recap shows and also in a 15-yard unsportsmanlike conduct call.
Allen was presumably penalized for using a prop during a touchdown celebration and not because he actually had the belt upside down.
"Somebody gave him something out of the stands," Lynn said. "He should have known. But he didn't know that he couldn't do that. You can't use a prop in a celebration."
It was that sort of absurd afternoon for the Chargers, who, at times, dominated a Denver team that entered 3-6 and was operating behind an offensive line drastically thinned by injury.
The Chargers finished with more first downs (26-16), total yards (479-325) and third downs converted (9-3). They had the ball more than 15 minutes longer than the Broncos.
On a day when Pro Bowl edge rusher Joey Bosa returned from a foot injury that had sidelined him all season, the Chargers failed to sack Case Keenum.
"You know you should have won the game," Gordon said. "You had chances to put the game away. You come up short by making mistakes and penalties. …That makes it hurt a little bit more."
Having won their last four games away from StubHub Center — on a journey that covered close to 14,000 miles and took them to London and back — the Chargers finally returned home and saw all their hard work fizzle.
A team that hadn't faced heartfelt adversity since losing to the Rams on Sept. 23 wakes up Monday in desperate need of regrouping.
"We can't go into a hole with the work we've done thus far," Gordon said. "We gotta find a way to jump back on board. We still got everything we want ahead of us. We can go get it. …Obviously, the year's not over."
Twitter: @JeffMillerLAT
---