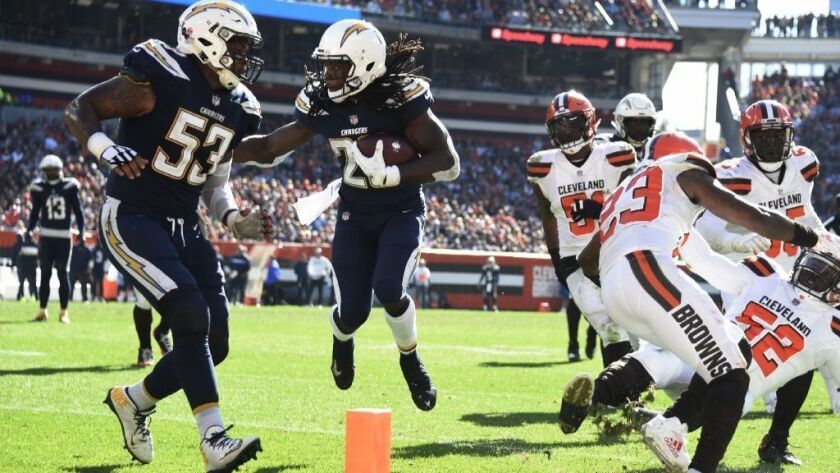 Reporting from CLEVELAND —
And afterward, they danced.
Melvin Gordon and Keenan Allen danced, shoulder to shoulder, in an exhibition of swinging hips and flailing hands, their step as synchronized as it was silly.
That was the punctuation early in the third quarter Sunday as the Chargers busted open what was supposed to be a taut game, beating the Cleveland Browns 38-14 and draining any energy that remained in FirstEnergy Stadium.
"Coming across country, playing in a hostile environment, they executed well today," Anthony Lynn said. "That's the way it's supposed to look."
The Chargers coach was talking about his team's play, although he could have been talking about Gordon and Allen's playfulness, which followed the score that put the visitors up by three touchdowns.
The coordinated effort, Gordon explained later, was taken from the movie "Drumline," a 2002 comedy about a college marching band.
On this day, however, the show didn't come at halftime. And the Chargers didn't miss a beat.
They plowed way their to 246 rushing yards and Gordon scored three times on the ground, something he'd never done in his NFL career.
Philip Rivers completed only 11 passes and barely cracked 200 yards, and the offense failed to convert eight of nine third downs. But two of those completions were long passes to Tyrell Williams for touchdowns, and because of the dominant ground work, the Chargers were able to roll, giving them three consecutive victories after a 1-2 start.
"When you gash guys in the run like that it kind of kills the defense a little bit," center Mike Pouncey said. "It keeps us on schedule and puts them in a little rift because they don't know what's going on. It's very frustrating for those guys."
The first of Gordon's two third-quarter touchdowns illustrated best how well the Chargers rushed the ball. He took a pitch from Rivers and darted around the right side to score with little resistance from 10 yards out.
Gordon mostly had to simply step around various toppled Browns. There were obvious blocks from Williams and linemen Sam Tevi and Michael Schofield, and more subtle contributions from tight end Virgil Green and linemen Dan Feeney and Russell Okung.
The play was so well executed that Pouncey could be seen wandering around looking for a Cleveland player to block. He never located one.
"I just ran downfield trying to find someone," he said later. "Everybody did their job on that play."
Leading up to this game, Lynn was asked what he hoped to see from Cleveland quarterback Baker Mayfield. He joked that all he wanted to see was the rookie on his back.
The Chargers took their coach seriously and granted Lynn his wish. They sacked Mayfield five times and harassed him into completing fewer than half his passes (22 of 46).
Damion Square, a tackle who also has been playing some end, entered with three career sacks in his first 48 games. He then was involved in sacking Mayfield on consecutive plays in the first quarter.
Square split the first sack with rookie safety Derwin James and was credited with a solo on the second.
"The sack is demoralizing, almost like a pick," Square said. "It's a big play. It gets the guys on the sidelines on their toes. They're like, 'Man I want to get out there and get some of that.' "
Mayfield has been the face of the Browns' rejuvenation, this being a franchise that had one victory over the two previous seasons.
Cleveland was 2-2-1 entering Sunday, Mayfield showing brilliant and undeniable reasons why he was the No. 1 selection in the 2018 draft. But the Chargers limited Mayfield and the Browns to one too-late touchdown, with Desmond King intercepting Mayfield twice.
"That defense, they protect every inch. They aren't in until they're in with our defense," Lynn said about protecting the end zone. "When a team's on the one-yard line, that doesn't faze me because we protect every inch."
They protected every inch, all right, and danced on the heads of their fallen foes, the Chargers pounding the Browns like just another beaten drum.
Twitter: @JeffMillerLAT
---