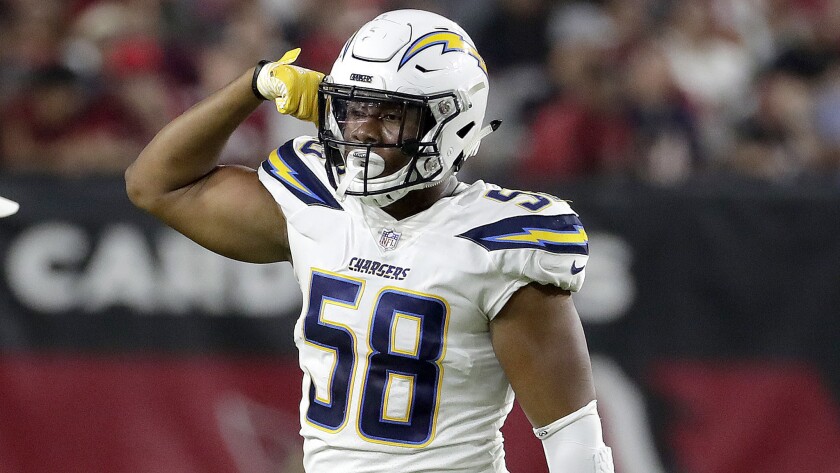 After a turnover in 2017 — and there were plenty of them — the Chargers' secondary would sprint to the end zone to pose in front of the cameras as a group.
It became the genesis for the nickname "Jack Boys" — because the group will jack, or steal, the ball from opposing offenses.
The defensive line, with Melvin Ingram and Joey Bosa on the edge, probably could be called the "Sack Boys." And the linebackers ... well, they're the "Back Boys."
Now that all the nicknames have been handed out, the Chargers can focus on what's most important — building on last season's dominant defensive performance.
In Year 2 under defensive coordinator Gus Bradley, the Chargers will be adding a lot of young talent to a group that remains largely the same.
The big add, rookie Derwin James, is a do-it-all defender who can play anywhere from linebacker to safety, thanks to a combination of size and speed that the team didn't have in the back half of the defense a year ago.
James is trending toward a starting spot alongside Jahleel Addae, though it's not clear who will end up playing free safety — the last line of defense in Bradley's scheme.
James is the biggest name, and the Chargers' second- and fourth-round picks, linebackers Uchenna Nwosu and Kyzir White, also look as if they could end up with the first unit.
Nwosu could play on the defensive line in passing situations and at strongside linebacker on rushing downs.
"He's a guy that as we watched during training camp," Bradley said, "he would have flashes, but when he got into games, those flashes have appeared to happen more often. He picked it up more in games."
Nwosu also has impressed coaches with his knack for dropping into pass coverage, something he didn't do much at USC.
Opposite him, White, a converted safety, has brought some speed to the other linebacker spot, where he's been competing with Jatavis Brown.
"He's got good length and he's heavy-handed, so he has some of the traits that we're looking for at linebacker," Bradley said. " He's a guy that we're trying to speed up his learning curve a little bit."
All three of those rookies (another, third-round pick Justin Jones, has missed most of camp because of an ankle injury) have been given chances with the starters.
"They all seem to have great instincts," Chargers quarterback Philip Rivers said. "You can tell that, and they really can accelerate and attack the football."
That influx of talent joins a group with Pro Bowlers on the line in Ingram and Bosa, and a Pro Bowl cornerback in Casey Hayward.
Hayward, whom the team signed to a lucrative contract extension this offseason, and Trevor Williams are good enough to make up for the loss (yet again) of Jason Verrett, this time to an Achilles injury. Desmond King, who had a strong rookie season, will play corner in passing situations too.
The big questions, though, will be centered on how the Chargers handle ground attacks.
It was the weakest link in the chain a season ago, especially against physical running backs. The Chargers allowed 4.9 yards per carry — more than any other team in the NFL.
A full season from middle linebacker Denzel Perryman would certainly help, but the Chargers need to be stronger in the central parts of the defense for it all to work.
But the emphasis will, once again, be on takeaways, thanks to the Chargers' relentless pass rush and talented secondary.
"The expectation is going to [be there] no matter what the name is, so it just kind of goes with what we want to do as a unit anyway," Hayward said.
"So 'Jack Boys,' let's get the ball regardless of whatever our name is. We'll make plays, but we need to get the ball. That's the key to this game. Get the ball. Get the offense the ball as much as possible."
Twitter: @DanWoikeSports
---