Three weeks after surviving the most harrowing day of his life, Jonathan Smith, a 30-year-old copy machine repairman and longtime Chargers fan from Buena Park, enjoyed one of the most memorable days of his life.
Smith, who was shot in the neck while trying to save dozens of people from a gunman who opened fire on a Las Vegas country music festival Oct. 1, attended Friday's Chargers practice with his three kids, 11-year-old Jonathan Jr., 10-year-old Jayden-Starr and 4-year-old Julian.
Smith met coach Anthony Lynn at the beginning of practice and was asked to break the team's huddle on the field. Afterward, he posed for pictures with and spoke to several players in the locker room, including quarterback Philip Rivers, tight end Antonio Gates and running back Melvin Gordon.
"It's a true blessing," Smith said, clutching a Chargers cap that was covered with autographs. "They could have just sent me an autographed football or something, but they went the whole nine yards for me and my family.
"For me to actually be here and meet the players and break down the huddle … I feel like a little kid who got his first bicycle. This is something that's going to stick with me for the rest of my life."
Smith, along with several nephews and nieces, was celebrating his 43-year-old brother's birthday at the Route 91 Harvest festival in Las Vegas when a gunman opened fire from the 32nd floor of the Mandalay Bay Resort and Casino, killing 58 in the deadliest mass shooting in modern U.S. history.
After helping his family members to safety, Smith went back onto the concert lawn to help save more than two dozen people before a bullet struck him in the left side of his neck.
An off-duty San Diego police officer named Tom McGrath may have saved Smith's life by stemming the flow of blood and escorting Smith to a pickup truck that carried him and several other victims to a hospital.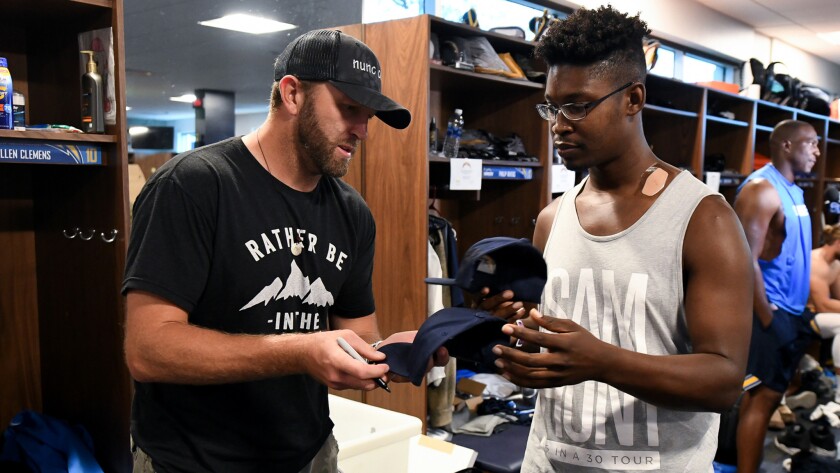 A picture of Smith sitting in the hospital with a towel draped over his shirtless chest and a bandage over his wound, taken by the Washington Post, went viral. Smith was reunited with McGrath in a tearful CNN interview a few days later.
Asked on Friday what prompted him to risk his life to save others, Smith said, "I honestly don't know. I guess you don't really think about it. I didn't think about it at all. Once I got my nephews and nieces to safety, I feel like it's the right thing to do, to go back and help your fellow man and woman.
"Did I do the right thing? I think I did. Am I a hero? I don't think I am. I think I just did what anybody would do. I'm not out there like the military is. To save one or two people, that does me some good. Would I do it again? Honestly, I probably would."
Doctors are trying to determine if the bullet that remains lodged in Smith's neck can be removed. Smith sustained a fractured collarbone, cracked rib and bruised lung in the shooting, and he has lost feeling in a small area between his neck and shoulder.
But he was one of the lucky ones. He survived.
"From that moment, my life has been turned upside down, I'm still processing it right now," said Smith, who has also appeared on "Good Morning America."
"But for the most part, I'm here with my kids, I'm still alive, and I'm grateful for that. I'm just trying to take it one day at a time."
Days like Friday help. The Chargers reached out to Smith a few days after the shooting through the We Charge L.A. fan group, of which Smith, a season-ticket holder for the last seven years, is a member.
Smith and his family will also attend Sunday's game against the Denver Broncos at StubHub Center as guests of team owner Dean Spanos. Given an opportunity to fire the ceremonial cannon before kickoff, Smith jumped at it.
"I honestly feel like I won the Super Bowl," Smith said. "You know how they say 'I'm going to Disney World?' No, I'm going to a Chargers game. … The whole day has been so good. For the players to come up to me and say they've seen what I did and they appreciate that … it lets me know that there is that sign of respect there."
Twitter: @MikeDiGiovanna
---