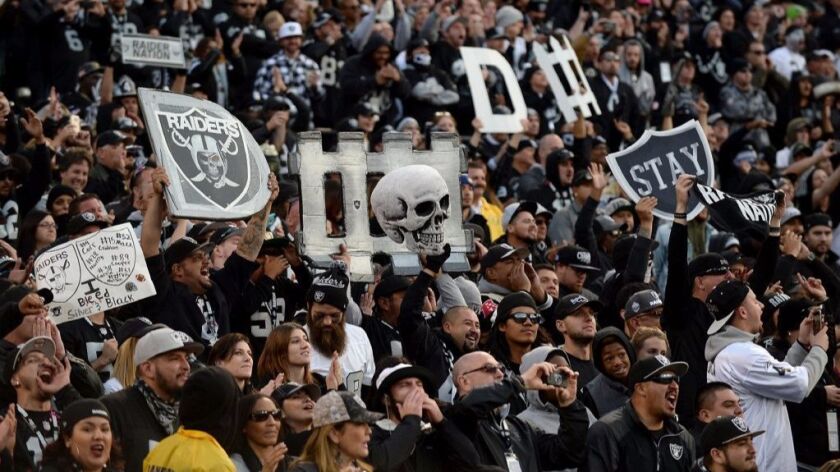 Imagine a person walking down the stairs in the house shared with a spouse.
They need to talk. The last 22 years have not been great. There have been good times and bad, but more bad than good. The house is mess.
That's why they have to leave.
Found someone new, someone fancier, someone better. But, before exiting they will look their partner in the eye and ask the most audacious question:
"I know I just told you I'm leaving you for someone else. But, do you mind if I crash here on the couch for the next couple of years while I get everything finalized?"
That's the position the Raiders and Oakland are in — the team will be there for the next two seasons, at least. The Raiders eventually be in Las Vegas. They may be somewhere else in between. But the key point is, they'll no longer be the Oakland Raiders.
Sunday, the Chargers will travel to Oakland for one of the final times, playing a lame-duck tenant.
It's a situation the Chargers avoided, leaving San Diego for a temporary home in their new city while the newer, state-of-the-art stadium is being constructed in Inglewood.
"I'm sure it would've [been] weird to be playing in San Diego," Chargers quarterback Philip Rivers said. "But, at least you'd have known. It's like knowing the end point. Maybe it still would've been like, 'All right, let's make it our best couple of years yet' before you left — rather than not knowing. I don't know. It would've still been awkward. I can see it being weird … I can't really imagine it."
Maybe Rivers is the wrong kind of NFL player to ask. He's been with one franchise his entire NFL career. He made his home in the town he played in, signing up to buy a house instead of scribbling his name on a contract for a short-term lease.
It's why the Raiders aren't using their future move as an excuse for their slow start. And, it's why Chargers players, even with the power of hindsight, don't believe their uncertain situation in San Diego over the past few seasons had a major effect on their win-loss record.
"That's just an excuse," Chargers tackle Joe Barksdale said.
While relocation can be traumatic for a city and for fan bases, the reality is the players wearing the pads and helmets aren't as affected as you might think. To many, it's not much of a big deal. For beginners, the NFL forces players to become experts in instability.
Rookie Austin Ekeler, who made the Chargers as an undrafted free agent, said training camp was one of the most stressful periods of his life — a stress that didn't end when he made the 53-man roster. He knew, like most players on the back end of a NFL roster, that things could change quickly.
Maybe he'd suffer an injury. Maybe someone else at another position would suffer an injury and the Chargers would need to clear roster space. Maybe he'd stop playing well. All of it meant he'd be out of work without an NFL paycheck.
"It sucks," Ekeler said. "So stressful, man … I'm not going to be relaxed because no job is safe."
With contracts largely not guaranteed, NFL teams can wash their hands from a player in a moment's notice, as the Chargers did with kicker Younghoe Koo, whom the team replaced two weeks ago.
It's an understood part of the business, particularly for guys who weren't top picks or who are filling smaller roles.
"You have to be an expert at adaptation," tight end Sean McGrath said. "Job security in this league is unstable for a great portion of this team.
"…The whole thing, this job, this culture, is unique. There's nothing in my experience that parallels it."
But some try to find them.
"Something I referred to in training camp, I said a season in the NFL is similar to dog years. It's like times seven. So we're not going anywhere for about 20 years," Raiders coach Jack Del Rio said. "That's kind of the way we have to approach them, each NFL season.
"Just five weeks in, week to week, things change rapidly in our league. You just need to remain steadfast, committed to doing the things you need to do to play good football. Take it one week at a time. That's where we are. I think discussions about relocation in a couple of years really has zero to do with us right now."
It's why the Chargers' locational limbo a season ago didn't bother then-rookie defensive end Joey Bosa.
"There was so much other stuff going on in my head," he said. "That was really the last thing on my mind. And I don't think that's what [Oakland's] really thinking about either. It seems like ancient history now talking about it."
Football players, while every bit as subject to anxiety and uncertainty as anyone else in the world, do have plenty to worry about besides decisions made by team owners.
"You know, our team is so focused on making sure that we're preparing each and every day to compete on Sundays, and that stuff, obviously, it's already set in stone," Oakland quarterback Derek Carr said. "We don't have to worry about it. It's going to happen, so there's nothing to think about. There's nothing to worry about. You know, there's nothing up in the air and that will come when it comes.
"So to be completely honest with you, our team is just really focused on trying to get some more wins and the rest of those other things will take care of themselves."
Follow Dan Woike on Twitter @DanWoikeSports
---