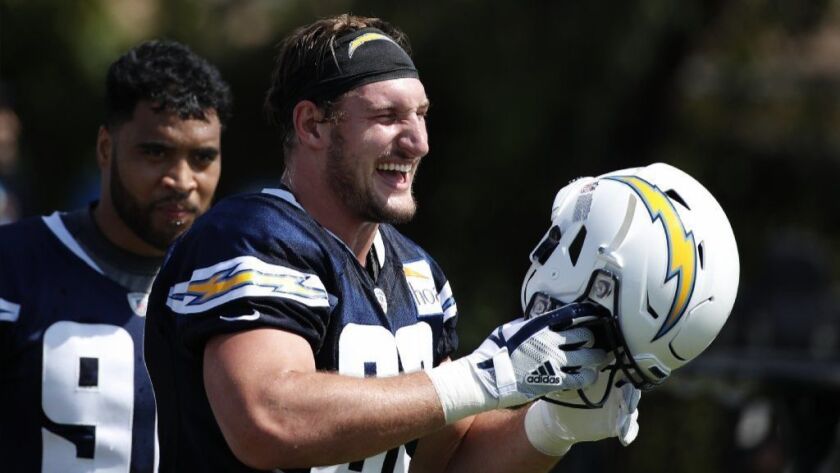 It wasn't until Joey Bosa arrived in StubHub Center for the Sept. 9 season opener that the severity of his left-foot injury struck him like one of his crunching blows to a quarterback.
"When I walked into the locker room before the Kansas City game, it just hit me that I wasn't playing," the Chargers defensive end said Thursday. "I remember almost choking up, and I had to walk out of the locker room."
Those feelings of fear and frustration could be replaced by adrenaline and anticipation the next time Bosa, one of the NFL's best pass-rushers, steps into that room.
The 2016 first-round pick and 2017 Pro Bowl selection was a limited participant in practice for the second straight day Thursday, and there is a good chance Bosa will make his season debut when the Chargers (7-2) play host to the Denver Broncos (3-6) on Sunday.
"It's really not decided yet," Bosa, 23, said. "We're just continuing with the plan, and that's to practice this week, and we'll see how it feels on Sunday."
Bosa, who had 23 sacks and 36½ tackles for loss in 2016 and 2017 when he teamed with Melvin Ingram to give the Chargers one of the best edge-rushing tandems in the NFL, could provide a huge boost to a defense that actually has thrived in his absence after a 1-2 start.
The Chargers have won six straight and rank ninth in the NFL with 26 sacks, 18 of them coming in the last five games. After allowing an average of 30.0 points in their first four games, the Chargers have allowed an average of 13.2 points in their last five games.
Ingram leads the team with 5½ sacks. Isaac Rochell, who has filled in for Bosa, has 4½ sacks. Damion Square, who moved from nose tackle to end, has three sacks.
"I'm really proud of the D-line, especially the young guys stepping into my position and really holding it down and doing a great job," Bosa said. "I can't say enough about guys like Damion Square stepping in at end and playing a new position. It was really fun to watch those guys."
It will be even more fun playing with them. Though he eventually came to grips with his injury enough to call his extended absence "a really good learning experience," Bosa is eager to return.
"When you really miss practicing," Bosa said, "you know that you miss football, because practice just becomes such a grind throughout the year."
Bosa originally was hurt during training camp in early August. He aggravated the injury, initially described as a bone bruise, when he tried to return — too soon, he admits — in early September. The foot was placed in a cast in mid-September.
Bosa confirmed that he was diagnosed with a Lisfranc injury, in which bones in the midfoot are broken or ligaments that support the midfoot are torn. The injury can take several months to heal and sometimes requires surgery, but Bosa said doctors are confident he will not need surgery after the season.
"Honestly, until I'm done playing this year, I'll probably be experiencing soreness and discomfort," said Bosa, who is wearing custom orthotics to support his arches. "I'm sure after the game next Monday it's going to be pretty tough, but it's something you have to manage with ice."
Bosa described his rehabilitation as both "a safe, slow progression" and a "roller coaster," the latter because of the pain involved with the process. He started by walking 20 yards forward and backward, increasing the pace of his walking and rising up on his toes. Then came running, back-pedaling and cuts.
Cleared for more strenuous activity in mid-October, Bosa said he completed 39 "intense" workouts in 29 days.
"I feel pretty good, I'm in shape and I'm running as fast as ever, so physically, I think it's going to be fine," Bosa said of his return. "But mentally, just getting back into the plays, learning the new stuff they've added could be a challenge."
Hold tight
Ball security has been a strength for the Chargers, who have fumbled just three times this season — J.J. Jones on a punt return in Week 1 against Kansas City and receiver Keenan Allen and backup running back Austin Ekeler in Week 3 against the Rams.
Running back Melvin Gordon, who has rushed 125 times for 672 yards and caught 36 passes for 361 yards, has not fumbled. Only four NFL teams — the Bengals, Chiefs, Rams and Broncos — have fumbled less than the Chargers.
"Well, you've got to give credit to coach [Anthony] Lynn there," offensive coordinator Ken Whisenhunt said. "That's been big for him since he came in here. And he's preached that since last year.
"You know, it's been good. I hate to mention it or even talk about it because, you know, I'm superstitious about that stuff, but it's been good, no question."
Etc.
Receivers Allen (hip/finger), Mike Williams (groin) and Geremy Davis (hamstring) were added to the injury report Thursday. All three were limited participants in practice. Veteran tight end Antonio Gates (knee) and cornerback Trevor Williams (knee) sat out practice for the second straight day.
Follow Mike DiGiovanna on Twitter @MikeDiGiovanna
---