Chargers stop two-point conversion in last minute to win fourth straight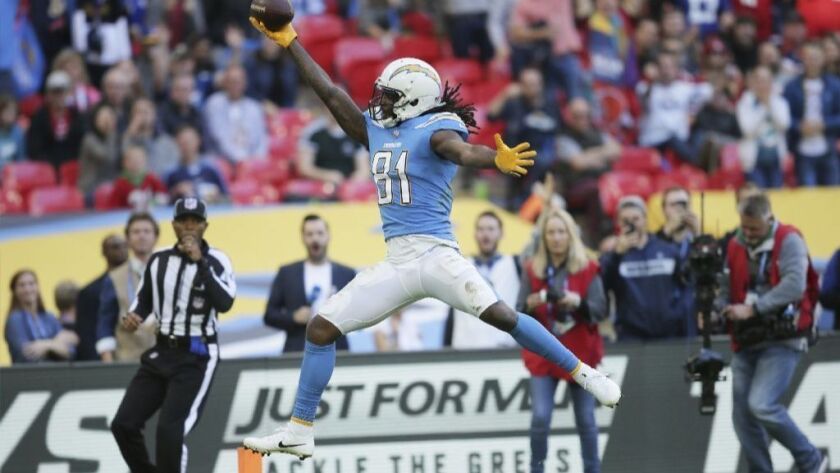 Reporting from london —
By roughly the length of his fingers, Adrian Phillips shortened a trip that will cover more than 5,000 miles.
The Chargers safety tipped Tennessee's last-minute, potential game-winning two-point conversion pass Sunday, a sliver of a highlight that capped a tight afternoon with the teams separated by a point.
Chargers 20, Titans 19 sent the winners into their off week with a fourth consecutive victory and onto a flight home to L.A. feeling both relief and belief.
"It's going to be long anyway," Phillips said. "I think we have about 12 hours. But it's much more manageable after a win. You don't have 12 hours to think about what you could have done different."
The Chargers now can exhale after a 10-day journey that began with a victory in Cleveland and ended with Melvin Gordon in street clothes.
Their most versatile offensive weapon was unavailable Sunday because of a hamstring injury suffered late last week in practice. Afterward, coach Anthony Lynn indicated that he believed Gordon could return for their game on Nov. 4 at Seattle.
Without him, the Chargers used two big pass plays from Philip Rivers and just enough defense to survive the final seconds of a trip that started Oct. 12.
"I think it says a lot about the leadership in our locker room," Lynn said. "These guys had plenty of opportunities to get distracted, lose focus … They showed up here today and did their jobs."
At the end, it was Phillips who handled the biggest job, though he said his play was simply the result of all 11 Chargers defenders being in the right place.
Trailing 20-13, Tennessee moved to within a point with 31 seconds remaining when Marcus Mariota passed to tight end Luke Stocker for a one-yard touchdown.
The Titans then went for a two-point conversion and initially failed when Mariota threw incomplete, but a holding penalty on cornerback Casey Hayward gave Tennessee another chance.
This time, Mariota's pass to wide receiver Taywan Taylor along the back of the end zone was nicked by Phillips, who leaped and tapped the ball with his left hand.
"It's great that we experienced that type of adversity because it shows us who we are," defensive tackle Brandon Mebane said. "Every game in the NFL is not going to be a blow-out win. That's real good for us."
The Chargers wrestled away this victory with a defense that spent more than 35 minutes on the field and permitted 9 of 15 third downs to be converted for first downs.
Their offense ran 23 fewer plays, had nine fewer first downs and totaled 46 fewer yards.
The Chargers rushed for only 47 yards, gained just two first downs on the ground and went 0 for 2 in the red zone.
"Was it our best game all round?" Rivers said. "Probably not. But the name of the game is to score one more point than the other team, and we did that."
Rivers finished with 306 passing yards and two touchdowns, going 19 for 26, his fourth game of the season completing at least 65% of his attempts.
The scores came on a 75-yard connection to Tyrell Williams and a 55-yarder to Mike Williams. In both cases, the wide receivers ran free behind the secondary.
The latter touchdown made it 17-6 early in the third quarter. But the Chargers were unable to shake their opponent until Keenan Allen recovered an onside kick with 30 seconds to go.
"This was a gritty team win," Rivers said. "We haven't been in a game like this in a while where it came down to the last possession. It was good. It was awesome."
Late in the first half, defensive end Melvin Ingram and linebacker Denzel Perryman conspired on a significant play that, given the final score, gained emore meaning in the end.
With the Chargers leading 10-6, the Titans had first-and-goal at the 10-yard line. Mariota was looking for tight end Jonnu Smith when Ingram batted the pass, allowing Perryman to make his second career interception.
"Heard the sound of ball being hit, a big boom, turned around and it happened to come right at me," Perryman said. "I'm actually proud I caught it, because usually in those moments in practice I'll drop those because I'm too excited."
The excitement mushroomed again immediately after the game, the Chargers so fired up that players struggled to recall the specifics of what happened in the final frenzied moments.
But they all knew a long trip was concluding in the best way possible.
"That's as excited as I've seen a locker room in a while, just the energy, because it's hard to win in this league," Rivers said. "And it's especially hard to win twice when you've been on the road for 10 days."
Twitter: @JeffMillerLAT
---
Get the latest on L.A.'s teams in the daily Sports Report newsletter.
You may occasionally receive promotional content from the Los Angeles Times.