Anthony Lynn looks at the big picture as Chargers open training camp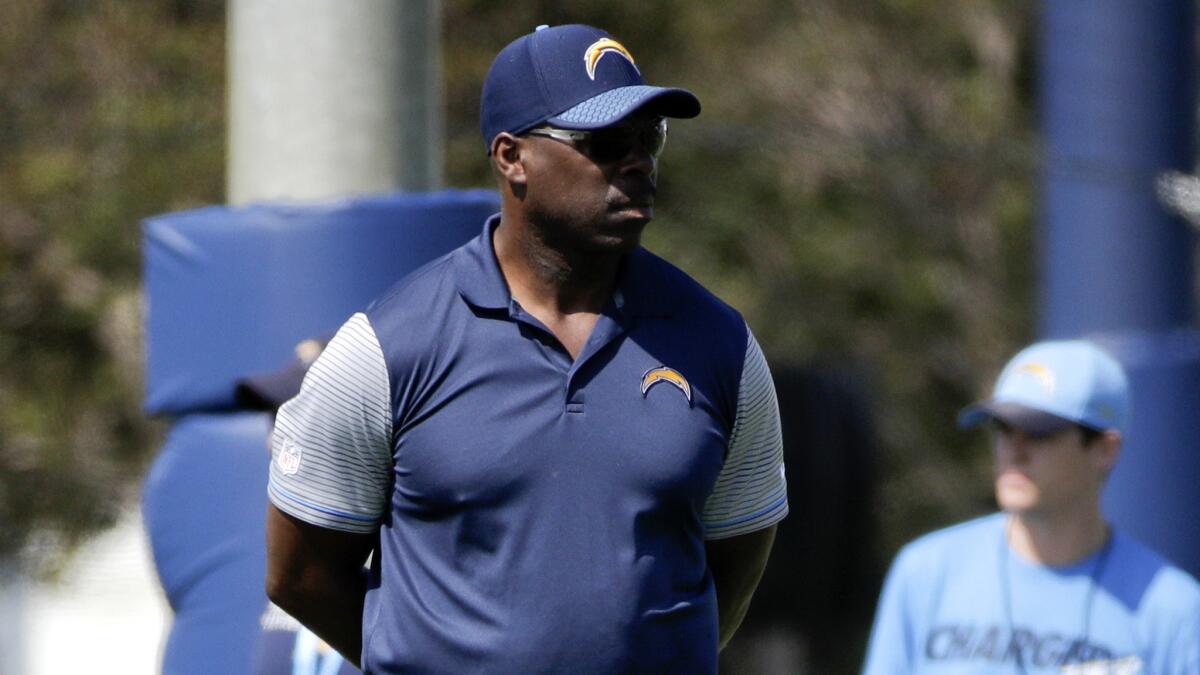 More than 5,000 fans watched from the west side of the Chargers' practice field, buzzing over their team's season officially getting underway.
Training camp opened Sunday, the morning clouds clearing for a near-perfect summer day. Bodies pressed together — in the bleachers, which was capacity, on the sidelines where cameras and reporters studied each move and on the sidelines where the 53-man roster of the regular season had ballooned to 90.
The fans were together, shoulder to shoulder. Running backs tried to cut through the defensive line; receivers had their moves shadowed by defensive backs.
No one was all alone — except for the coach.
Standing 50 yards behind the line of scrimmage on nearly every snap, Anthony Lynn was an island with a sea of football surrounding him.
"It's so I can see the big picture," Lynn said after his first real practice as the coach of the Los Angeles Chargers.
He remembered that his old coach in Denver, Mike Shanahan, used to stand back and watch — let the players play and the assistant coaches coach. Players said they felt a sense of freedom with Lynn observing from a distance.
His past as a NFL player has bought him credibility as he goes through his first training camp as a head coach.
"He's a great coach," defensive end Melvin Ingram said. "He's been through what we're going through right now, and he knows how to approach us and how to communicate with us."
And that communication style is longer on impact than it is on word count.
"I think Coach Lynn's presence in the room has been felt. It's been very good. He's very matter of fact. He's real," quarterback Philip Rivers said. "He doesn't try to be any different like, 'Oh shoot, I'm the head coach now so I have to do this.' He says it like it is, and I think guys really appreciate that — his realness."
Since taking the job in January, Lynn's made it clear that he's not one to filibuster. If he can answer a question in a single word, he will. And his talks with his players haven't been any different.
Saturday, Kobe Bryant talked to the team for about 45 minutes. It'd be a smart bet that Lynn's speech was a little tighter.
"I'm not a big talker. I like clarity," Lynn said. "I like being straight-forward with the guys and just keep reemphasizing certain things. I think you can talk about so many things that it can cause confusion. We talked about our values and what we want on the field."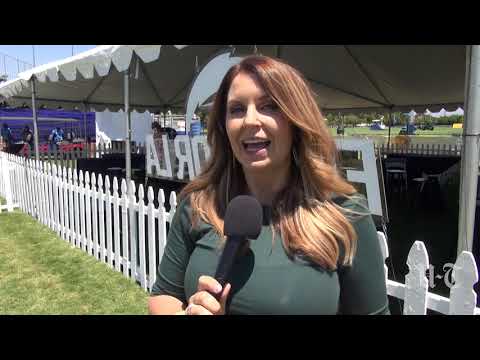 Hear from Philip Rivers and Antonio Gates, as well as fans, on the first day of training camp in Costa Mesa.
Asked about those values and what kind of personality he wanted his team to have, Lynn, unsurprisingly, kept it short.
"In one word — tough," he said.
Williams out for training camp
A day after the Chargers placed their first-round pick, wide receiver Mike Williams, on the active/ physically unable to perform list, the team announced he's "not expected to practice during training camp."
"He's doing well in rehab, and when he's healthy, he's healthy," Lynn said. "You can't control that."
Williams has been out since participating in the first day of rookie minicamp because of a herniated disk in his lower back. Chargers general manager Tom Telesco recently said the plan for Williams' recovery included strengthening and rehabilitation — not surgery.
Lynn said he didn't know whether the injury could cost Williams all of his rookie season.
"I'm hopeful that it's not, but who knows? It could be," he said.
Rivers said he was disappointed to be without Williams, the No. 7 overall pick in the draft, for camp, but it's not as big of a blow as it might seem.
"We're excited about Mike. I was super excited when we drafted him. He's big, tall and can run… I say that to say I'm really thankful for the guys we already have in the receiver room. It's really a good group," Rivers said. "…Thankfully, it's not a position where you're drafting a guy No. 7 and he has to be our guy. When he's out there, yes, it'll enhance that group. But so far, we have enough pieces to feel like we're in good shape."
Notes
Lynn said former Pro Bowl cornerback Jason Verrett was on track to return from the PUP list in a couple of weeks. Verrett has been out since early last season because of a knee injury. … Tight end Antonio Gates, who is entering his 16th season, and Rivers will receive days off during camp, Lynn said. … Rookies Forrest Lamp and Dan Feeney played on the first-unit offensive line, though both players rotated in. Safeties Dwight Lowery and Jahleel Addae opened camp with the first unit, while Craig Mager replaced Verrett alongside Casey Hayward. …Tight ends Hunter Henry and Jeff Cumberland made nice catches during team periods Sunday. Hayward picked off Rivers in one-on-one drills, and undrafted rookie Artavis Scott caught a long touchdown pass from recently acquired quarterback Cardale Jones.
Twitter: @DanWoikeSports
Get the latest on L.A.'s teams in the daily Sports Report newsletter.
You may occasionally receive promotional content from the Los Angeles Times.