Struggling Paul Pierce not ready to quit just yet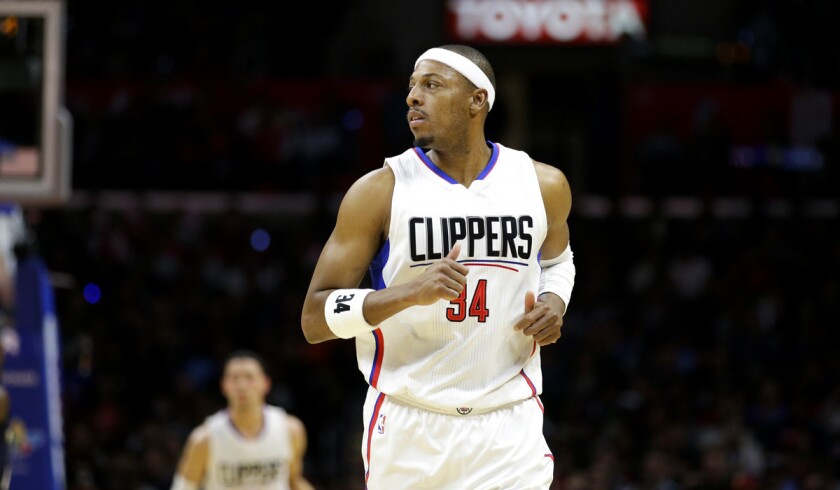 Reporting From MILWAUKEE —
The Paul Pierce Farewell Tour probably won't be coming to an arena near you.
The Clippers forward said he did not think he would get the hugs, highlight videos and shout-outs from road public-address announcers that have accompanied Kobe Bryant's final NBA season.
"I doubt it," Pierce said Wednesday, laughing.
For one thing, Pierce said he wouldn't decide whether this is his last season until the summer, depriving him of an extended goodbye if he decides to call it a career. Pierce admitted the thought had crossed his mind amid what has easily been the worst stretch of his career.
"The older you get and the less and less you're able to do things that you could do before," the 38-year-old said, "you start thinking about maybe it's that time."
Pierce's statistics are at career lows across the board, but one number best illustrates his struggles: He has gone scoreless in five games this season, two more times than in his previous 17 seasons combined.
He has started and come off the bench. He's played power forward and small forward. Nothing has worked.
Pierce is averaging 4.1 points, 2.6 rebounds and 0.9 assists in 17.5 minutes a game while shooting 29.7%, including 24.2% from three-point range. It's not the kind of production he expected after signing a three-year, $10.5-million contract this summer.
Finding any sort of rhythm has been difficult for a player accustomed to having a more clearly defined role. He had one point in five minutes Wednesday during the Clippers' 109-95 victory over the Milwaukee Bucks.
"It's definitely a challenge," Pierce said before the game. "I know I feel like I could do more to help this team, but at the end of the day they're making the decisions and I'm fine with it as long as we continue to win games."
Pierce said he had not spoken with Coach Doc Rivers about his desire to make a bigger impact even though they have a relationship that goes back to Rivers having coached Pierce for nine seasons with the Boston Celtics.
Rivers said history is on the side of the 10-time All-Star.
"I want him to keep shooting it the way he's shot it for 17 years, and eventually, it'll go in," Rivers said. "I really believe that."
There is precedent for Pierce having saved a season after a wretched start. He shot 39.8% in November last season with the Washington Wizards before recovering to shoot 44.7% for the season. He also made a game-winning shot in the playoffs.
"He'll be there at the finish line and he's going to help his team win," said Milwaukee Bucks Coach Jason Kidd, who coached Pierce for one season with the Brooklyn Nets. "I saw it up close in Brooklyn and I've seen it as a player, he's not one that maybe always starts off fast."
Nothing to it?
Rivers, on a Yahoo Sports report that the Clippers had been gauging other teams' interest in acquiring Lance Stephenson and Josh Smith via trade: "That's silly talk. Nothing. No truth."
Up next for Clippers:
VS. CHICAGO
When: 5 p.m. PST Thursday.
Where: United Center.
On the air: TV: Prime, TNT; Radio: 980, 1330.
Records: Clippers 13-9, Bulls 11-8.
Record vs. Bulls (2014-15): 1-1.
Update: The Bulls moved Nikola Mirotic to the bench on Wednesday in favor of Taj Gibson and neither had a particularly strong game during a 105-100 loss to Boston. Mirotic logged three more minutes than Gibson but made only four of 10 shots as the Bulls suffered their third consecutive defeat, with two of the losses coming on their home court.
Twitter: @latbbolch
---
Get the latest on L.A.'s teams in the daily Sports Report newsletter.
You may occasionally receive promotional content from the Los Angeles Times.