Clippers and Utah Jazz are ready for West showdown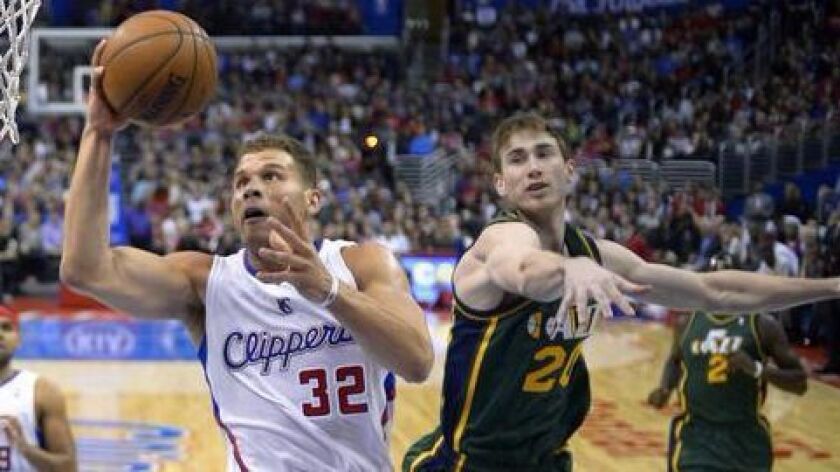 To suggest Clippers Coach Doc Rivers is clairvoyant would be folly.
But when Rivers had the foresight to tell his players back on Oct. 30 after they defeated Utah in the second game of the season at Staples Center that the Clippers and Jazz would be playoff foes is telling.
The two teams are indeed on a collision course to be first-round combatants in the Western Conference playoffs.
They are breathing down each other's neck for home-court advantage heading into Monday night's showdown in Salt Lake City, with the fourth-seeded Jazz holding a one-game lead over the fifth-seeded Clippers.
"I remember playing Utah at the very beginning of the season, I want to say it was our second game of the season, Doc was saying, 'This is a team you're going to see in the playoffs, we're going to see in the playoffs.' This is crazy how it comes down to if everything kind of stays the same, it absolutely will be," Blake Griffin said Saturday afternoon after the Clippers beat Philadelphia.
"So, they've all been important at this point. If we need extra motivation to get up for a game, we're already in trouble. It's important, not only because of the standings, but getting a road win against a good team like that."
It is not lost on the Clippers how significant a win over the Jazz would be.
The Clippers won the first two games and another victory over Utah would give them the season series and the edge in the event a tiebreaker is needed to determine which team gets home court.
"I just found out the other day that we were the fifth seed. I didn't know that," DeAndre Jordan said. "But it's just us getting better and continuing to improve each game. Monday is a pretty big game for us. We know that, they know that. So we're just going to come out and play the way that we're capable of playing and just try to come out and get a win."
"At this point we know every game is important. Every game matters," Griffin said. "You try not to get too caught up in it, but when it comes down to the last couple of games, it seems like the last three years or so there's been so much shifting, even on that last day."
The Clippers have found a lot of success against the Jazz over the past few years.
The Clippers have won 17 of the last 18 games, 10 straight wins in Salt Lake City.
"I'm one of those people that believes every game takes on a personality of its own, so all that will have absolutely nothing to do with Monday," Chris Paul said. "They are going to come in prepared for the game and we're going to prepare for it too. We understand what's at stake and we need to win and they need to win."
UP NEXT
AT UTAH
When: Monday, 6 p.m.
Where: Vivint Smart Home Arena.
On the air: TV: Prime Ticket; Radio: 570, 1330.
Records: Clippers 40-26; Jazz 41-25.
Record vs. Jazz: 2-0.
Update: The Jazz are ranked first in the NBA in points allowed, giving up just 96.5 per game. Jazz center Rudy Gobert is ranked first in the league in blocked shots, averaging 2.49 per game. The Jazz, however, are ranked 28th in scoring in the NBA, averaging just 100.6 points per game.
Twitter: @BA_Turner
---
Get the latest on L.A.'s teams in the daily Sports Report newsletter.
You may occasionally receive promotional content from the Los Angeles Times.