Clippers best in West after another incredible comeback to win at Portland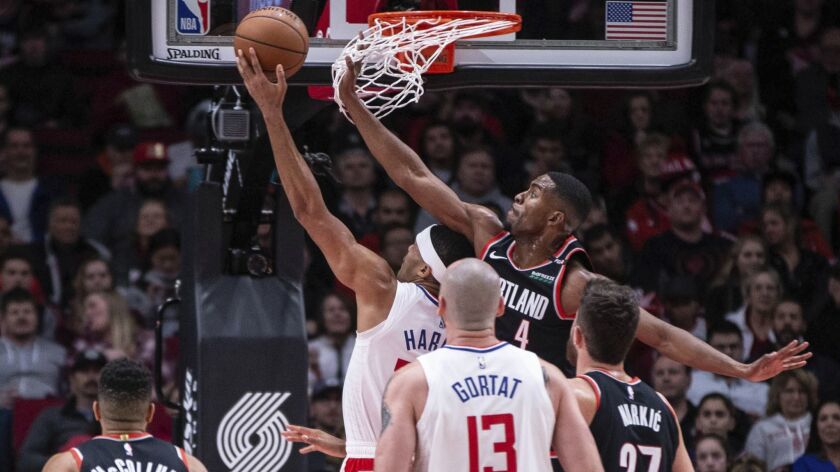 Clippers forward Tobias Harris was being interviewed on the Moda Center court late Sunday when teammate Danilo Gallinari appeared at his shoulder, holding a bottle of water.
Harris juked to his right to avoid a bath, but the bottle's cap was off and Gallinari was insistent.
"Let me do it!" he said, and Harris relented.
It wasn't the champagne shower reserved for the postseason, nor was it meant to be. The NBA season is just five weeks old.
Yet after enduring the toughest stretch of their schedule, the Clippers own the Western Conference's best record after yet another second-half rally — this time coming from 15 down in the second half to beat Portland, 104-100. Even after Harris' impromptu shower, the Clippers (13-6) have yet to cool off.
"When you play us we want you to be fatigued mentally, physically and emotionally," said center Montrezl Harrell, who scored 14 points with 10 rebounds. "We want to keep going. We're going to keep fighting. That's just our style of basketball, simple as that, and it works out. It's a long game of basketball. We don't look at the clock. We don't look at it as the time is running out on us."
Harris tied a career high with 34 points and the Clippers' improved physicality on defense helped their 13-point halftime deficit vanish in minutes. The Blazers' failure to break the game wide open late in the second quarter proved costly.
With Blazers center Jusuf Nurkic out the entire second half with a right shoulder contusion, pick-and-roll screens lost their bite and star guards Damian Lillard and CJ McCollum struggled to compensate for the lack of penetration with their outside shooting. Lillard, who scored 30 points, made four of 14 shots in the second half. McCollum had 18 points but shot three for 10 after halftime. The Clippers outscored Portland 38-16 during a third quarter Portland coach Terry Stotts called "extremely disappointing."
"You've got to give credit a little bit to the Clippers," he said. "They got into us in the second half, particularly in that quarter, but we didn't handle it well."
Just as recent rallies against Brooklyn, Atlanta and Memphis appeared to be no sure thing, so too did this comeback appear seriously flawed. Lou Williams, the star sixth man whose heroics keyed the earlier rallies, made two of 13 shots. The Clippers, the NBA's third-most-accurate team from the free-throw line, made 23 of 34 attempts, with Harrell responsible for eight misses.
Yet the Clippers committed a season-low four turnovers and held the Blazers to 16-of-50 shooting in the second half.
"Great win," coach Doc Rivers said. "This, to me, may be our best."
When Nurkic saw Rivers after the game he smiled wryly and said, "You got lucky."
With Los Angeles leading 100-93 with 2:41 remaining, Lillard made a three-pointer and a foul shot, then made another three on the next possession for a tie. On the sideline, Rivers "thought I was gonna die."
Portland (12-8) missed its last three three-pointers — it shot eight of 38 from deep on the night — and Gallinari made key plays in the final minutes for a second consecutive game.
In the final three minutes he made a three-pointer, found an open Harris for a three with a cross-court assist and answered Lillard's personal 7-0 run with a seven-foot jumper along the baseline for a 102-100 lead with 47 seconds left. He took advantage of his half-foot size advantage against McCollum.
The meeting was the second this season between teams that have used differing blueprints to both beat low-to-middling preseason expectations and arrive Sunday at or near the top of the West.
Following last spring's first-round playoff sweep against New Orleans, the Blazers have ignored calls to seek maximum trade value and break up their backcourt by instead digging in deeper behind their stars. The Clippers, of course, either dealt or lost their trio of Lob City All-Stars and chose to stay flexible financially with a roster built around many good players instead of a few elite ones. They believed chemistry would help fill the gaps.
Right now, no deficit feels too large to rally from, players said.
"I feel like we just want to win," said rookie Shai Gilgeous-Alexander, who had 10 of his 12 points in the third-quarter comeback.
"Nothing else matters to us. Whatever it takes to win, we're willing to do it."
Twitter: @andrewgreif
---
Get the latest on L.A.'s teams in the daily Sports Report newsletter.
You may occasionally receive promotional content from the Los Angeles Times.