Could Brandon McCarthy turn into next Jason Schmidt for Dodgers?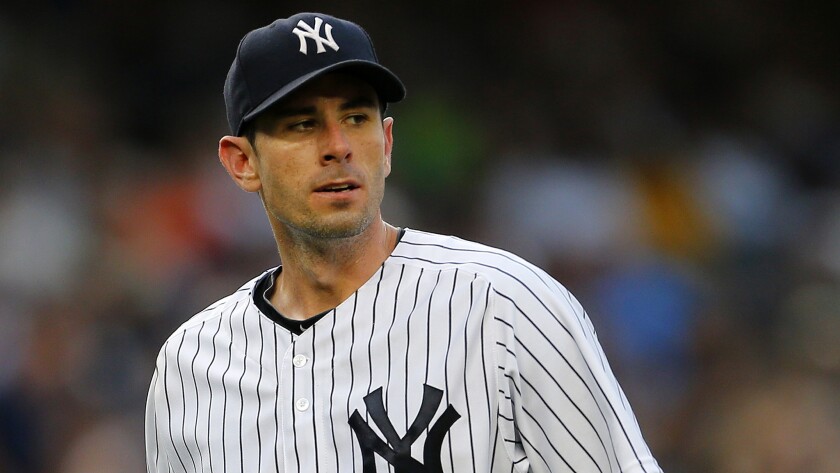 So much happened in such a flash for the Dodgers last week --- with the main focus justifiably centered on the trade of Matt Kemp --- that much went by in a quick blur. Scrutiny was not exactly the order of the day.
The official signing of right-hander Brandon McCarthy was only made official by the Dodgers on Tuesday.
And so now it's time to ask: Is Brandon McCarthy really worth $48 million for four years?
McCarthy is a nice enough pitcher. Certainly a solid No. 5. Still with some upside. But a $48-million pitcher at four years for a guy with chronic shoulder problems?
If you examine the traditional baseball statistics on McCarthy, this deal makes about as much sense and Vin Scully signing with the Padres. At no point in the 31-year-old's career has he posted particularly impressive numbers.
For his nine-year career, he is 52-65 with a 4.09 earned-run average. He's struck out 6.3 batters per nine innings, with a nice 1.29 WHIP. And since he's battled those lingering shoulder problems --- he's been on the disabled list seven times with a sore shoulder --- only twice in his career has he pitched more than 135 innings.
That's it. Two times.
He threw 200 innings last season for the first time in his career. After a fairly disastrous start with the Diamondbacks (3-10, 5.01 ERA), he came back to go 7-5 with a 2.89 ERA in 14 starts with the Yankees.
Dodgers General Manager Farhan Zaidi and McCarthy argue a new conditioning program made him stronger, elevating his velocity a couple mph to 93 and enabling him to finally last the duration of a full season. Plus, it's not like Chase Field is a pitcher's ballpark.
Clearly the Dodgers believe the way he pitched in New York is further indication his past health issues are behind him.
"We feel really good about him turning the corner last year and think he has the ability to carry that kind of work load into the future," Zaidi said.
McCarthy said his injury problems were not the result of a bad labrum or any traditional pitcher's shoulder ailment, but a stress fracture in his right shoulder blade. He said a weight-lifting program designed to add upper body muscle took pressure off the shoulder blade. He's confident the issue is behind him.
And followers of sabermetrics have their numbers to justify the signing. At one of the bastions of sabermetrics --- FanGraphs --- the argument was made by Jeff Sullivan that time could prove the Dodgers actually have a bargain in McCarthy because his xFIP is so awesome. Surely you're familiar with xFIP. No? I absolutely promise you the Geek Squad is.
No doubt I will mangle explaining it, but it's a stat that measures walks, hit batters, strikeouts and home runs (that should have been allowed based on fly balls). And in xFIP, McCarthy totally rocks.
According to Fangraphs, last year 140 starters threw at least 140 innings and the Dodgers' rankings were: Clayton Kershaw, first; Zack Greinke, seventh; McCarthy, 11th; and Hyun-Jin Ryu, 14th.
"If you believe in Brandon McCarthy's xFIP and shoulder strength, the Dodgers just inked a pretty good bargain," wrote Sullivan. "If you figure he's likely to return to the DL a handful of times for the old problem he had, he can still be more than worth the money in the innings he manages to throw."
So a pitcher who throws extremely well for 20-25 starts is worth more than a mediocre pitcher who starts 30-35 times. Which makes perfect sense. Only McCarthy has not been an exceptional pitcher. They're paying less for what he's done that what they hope he can do. Which makes no sense.
And he got four years and $48 million.
"Brandon McCarthy was a free agent and the market dictated the years and the money," Zaidi said. "As a team participating in the free-agent market, you just have to see where the market goes and decide if you think the player is worth that kind of commitment. And in this case, we felt he absolutely was."
Zaidi had McCarthy in Oakland and said there was no pitcher he felt more comfortable with on the mound.
"Just because of his intelligence and attention to detail and game planning, plus his command," Zaidi said. "There was not a pitcher during my time there who was better able to execute a game plan than Brandon."
Now he has to execute it effectively for four years. Has to stay healthy for four years. These are good odds?
Former Dodgers GM Ned Colletti once signed a sore shouldered pitcher to three years (corrected) and $47 million. Jason Schmidt made 10 starts in two seasons and called it a career. He, of course, had a rotator cuff injury, so it's hopefully a different kind of animal.
At least Schmidt had been a three-time All-Star and Cy Young runner-up. There was evidence of greatness. He'd thrown over 135 innings nine different times and 200 innings five times.
Not so with McCarthy. Their greatest similarity is a risky contract.
---
Get our Dodgers Dugout newsletter for insights, news and much more.
You may occasionally receive promotional content from the Los Angeles Times.