Dodgers knew of Hyun-Jin Ryu's labrum tear when he signed, pitcher says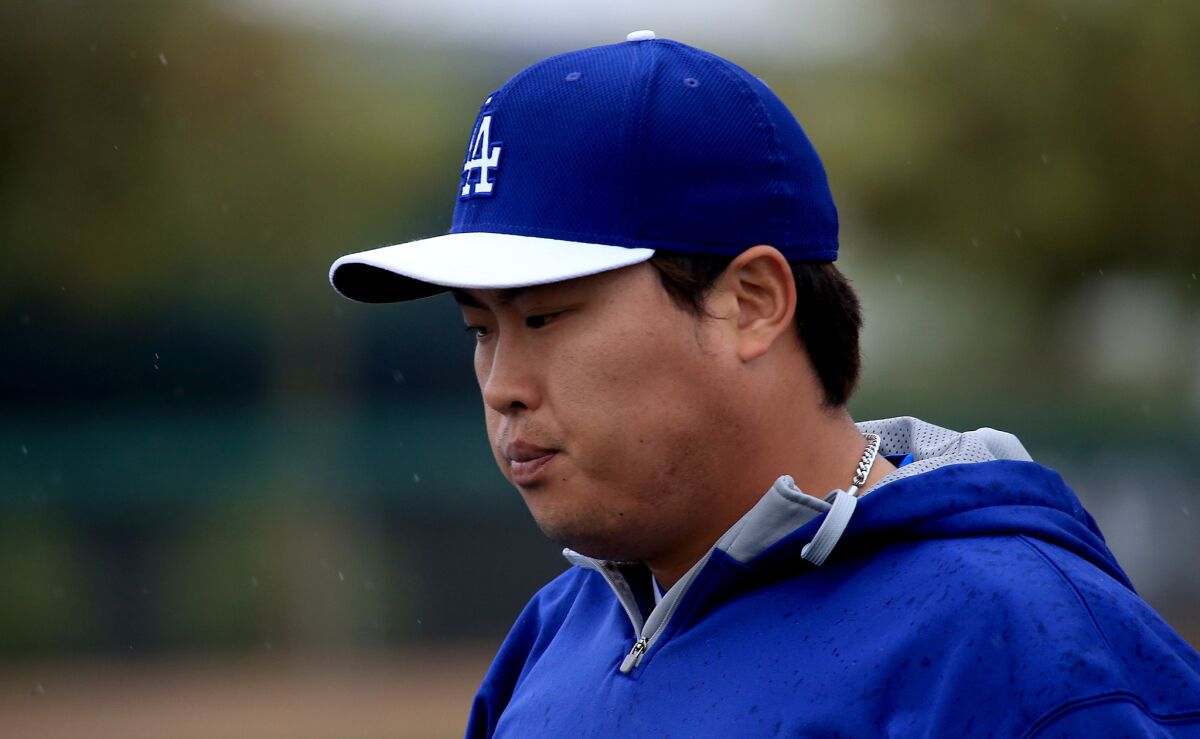 The periodic shoulder issues Hyun-Jin Ryu has suffered from since signing with the Dodgers seemed like an unforeseeable string of bad luck, a balky arm that had to receive periodic maintenance. On Friday, Ryu revealed a more obvious concern.
His labrum was torn.
The problems began in the 2013 National League Division Series against the Atlanta Braves, when Ryu's start suddenly became a cause for concern. The Dodgers held a mysterious bullpen conclave attended by Dodgers Manager Don Mattingly and trainer Stan Conte and team surgeon Neal ElAttrache. No one spoke much of his status.
Subscribe to our free Dodgers newsletter here
He pitched, but lasted only three innings and gave up four runs, though he'd recover in the next round.
Then, last season, Ryu hit the disabled list in April with what the team characterized as "shoulder inflammation." In September, he was shut down once again with shoulder issues, and he received a cortisone shot.
Along the way there were MRIs, and the team and Ryu insisted they showed nothing new.
The reason, Ryu disclosed at a Friday press conference, was that the initial MRI the team commissioned before Ryu's signing showed that Ryu's labrum was already torn. For the past two seasons, Ryu has pitched through the injury. The issues were just the ones that flared into the public's view and culminated with his surgery on Thursday.
"I knew about the tear," Ryu said through an interpreter.
When asked when, Ryu said at the first MRI, "two years ago."
The signing echoes the $51 million deal the Dodgers gave Jason Schmidt after the 2006 season, when the team knew Schmidt had a torn rotator cuff. Schmidt pitched 41 innings and won three games.
Ryu, meanwhile, cost $62 million, including the posting fee. In return, the Dodgers have so far received 344 innings, 28 wins and an impressive postseason resume.
Ned Colletti, the general manager of the Dodgers when they signed Ryu, did not immediately return a message seeking comment.
Ryu said he hopes to be ready by spring training next year. As to whether he will return with the same effectiveness, Ryu said, simply, "I will try my best."
Follow Zach Helfand on Twitter @zhelfand
---
Get our Dodgers Dugout newsletter for insights, news and much more.
You may occasionally receive promotional content from the Los Angeles Times.