Dodgers have an ugly pitching contest in 12-7 loss to Pirates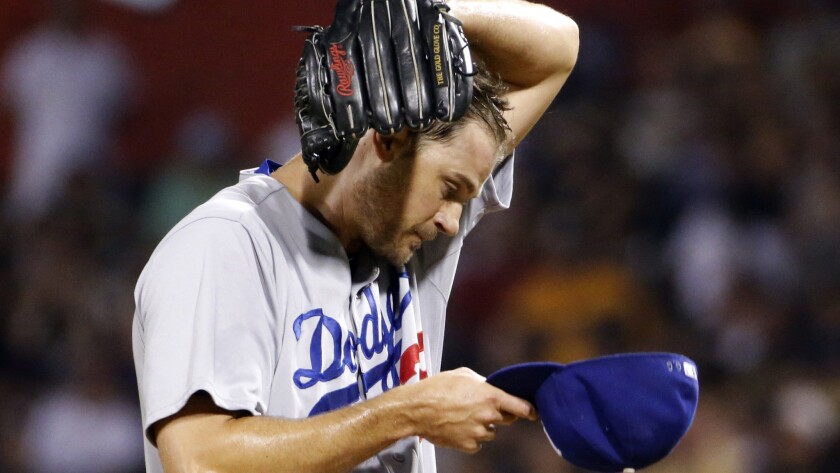 As returns go, the legend of MacArthur remains unthreatened. They'll write no songs to celebrate Josh Beckett coming off the disabled list Tuesday, which is not to say he did not make it memorable in his way.
Beckett made his first start since July 6 when his left hip flared up and he headed to the disabled list, and it did not go well. Beckett has been a pleasant surprise this season, but Tuesday against the Pittsburgh Pirates he lasted only 3 2/3 innings, surrendering four runs on six hits – three that were solo homers.
The Dodgers managed to tie it up, but then relievers Paul Maholm, Jamey Wright, Chris Perez and Brandon League all struggled and the Dodgers' would-be rally came up short in a 12-7 loss at PNC Park.
It certainly wasn't the prettiest game of the season, the Pirates committing two errors and hitting a batter, which was two less batters than the Dodgers managed to hit.
Pittsburgh pitcher Justin Wilson was ejected for hitting Justin Turner in the seventh and Manager Clint Hurdle was sent off for complaining about it a tad too vehemently. The hometown crowd was then less than thrilled when Wright plunked ex-Dodger Russell Martin with a curveball and was not ejected.
The Dodgers wasted two home runs in the loss. They had not hit one since July 9, but Adrian Gonzalez followed the Turner plunking with a two-run homer. Four at-bats later, Scott Van Slyke hit a solo shot to pull the Dodgers within one. It was the first pinch-hit homer for the Dodgers this season.
Still, it wasn't enough to overcome the Dodgers' wobbly pitching. Beckett had been on the disabled list with left hip impingement. He did not walk a batter and struck out four, but when the Pirates hit him, they really hit him.
The Dodgers' initial comeback in the third was aided by a walk, a Pittsburgh error and a sacrifice fly by Gonzalez before Matt Kemp singled in two runs.
A two-run single from A.J. Ellis tied it in the fourth, but the Dodgers gave up four runs in an ugly bottom half of the inning.
The two-run homer by Gonzalez in the seventh and Van Slyke's solo shot in the eighth pulled the Dodgers to within a run, but then Perez walked four consecutive batters to force in a run. That's four consecutive walks in a one-run game.
League followed Perez and got Martin to hit a ground ball, but it snuck into center for two more runs. Ike Davis singled in one more and all four batters Perez walked ended up scoring. Perez had allowed only one earned run in his last eight games.
At least all the relievers are positioned for a nice comeback.
---
Get our Dodgers Dugout newsletter for insights, news and much more.
You may occasionally receive promotional content from the Los Angeles Times.