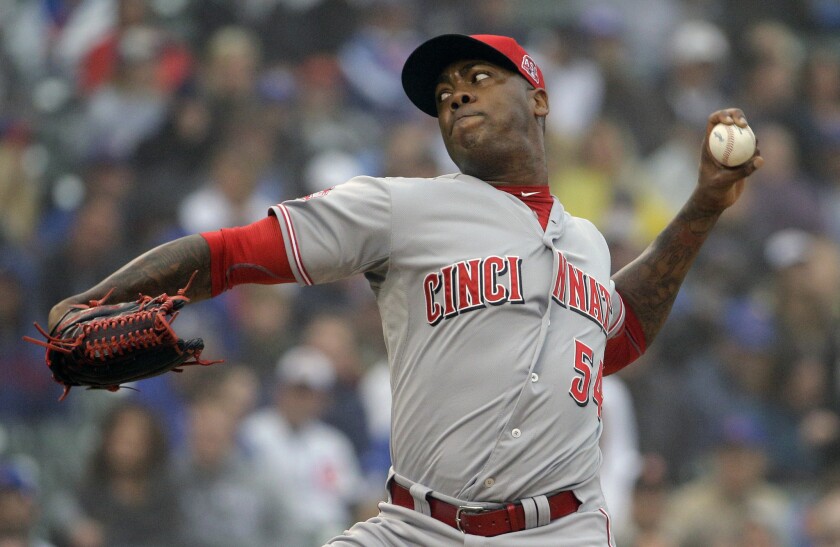 reporting from Nashville —
The commissioner's office was unaware of the domestic violence accusations made against Cincinnati Reds closer Aroldis Chapman until late Monday, Chief Baseball Officer Joe Torre said.
Chapman is now under investigation by Major League Baseball under its new domestic violence policy. Torre indicated that the investigation could be lengthy.
"It takes time to gather information, and the same thing with the José Reyes thing," Torre said, referring to another domestic violence case. "We want to make sure we have all the information and then the decision will be made. The only timetable is when we feel we've got as much information as we can get."
In the wake of a report by Yahoo Sports detailing an alleged altercation in October between Chapman and his girlfriend, the Dodgers are expected to abandon their pursuit of the All-Star closer. Until learning of the accusation, the Dodgers were prepared to send two prospects to the Reds in exchange for Chapman.
In a hypothetical situation in which a player is under investigation in-season, would that player be allowed to continue playing?
"I think it could depend on the seriousness of it as far as are there arrests or things like that," Torre said. "We're certainly not going to get in the way of the law conducting what they need to conduct. But we take everything in consideration.
"As far as the policy, you know, as awful as this situation is, there are still rights that have to be protected, and so we're very careful in making sure that we respect that and get all the information and then we will proceed accordingly."
---