Judge rejects Yasiel Puig's second attempt to dismiss lawsuit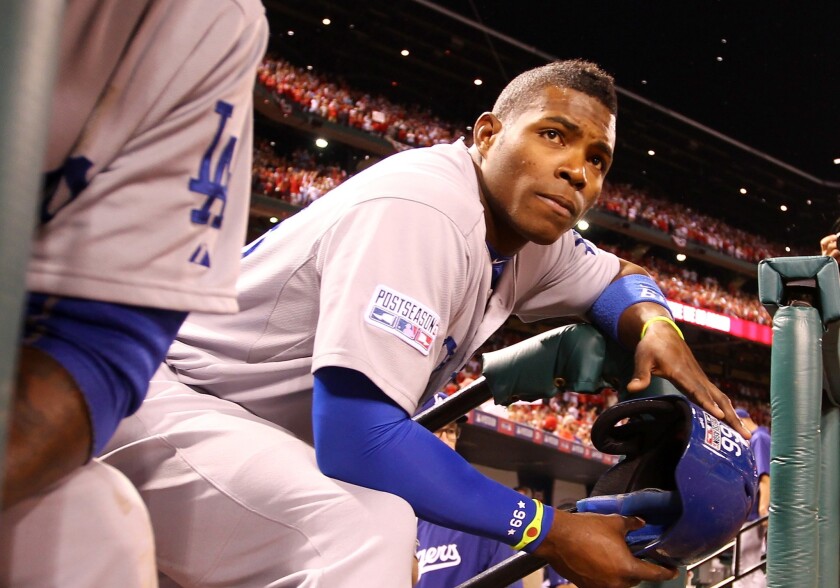 For the second time this year, a federal judge has rejected an attempt by Yasiel Puig to dismiss a lawsuit blaming the Dodgers outfielder for the imprisonment and alleged torture of a Cuban man.
Last month, Puig's attorney, Sean Santini, asked U.S. District Judge Kathleen Williams in Florida to throw out the case after the plaintiff, Miguel Angel Corbado Daudinot, didn't appear for depositions scheduled for August and September in Miami.
Williams denied the request Wednesday, but ordered Daudinot's deposition to begin before Jan. 14.
Daudinot, however, is jailed in Cuba.
"Plaintiff had been detained by the Cuban police in September … being held in prison without charges," his attorneys wrote in a court filing last month. "Daudinot, who had been on provisional release and carrying out the remainder of his prison sentence at home, is still currently detained in prison."
Daudinot sued Puig for $12 million under the Torture Victims Protection Act in 2013, alleging that Puig falsely connected him to human trafficking, resulting in a seven-year prison sentence in Cuba. Puig's attorneys have denied the claims.
In June, Williams rejected a previous motion by Puig to dismiss the case.
Follow Nathan Fenno on Twitter @nathanfenno
---
Get our Dodgers Dugout newsletter for insights, news and much more.
You may occasionally receive promotional content from the Los Angeles Times.