Dodgers' Julio Urias headed for extended spring training, Alex Wood likely bound for bullpen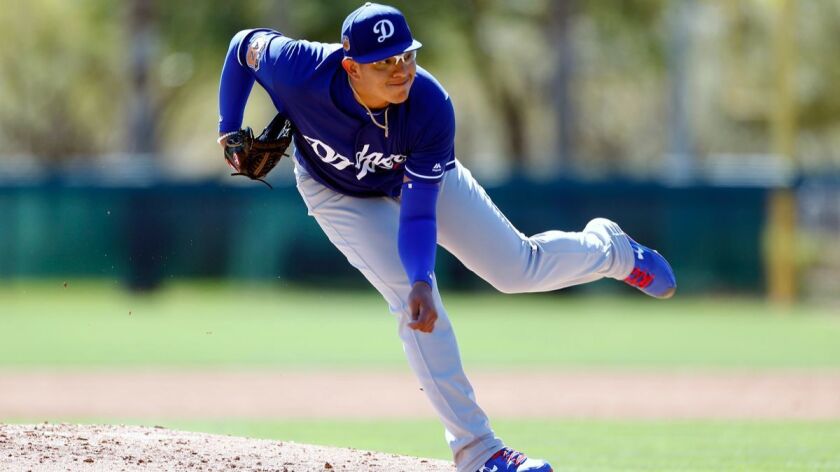 Reporting from goodyear, ariz. —
Julio Urias will accompany the Dodgers to Los Angeles this week for the Freeway Series. But despite the organization's long-standing belief in his ability, Urias will not be on the 25-man roster, as the team aims to protect his 20-year-old left arm so he can be useful later in the season.
Manager Dave Roberts said that Urias will begin the season at extended spring training. After the three games against the Angels this week, he will return to Camelback Ranch, where he will await an assignment with the major league club.
The Dodgers are expected to cap Urias' innings somewhere between 160 and 180 this season, as they continue the process of incorporating him into the season. Urias was 5-2 with a 3.39 earned-run average as a rookie in 2016 and started a playoff game. The team views him as one of its five best starters. The team also values his arm as the game's most precious commodity, that of a talented, affordable pitcher under team control until 2023.
So Urias must wait. He came to camp hoping to make the starting rotation, but his progress stalled in March. A bout with strep throat sidelined him for a few days and delayed his preparation. He gave up two hits in 22/3 innings in a 3-1 victory over the San Diego Padres as part of a split-squad day Tuesday. The organization does not want to shut him down completely, fearing that would cause undue stress on his arm.
"We have a lot of people that have studied the biomechanics of pitching and the arm with the medical staff," Roberts said. "That's what we feel is the best thing for Julio."
On Monday, Roberts announced Hyun-Jin Ryu had made the rotation. That distilled the race for the final spot into a contest between Brandon McCarthy and Alex Wood. The context does not favor Wood, a 26-year-old left-hander who got tagged for six runs and 11 hits in six innings as the Dodgers fell to the Cincinnati Reds, 9-3.
McCarthy has appeared as a reliever once since 2007. Wood succeeded out of the bullpen when he debuted with Atlanta in 2013, and embraced the role as he returned from elbow surgery last September. He acknowledged his frustration with the scenario. On most teams, those that do not have the Dodgers' depth, "we probably wouldn't be having this discussion," he said.
"It's like beating a dead horse talking about it," Wood said. "We've got a lot of guys who deserve to be in the rotation. It's lucky and unlucky that I've had success out of the bullpen. If that's what happens, that's what happens. I'm sure if I don't start in the rotation, I'll end up in it at some point."
He added, "This is the best team I've ever been on. Whatever they want me to do, that's where we'll go."
The Dodgers could carry Wood and Ross Stripling as long relievers through the first two weeks of the season. The team may need depth because of early series on the road against the Colorado Rockies and the Chicago Cubs. Roberts offered a hint at the composition of the opening-day bullpen when he revealed veteran pitcher Brandon Morrow had agreed to accept an assignment to the minor leagues.
The team paid Morrow a $100,000 retention bonus. He can opt out of his contract by June 1. But if Morrow pitches well for triple-A Oklahoma City, he is likely to reach the majors far before then.
Morrow, 32, will attend the Freeway Series. An injury to another pitcher this week could open a spot for him. Otherwise, he will wait to be recalled from the Pacific Coast League. He posted a 1.69 ERA in 18 appearances as a reliever for the Padres last year after returning from shoulder surgery.
"It's huge that Brandon wants to be here," Roberts said. "To have him on our roster is a huge luxury for us."
The Dodgers optioned relievers Adam Liberatore and Josh Fields to the minors Tuesday. With Morrow out of the picture temporarily, Luis Avilan, Grant Dayton and Chris Hatcher appear set for the opening-day roster.
"There's a lot of tough decisions that we have to make with players in this camp," Roberts said. "The overall philosophy for us is to figure out what's best for our ballclub."
Twitter: @McCulloughTimes
---
Get our Dodgers Dugout newsletter for insights, news and much more.
You may occasionally receive promotional content from the Los Angeles Times.