Angels rally in ninth inning in 3-2 victory over Dodgers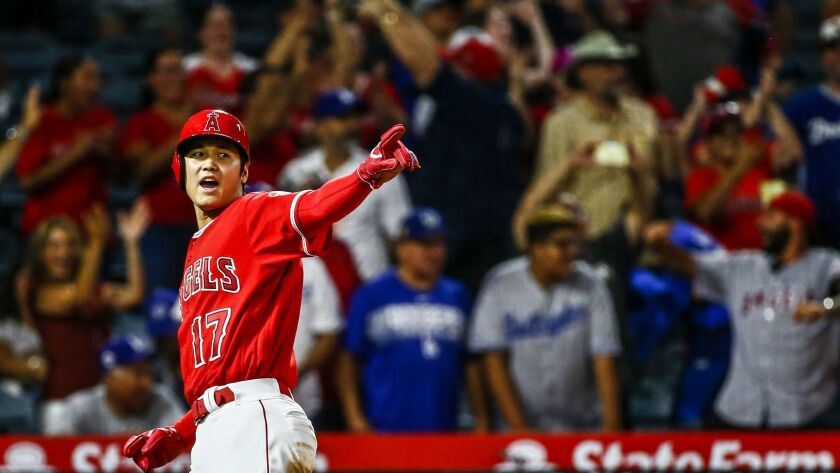 One strike away from victory, the ball in the hand of their capable closer, the Dodgers let a one-run lead and a game slip through their fingers — literally — on a scorching Friday evening at Angel Stadium.
The Angels took advantage of two Dodgers errors and scored twice in a head-spinning ninth inning to steal a 3-2 walk-off victory over their Southern California rivals before a sellout crowd of 44,323.
"This is a frustrating one," Dodgers manager Dave Roberts said. "To give it away like that is tough."
Kenley Jansen, who had successfully converted his previous 21 save opportunities, took over with a 2-1 lead in the ninth. He got two quick outs and jumped ahead of Shohei Ohtani with two strikes before throwing four straight balls.
"For me, it's unacceptable," Jansen said of the walk. "I had him where I wanted."
Ohtani took off for second on the first pitch. Catcher Yasmani Grandal double-pumped before sailing his throw into center field for an error that allowed Ohtani to take third.
"He had a great read on the jump," Angels manager Mike Scioscia said, adding that Ohtani was running on his own. "It was a great read on the steal, and he got to third. That's an important time and a big play."
David Fletcher, who entered the game as a pinch-hitter in the seventh inning and remained at third base, lined a single to left to tie the score and tag Jansen with his first blown save since April 17.
"That guy is extremely tough," veteran second baseman Ian Kinsler said of Fletcher, the rookie utility player who was called up in mid-June. "Huge hit for him."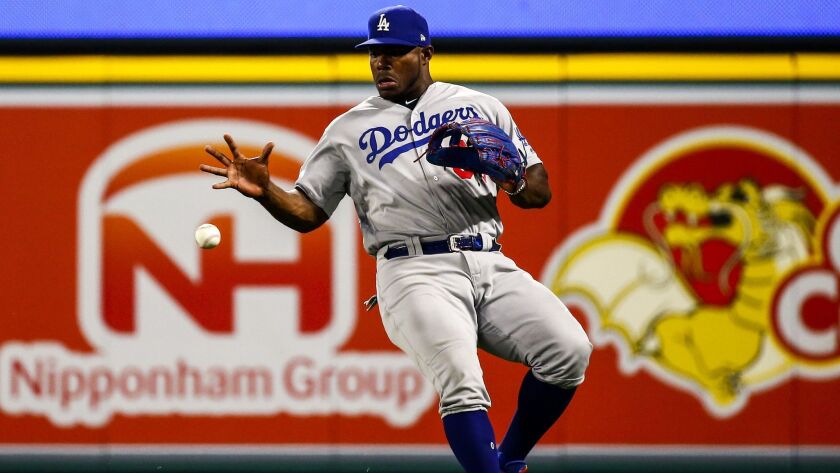 Kinsler followed with a huge hit of his own, flaring a single to right to advance Fletcher to third. Right fielder Yasiel Puig bobbled the hit but recovered in time to throw home, with Fletcher stopping at third.
But when Puig's throw bounced past Grandal — and Jansen failed to back up the plate — Fletcher sprinted home with the winning run, his teammates pouring out of their dugout to celebrate their fourth walk-off win of the season.
"That's my fault," Jansen said. "This game is on me today. I take all the blame. I've got to be backing up home plate there. I saw the guy stop at third. That's my fault. When I saw him stop, I kind of stopped with him instead of kept going."
Until Jansen's slip, the Dodgers got stout relief from left-hander Scott Alexander, who struck out Albert Pujols with the bases loaded to end the sixth inning and added a scoreless seventh, and Daniel Hudson, who threw a scoreless eighth.
Matt Kemp drove in both Dodgers runs with singles in the fourth and sixth innings, but starter Kenta Maeda was denied a win after a superb effort in which he gave up one run and three hits in 52/3 innings, struck out nine and walked two.
The 108-degree temperature at first pitch was the hottest in Angel Stadium history, passing the previous high of 106 degrees, set in a noon start against Boston on Sept. 4, 1988, and a 6 p.m. start against Oakland on Sept. 3, 2007.
There was physical evidence that Maeda broke a sweat in the first five innings, removing his cap several times and wiping his brow with both forearms, but it sure didn't seem like it.
Maeda picked apart the Angels with clinical precision through five one-hit innings, teasing them with pitches off the corners that were hittable but impossible to barrel up. Then when he'd get ahead in the count, Maeda would expand the strike zone and get the Angels to chase.
The fifth inning was a prime example of Maeda's mastery. First, he struck out Pujols swinging at a 2-and-2, two-seam fastball that started on the inner half of the plate and bore so far and hard inside that it nearly hit the slugger.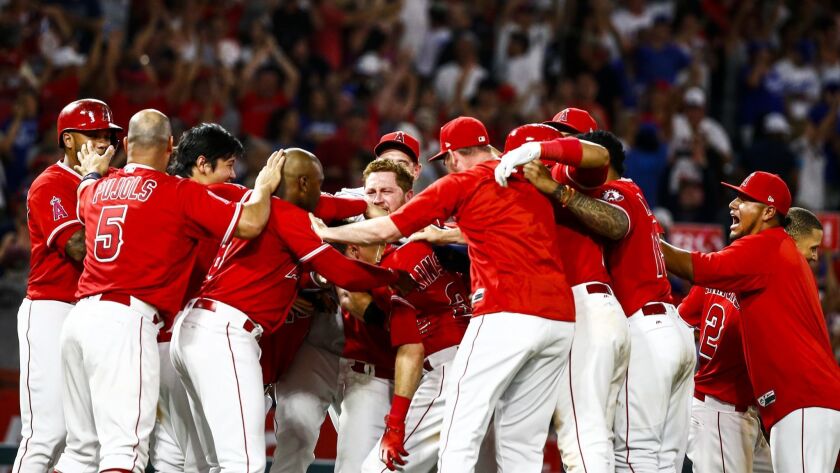 Maeda jammed Ohtani with a 1-2 fastball, inducing a weak popup to shortstop. Up stepped Luis Valbuena, who swung through three pitches, a pair of shoe-high sliders and an 85-mph, down-and-away changeup.
"He was on top of his game," Ohtani, speaking through an interpreter, said of Maeda.
Trouble finally arrived in the sixth, Kinsler leading off with a single to left and No. 9 hitter Jose Briceno singling off Maeda's glove.
Maeda struck out Kole Calhoun looking at a full-count fastball. Andrelton Simmons flied to deep left, the runners advancing, and Mike Trout was awarded first base, his major league-leading 15th intentional walk.
With a 1-and-0 count on Justin Upton, Kinsler broke for home, stopping about half-way down the line. Maeda, who was working out of a windup, rushed his delivery and was called for a balk, Kinsler scoring to cut the lead to 2-1.
Upton drew a walk to load the bases, but Alexander replaced Maeda and struck out Pujols with a 95-mph fastball to end the inning.
---
Get our Dodgers Dugout newsletter for insights, news and much more.
You may occasionally receive promotional content from the Los Angeles Times.