Dodgers' Cody Bellinger hits a grand slam, bullpen dodges danger in win over Giants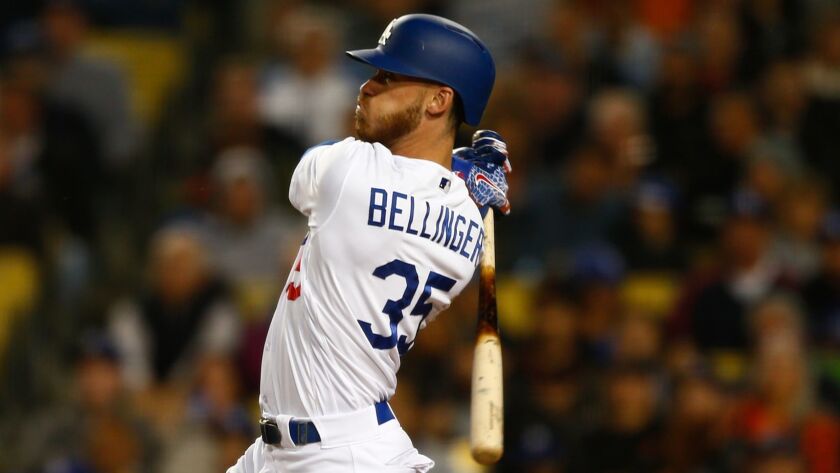 The Dodgers had some decisions to make for their starting lineup against left-hander Madison Bumgarner and the San Francisco Giants on Tuesday night. Would they start Max Muncy or David Freese at first base? Should Austin Barnes or Russell Martin start behind the plate? And what about the batting order, a matter to decide daily based on matchups and player availability?
Late last season, determining whether to start Cody Bellinger against a left-hander would've been added to the list. Left-handers flummoxed Bellinger for months, to the point that he rarely started against them by the end of the season.
That wasn't a question Tuesday. After spending the winter working to regain his old form, Bellinger is again an everyday anchor. He was in the lineup, playing right field, batting fifth, and he continued his torrid start with a grand slam off Bumgarner in the Dodgers' 6-5 victory at Dodger Stadium.
Bellinger's slam, the fourth of his career, was his fifth home run this season and his first against a left-hander since Aug. 29. It extended the Dodgers' home run streak to six games to begin the season, tying the team record set in 1954.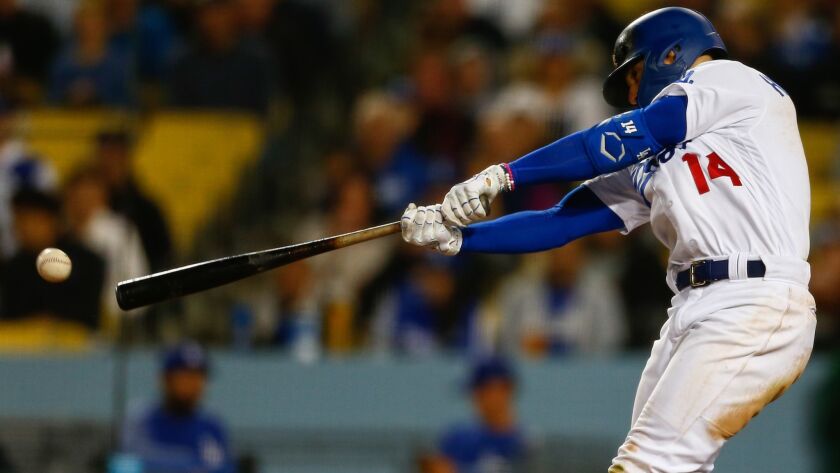 The season is young, but Bellinger, who just missed a home run and lined out in his other at-bats against Bumgarner, is resembling the player who burst onto the scene to hit 39 home runs and win the National League rookie of the year award in 2017.
"This is as good as I've seen him," Dodgers manager Dave Roberts said.
The Dodgers (4-2) needed the four runs Bellinger's muscle provided after another bullpen implosion. The bullpen entered the night having allowed 17 earned runs, tied for the most in baseball, and blown two games. The relief corps, asked to protect a 6-2 lead after seven solid innings by Hyun-Jin Ryu, supplied another dose of anxiety. Caleb Ferguson tossed a scoreless eighth inning before Yimi Garcia floundered in the ninth. The right-hander threw nine pitches. Seven were balls. One strike he threw was hit down the left-field line by Evan Longoria for a double. Garcia then issued a four-pitch walk to Buster Posey.
The abrupt trouble created a save opportunity and prompted Roberts to summon Kenley Jansen. The closer didn't immediately quell the apprehension. Jansen got the first hitter he faced, Brandon Crawford, to hit a routine double-play groundball to first. But Muncy bobbled it, gave up on the double play and hurriedly threw to Jansen covering the bag. The ball bounced out of Jansen's glove. The pitcher was charged with an error. The bases were loaded.
Jansen then walked Yangervis Solarte on four pitches to score a run. Pinch-hitter Joe Panik struck out looking before Gerardo Parra cracked a two-run single to center. The Giants (2-4) sent another pinch-hitter, Pablo Sandoval, to the plate. He hit a groundball to shortstop Corey Seager's right. Seager fed Enrique Hernandez, who fired a strike to first to complete the double play and the game.
"I can do a whole lot better," Jansen said. "I'm a little disappointed by the outing, but the good thing is it's not about what you do out there. It's about winning."
Sign up for our Dodgers newsletter »
Ryu put the Dodgers in position to win. The left-hander followed his quality opening-day start with another fine outing, allowing two runs and six hits. He struck out five and didn't walk any.
The only costly mistake he made was a 1-0 cutter he threw up in the zone to Bumgarner, the NL's best hitting pitcher. Bumgarner cracked it over the left-field wall for a two-run shot and his 18th career home run.
"Bumgarner, man, you got to treat him like a hitter," Roberts said. "He can slug."
The Dodgers broke through against Bumgarner before Bellinger's blast in the third with an assist from the Giants ace. First, Martin reached on Bumgarner's throwing error. Then he walked Ryu. Hernandez capitalized on the mistakes with a single to center that scored Martin to extend his success against Bumgarner. Entering the game, Hernandez had a .489 average and 1.423 on-base-plus-slugging percentage in 40 plate appearances against Bumgarner. He went two for three off the big left-hander Tuesday.
Three batters later, Bumgarner fell behind Bellinger 1-0. The next pitch, an 86-mph cutter over the outer half, landed 412 feet away, behind the wall in center. Bellinger raised his right arm as he began his trot, flexing, as he rounded first. His five home runs lead the league and are tied for the most in baseball.
"I've been feeling pretty good," he said.
Twitter: @jorgecastillo
---
Get our Dodgers Dugout newsletter for insights, news and much more.
You may occasionally receive promotional content from the Los Angeles Times.